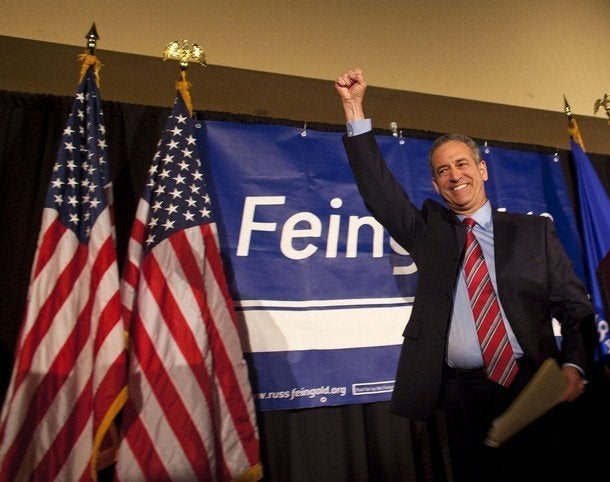 WASHINGTON -- Since its launch on Feb. 16, the political action committee that former Wisconsin senator Russ Feingold started to fight corporate influence in politics and support progressive causes has raised more than $1 million from over 20,000 donors.
The PAC, Progressives United, is a grassroots effort aimed at countering the effects of the Supreme Court's infamous Citizens United decision, which opened the floodgates to corporate spending in the U.S. electoral system. It works to call out cases of corporate influence, empower individuals to stand up to special interests, and elect progressive candidates at the local, state, and national levels.
On Friday, Progressives United will report to the Federal Elections Commission that it earned just under $850,000 during the six-week period from Feb. 16 through March 31. More money came in April to push its total haul beyond the $1 million mark. The average contribution was $37.25.
Although Feingold has no intention of running for president - he has repeatedly stated his support for President Obama - his PAC has attracted support and money in amounts that put him in the same league as serious presidential contenders. As a comparison, Mitt Romney's federal and state PACs raised nearly $1.9 million in the first quarter of 2011.
Donations to Progressives United were fueled, in large part, by increased national attention on corporate influence in politics and the recent surge in on-the-ground progressive activism. That Feingold has remained highly visible since leaving the Senate also helped raise funds. Though his day job is now teaching law school at Marquette University, his vocal support of the labor fight in Wisconsin has kept him in the public eye.
Just two days after the launch of Progressives United, Feingold went to the state capitol in Madison and marched with local firefighters protesting Republican-backed legislation that stripped most of the state's public employees of their collective bargaining rights. When he arrived at the capitol, protesters cheered and some even broke into chants of "Feingold for Governor."
When Feingold first announced that he, like many politicians and former politicians, would be starting a political action committee, he made it clear that he wanted his group to be different -- a grassroots effort aimed at countering the influence of corporations in politics.
"It's time for policymakers to stop coddling corporate interests, and get to work creating jobs and wealth for Main Street," Feingold emailed members of Progressives United at the time. "We shouldn't reward wealthy CEOs and Wall Street for behavior that undermines the nation's economy."
In line with its mission statement, Progressives United is following the example set by Feingold's own campaigns, rejecting soft money and unlimited contributions.
"We're going to be reporting every dime that we get, whether required by law or not," he said to The Huffington Post in February. "Every penny of every contribution -- a practice I used as a U.S. senator. So it will be very different from the 527s and other groups that have been spawned by Citizens United. It will be 100 percent accountable, and that is an important principle that I believe in that we'll follow to the T with Progressives United."
Support HuffPost
The Stakes Have Never Been Higher
Popular in the Community