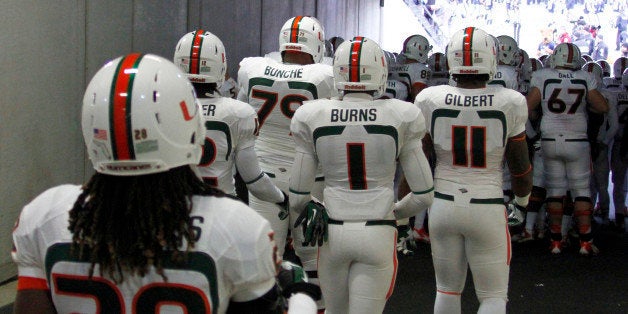 ORLANDO -- -- For the first time since 2010, the Hurricanes have enjoyed all the perks of post-season play.
There was a Best Buy shopping spree. Theme park visits. Team dinners. A community service project.
There's been football, too, and all of it has been heady stuff for Miami's players, many of whom joined the program during some of its darkest days.
A protracted NCAA investigation into the actions of a former booster and the school's self-imposed postseason ban kept the Hurricanes from experiencing all that comes with a bowl game the past two seasons.
But now, that investigation is over and Miami will return to post-season play when it takes on No. 18 Louisville in the Russell Athletic Bowl Saturday. Kickoff is at 6:45 p.m. and the game played in Orlando will air on ESPN. After all they've endured, the Hurricanes say they're hoping to finish one of their best seasons in recent memory on a high note.
A win against Louisville would likely help erase the memory of a three-game regular-season slide that knocked Miami out of the top 25. It would also give the Hurricanes their first bowl victory since a 21-20 win over Nevada in the 2006 MPC Computers Bowl. Most important, a victory would assure Miami (9-3) of its first 10-win season in a decade, something the Hurricanes seniors want to leave as their legacy.
"A 10-win season would be great since it hasn't been done in a while," defensive end and team captain Shayon Green said. "It's been a long time and it would be great to be the senior class that won 10 games. It's been a long time."
Miami's task against Louisville, though, won't be an easy one.
The Cardinals (11-1) come in with one of the nation's premier quarterbacks in Teddy Bridgewater, a former Miami Northwestern star that has thrown for more than 3,500 yards and 28 touchdowns with just four interceptions. They have a receiving corps that features multiple players averaging over 15 yards per catch. And Louisville's defense, ranked second in the country, has allowed an average of just 257.9 yards per game.
"They'll rush for 150 and throw for 300 [yards]. Very balanced. They do a great job with time and possession," Miami coach Al Golden said. "They convert on third down better than just about everybody we've seen at over 55 percent. On defense, they're top 10 on just about everything on defense. I think the one thing that jumps off to me at defense is how disruptive they are."
Miami, meanwhile, will counter offensively with Stephen Morris, who has steadily moved up the Hurricanes' all-time career passing list. But the big-armed quarterback could be without some of his top options.
Earlier this week, Golden said it was doubtful receiver Herb Waters, who was seen leaving one of Miami's bowl practices on crutches, would play. And although Allen Hurns, who needs just 19 yards to break Leonard Hankerson's single-season receiving record of 1,156 yards, has practiced this week, he was wearing a precautionary boot on his foot at Friday's pre-game luncheon.
Still, the opportunity is a big one and Miami's players say they're determined to finish strong, challenges and all.
"We haven't had the opportunity to be here for the past couple years, so it's just a blessing and a testament to all the hard work we've done and that we stuck through everything," Morris said. "This is our reward."
ccabrera@tribune.com; Follow on Twitter @ChristyChirinos. ___
(c)2013 the Sun Sentinel (Fort Lauderdale, Fla.)
Distributed by MCT Information Services
Miami (9-3) vs. No. 18 Louisville (11-1), 6:45 p.m. EST (ESPN).
Series record: Miami leads 9-1-1.
The 18th-ranked Cardinals missed out on their second straight BCS bowl berth, but can join the 2006 team as the only other squad to post 12 wins in a season. Louisville junior Teddy Bridgewater also has a chance to tie the school record of 27 wins for a starting quarterback. The highly-rated NFL prospect says he will decide after the season whether or not to forgo his senior year and enter the draft. Miami is back playing in the postseason for the first time since 2010 after a self-imposed bowl ban in 2011 and 2012 because of an NCAA investigation. The game is a preview of future conference foes with Louisville joining the ACC next season.
Louisville passing attack vs. Miami secondary. Louisville's offense has thrived this season primarily on the arm of Bridgewater, who threw for 28 touchdowns and more than 3,500 yards. The Cardinals passing offense ranks 18th in the nation (302.9 yards per game), and racks up 13 yards a completion. Miami's has at times been vulnerable defending the pass, allowing just 233.4 yards per game through the air, which ranks 71st in the country.
Miami: The Hurricanes do have players capable of disrupting the Cardinals passing attack. It starts with LB Denzel Perryman, who leads the team with 104 tackles and DL Shayon Green, who has 10.5 tackles for a loss on the year. CB Tracy Howard (four interceptions) will also be called upon to have a big game. On offense Miami will look to QB Stephen Morris, who has thrown for more than 2,800 yards and 21 touchdowns.
Louisville: It starts with Bridgewater who, in addition to posting his second straight 3,500-yard passing season, had a touchdown pass in all but one game in 2013. One of his favorite targets, WR DeVante Parker, also managed to post a career-high 46 catches for 743 yards and 10 TDs. DE Marcus Smith has had at least one sack in each of the Cardinals last four games and seven of their last eight.
Louisville has scored at least 20 points in 28 straight games. ...Louisville has 26 players on its roster from the Miami area. ...The Cardinals are 1-2 all-time against ACC teams under coach Charlie Strong. ... Bridgewater (28 TDs in 2013) is approaching Brian Brohm's single-season school-record of 30 set in 2007. ...Miami is 19-17 all-time in bowl games. ...The Hurricanes have lost their previous three bowl games. Their last bowl victory was in 2006 against Nevada in the MPC Computers Bowl. ... Miami enters the Russell Athletic Bowl after the school's first nine-win season since 2009.
REAL LIFE. REAL NEWS. REAL VOICES.
Help us tell more of the stories that matter from voices that too often remain unheard.