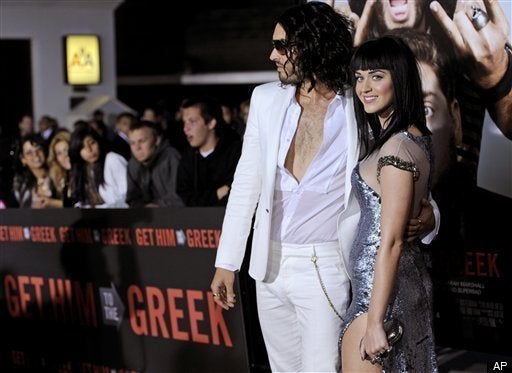 Russell Brand gives a typically outspoken interview in this weekend's Parade, talking orgasms, sex addiction, his upcoming marriage to Katy Perry and more. Here are some excerpts:
On sex addiction, from which he once suffered:
"We've been hearing a lot on the news about sex addiction. Let me explain. There's this gland in men that produces testosterone and compels them to procreate with numerous women. Men don't face the imperative of having a baby grow in their belly, so the male mating strategy is based on making a lot of women pregnant, or at least having sex with them. The female strategy is to get one good man. That's why marriage is not fair. I may use that argument tonight with my fiancee."
On telling Katy Perry about his sordid past:
"I said, 'Katy, you need to know, I'm not virgin. In fact, if you're counting, the list of my sexual escapades is mind-boggling. But these women will be celebrated for ever more. And they will live on in my imagination.' Then, I said, 'Katy, look at my past as an audition process. I went through all of those girls to get to you. And you don't even have to thank me.'"
On domestic life with Katy:
"Katy is sexy, which is good because if I don't have an orgasm every 15 or 16 minutes, I can become very difficult. But, if she's going to marry me, she's going to bloody learn how to cook. Of course we're going to have a child some day. I'm hoping for a hybrid creature, something from Greek mythology like a satyr."

Support HuffPost
The Stakes Have Never Been Higher
Popular in the Community