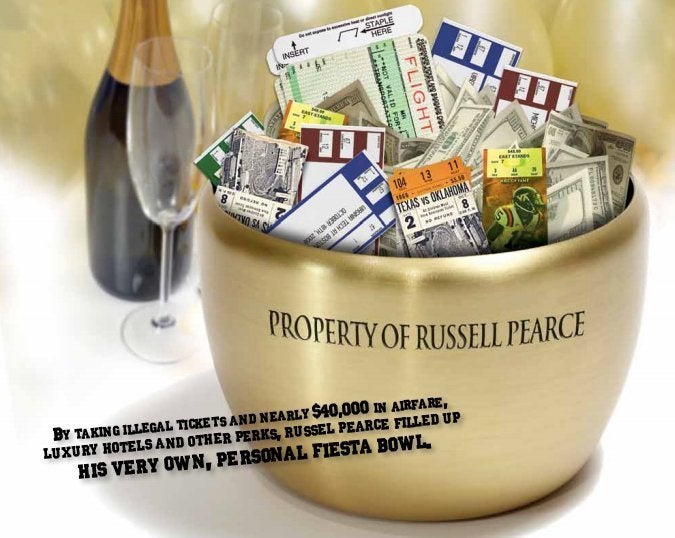 WASHINGTON -- With less than two weeks until the recall election of Arizona state Sen. Russell Pearce, a national campaign watchdog group is sending political mailers criticizing the Republican for accepting trips and contributions from an organization accused of illegal behavior.
Pearce, a 10-year member of the Arizona state legislature and current Senate president, has been caught up in scandal in recent years for receiving questionable campaign contributions from the Fiesta Bowl organization. The hosts of the annual Arizona-based college football game allegedly told employees to donate to certain politicians and then illegally reimbursed them, the Arizona Republic reported in 2009.
Now, watchdog Public Campaign Action Fund is focusing on the Fiesta Bowl incidents in its Campaign Money Watch mailing initiative.
"After receiving thousands of dollars in tainted campaign contributions, it's no wonder Russell Pearce wants to gut campaign reform laws," the mailings read. "He's leading the effort to repeal Arizona's Clean Election Law and would allow corporations, special interests and lobbyists to dominate state politics."
The papers, which will begin arriving at Arizona homes on Wednesday, also feature the smiling face of Jerry Lewis, Pearce's Republican challenger. Lewis promises in campaign literature to reject gifts from special interest groups and introduce legislation that bans gifts for all legislators.
Pearce has made no such promises, and further investigation has found that Pearce also received $1,025 in contributions from high-level Fiesta Bowl executives in 2009. He went on two trips funded by Fiesta Bowl -- which is legal under Arizona law -- but denied accusations that he accepted free tickets to football games, which would be illegal.
The Fiesta Bowl incidents, along with Pearce's authorship of the controversial S.B. 1070 immigration law, have been a driving force behind the Pearce recall effort, led by Citizens for a Better Arizona. The recall election will take place on Nov. 8.
Pearce's office did not respond to a request for comment on the recall mail campaign.
As Arizona Senate president, Pearce also pushed for a full repeal of the Citizens Clean Elections Act, a 1998 law that allowed candidates to receive some public money to fund their campaigns if they collected enough $5 donations and declined special interest donors. If their opponent raised more money through other means, the candidate could receive additional funds from the state to match the figures.
"He is an example of what is wrong in Arizona politics and why we need clean elections in the state," said David Donnelly, national campaigns director for Public Campaign Action Fund. "I think the voters have a very clear choice between these two. Pearce has demonstrated that he's part of the problem, and Lewis has made some pledges to clean it up."

Calling all HuffPost superfans!
Sign up for membership to become a founding member and help shape HuffPost's next chapter