"The reason I am here today, which has been so hard for me to do, is for healing," Jarosik, an aspiring filmmaker, said. "Is for my own healing, is for my own voice that's been silenced, and for all the trauma that I've held for all of these years, and for the other women, for the other women to know that they too can come forward and speak about this."
Jarosik said she considered Simmons "a friend" and "mentor" when she visited his New York City office in 2011 to interview him for her documentary on women's empowerment.
"I had a great, tremendous amount of respect for him at the time and I had thought, this is amazing. Here is this high-profile man who understood what I was trying to do, to help women, who offered to give an interview," she said.
After the interview, Jarosik said Simmons asked her director to leave the room so they could speak privately. That's when she said the 60-year-old Def Jam co-founder "aggressively came on to me."
"He started to kiss me and then he raped me," Jarosik said. "I tried to force him off, but it happened so quickly and I just froze. I think I just froze."
She said Simmons assaulted her again in 2016 in Los Angeles. Simmons had agreed to co-produce and finance her film, according to a lawsuit she filed against him last week. Jarosik explained to Kelly that she was "weak" for continuing a relationship with him, and said she partially blamed herself for what happened.
"I'm also very forgiving. He was a friend, I feel that I wanted to give him another chance," Jarosik said.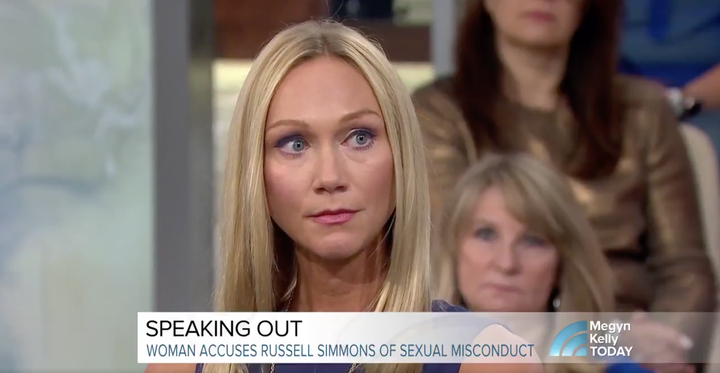 Jarosik said she went to Simmons' home to discuss her film. After she rejected his sexual advances he "pounced on her" and "proceeded to rape her," her lawsuit alleges.
Beverly Hills celebrity attorney Perry Wander, who is representing Jarosik and appeared beside her on Kelly's show, said he hopes the lawsuit will help stop workplace-related sex crimes.
"The hip-hop industry has a whole history of treating women as sexual objects, discriminating against women. We're hoping that the lawsuit changes this. It's time that the hip-hop industry faces the music," Wander said.
Simmons has denied wrongdoing. He repeated his defense after Jarosik's lawsuit last week, saying, "All of my relations have been consensual."
"I look forward to having my day in court – where, unlike the court of public opinion, I will have the ability to make use of fair processes that ensure that justice will be done and that the full truth will be known," Simmons added.