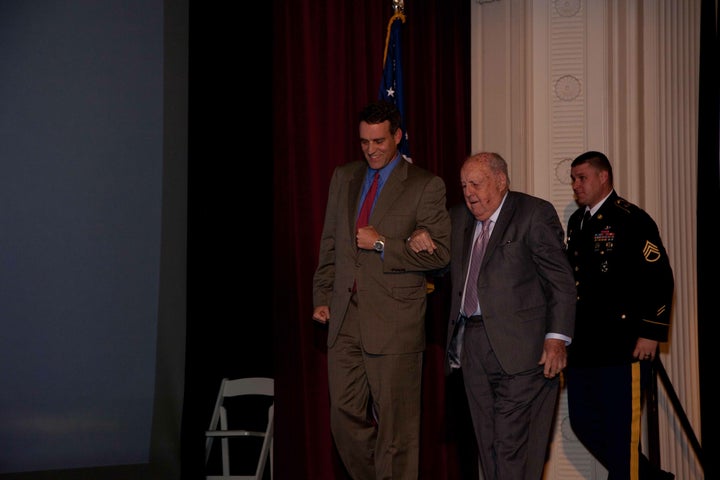 Russell Taylor and his wife, Odile, said "I do" on the Cannes Riviera in France 66 years ago. Though a seemingly idyllic beginning to any marriage, their romance came amid war.
Sixty-six years later, Benjamin Patton, grandson of Gen. George S. Patton, presented Russell, 94, and Odile, 93, this week with a trip to France to renew their vows. Russell, who served under Gen. Patton in World War II, received the surprise gift from the nonprofit Jeremy Bloom's Wish of a Lifetime foundation and Brookdale Assisted Living near Dayton, Ohio, where the Taylors live.
"I was certainly surprised; that was a big surprise. They got him to come in and present it to us, and I had landed on Normandy and followed Gen. Patton," Russell told The Huffington Post. "It was such a nice thing to get his grandson to do this."
The couple met in France during WWII after Russell had landed at Normandy on D-Day, serving in the Signal Corps with Patton's Third Army as it raced across Europe in 1944. Eventually, Russell was sent to work in Eisenhower's headquarters in Paris, where he met Odile.
"They found out I worked on IBM equipment and they put me to work for Eisenhower in Paris," Russell said, "when we hired three secretaries, she was one of them."
Odile was born and raised in France, and had successfully fled her hometown when the Germans invaded. At the Eisenhower headquarters, she helped with translations.
Jeremy Bloom's Wish of a Lifetime grants wishes to seniors ages 65 and older. Twenty-nine-year-old Bloom, a former Olympic skiier and football player for the Philadelphia Eagles and the Pittsburgh Steelers, felt a calling to give back and founded the nonprofit in 2008. He started the foundation out of admiration for his grandparents, and to say a proper thank you to a generation that is often forgotten, he said.
"I just thought, we put so much focus on other areas, a lot of focus on youth, which is not a bad thing. But I don't think we say thank you enough -- to the 80, 90, 100 year olds. They have great wisdom, they've been around the block a couple of times," Bloom said.
Plans for the Taylors' trip back to France are still in progress. "Just not winter" is their only requirement, Russell said.
"I sure have to thank Brookdale; they really put up a program," he added. "They paid all our expenses going up and back, and there were probably 250 people there. Between Jeremy and Brookdale, I tell ya, I've never been treated so well."
Related
Popular in the Community