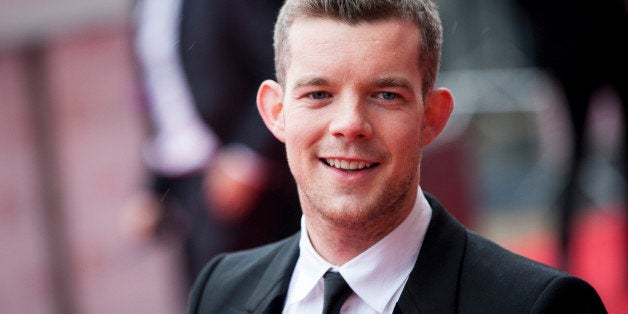 Russell Tovey, one of Britain's few openly gay actors, has made a career of playing loveable straight blokes. He was waiting for a role that would move the sexuality conversation forward, he tells Liz Hoggard — and now he's found two.
I'm calling it the sporty Hamlet," actor Russell Tovey tells me with a wink when I meet him in a draughty scout hut in Pimlico where he is rehearsing the Royal Court's new play, The Pass, about a gay celebrity footballer.
Dressed in football shorts and wolfing down cold chicken, he looks every bit the sportsman, though Tovey, who's been acting since he was 11, has only just been to his first football match. "My friend took me to see Arsenal v Cardiff. Wonderful," he enthuses. "The theatricality of the stadium, the songs, the chanting… You're a gladiator performing before a baying mob."
Essex-born Tovey, 32, one of Britain's few openly gay actors, has made a career playing loveable heterosexual blokes (Steve in slacker sitcom Him & Her, werewolf George in Being Human), as well as the original Rudge in the National Theatre's production of The History Boys. He's never played gay before. Because his sexuality still comes up when being cast in straight roles, he's been waiting for something substantial "that really moves things forward".
That time has come, and this year he will be seen in two gay-themed roles. As well as The Pass, he is in an HBO drama, The Looking, about the lives of a group of gay men living in San Francisco, with Glee actor Jonathan Groff. His character is an English video game whiz-kid. "I wanted to play American but they wanted the whole One Direction, Downton Abbey vibe because Brits are cool."
The eight-part series goes out on Sky Atlantic this month. Arguably Tovey should be in LA, capitalising on his newly raised profile, but he's been waiting a year to play footballer Jason in The Pass, directed by John Tiffany (Once, Let the Right One In).
"I did an early reading and thought the script was brilliant. The writer, John Donnelly, is straight but fascinated by homophobia in football."
Via three hotel rooms, the play charts Jason's journey to becoming a Beckham-style superstar. In the first act we see 17-year-old Jason and Ade (played by Downton's Gary Carr) the night before they make their first team debut. As they banter about girls and sex, a chemistry develops. But is it just Jason's tactic to outmanoeuvre his rival?
"You don't want to say it's a play about a gay footballer because Jason may be gay but he doesn't identify himself as such," says Tovey of his closeted character. "So it's a play about how he's betrayed friendship and signed a pact with the devil for his career. He's not sad because he's gay. He's fucked up, and it's his choice."
For Tovey the theme is very current, "because now Tom Daley has come out, a sportsman at the top of his game. And yet there are no footballers who have come out, and the ones who do end up as tragedy stories. Robbie Rogers left the game, Justin Fashanu killed himself. There's a rumour that a major sporting brand has had a six-figure sponsorship deal on the table for the past five years for the first Premiership footballer to come out and no one's taken it."
Sexuality threatens the camaraderie between sportsman, he assumes. "It's easier for Tom Daley because he's a solo diver. What if you're part of the rugby club on tour — touching each other's dicks, they do very homoerotic acts, all fine because they're straight — then they suddenly find out someone is gay? It becomes 'Hang on a bit, we shouldn't be doing this, you might be enjoying it'."
He knows Daley — they were fellow guests at the wedding of his History Boys co-star James Corden, back in 2012 — and was very impressed by the way he took control and made a coming-out video just before Christmas. "That was what was so brilliant about what he did — the video was very casual, not even beautifully lit, just him lying on his bed going, 'Oh fuck it, now's the time. Yes, guys, here it is. Done. Gone. Sending it out there; see what happens' …
"I messaged him and said, 'I'm proud of you, it's brilliant what you've done, mate'. He just said, 'Thanks'. He's really sweet. I feel slightly protective of him but I don't want to patronise anyone. I can say, 'If you ever need help'...  and put it out there, but he's [in a world] beyond me. If there was a younger actor wondering whether to come out, I'd advise them, definitely."
Tovey knows just how remarkable it is that he hasn't been typecast as an actor. "I get letters and messages on Twitter saying I've become a bit of a role model, which is wonderful."
Growing up in Billericay (his parents run a coach service taking passengers from Essex to Gatwick Airport) there were no gay role models who were just normal men. Everybody was flamboyantly camp. "I thought if I didn't flounce around and have sibilant 's's,  who was I? Now there are incredible role models in the public eye. Clare Balding, look what she's done. Straight men love her, women aren't threatened by her. We're in a different time now."
His own secret crush growing up, he reveals, was Ian McShane in Lovejoy. As a kid he was an avid collector of coins and fossils and planned to be an antique dealer but then he joined a local drama club, got an agent, and was cast in CBBC series Mud, alongside a young Russell Brand.
He left school at 16 and was expelled from his BTec in performing arts for choosing a McDonald's ad over the Barking College production of Rent.  His break came after appearing at  Chichester in a play directed by Debra Gillett. She introduced him to her husband, Patrick Marber, who cast him, age 19, at the National in his play Howard Katz. The National became Tovey's Rada:  he spent his days in the theatre's Studio doing readings and workshops. He was cast in His Girl Friday, His Dark Materials and then The History Boys in 2004.
During adolescence, Tovey's homosexuality caused friction within his family. They were terrified he'd contract HIV,  live a miserable, sad life. It was a generational thing, he says. But the birth of his two nephews helped to mend their relationship. 
Tovey has been with his boyfriend for four years. They live together, are very happy, and that's all he wants to say because it's private.
He's living proof that you can be honest about your personal life. Him & Her is BBC3's most successful sitcom to date. Critics raved about the final series, which went out last month. "One called it The Royle Family written by Harold Pinter directed by Mike Leigh," Tovey marvels. He clearly adores his co-star Sarah Solemani, who broke many body taboos on screen.
"She's more masculine in her demeanour than my character Steve is," he laughs. "He's like the slightly paranoid girlfriend checking phones, which I think pleased the feminists."
He is touchingly protective of female co-stars filming sex scenes. But with Looking the whole issue of kissing and slow-dancing became more complicated. "The guy playing my boyfriend is a straight actor and for the first time in my career I felt a responsibility to him, to make sure he didn't feel I was taking advantage."
The series co-creator is British director Andrew Haigh (whose film Weekend won the Evening Standard Award for Best Screenplay in 2011). He'd seen Tovey in the Royal Court play, A Miracle, where he played a psychotic Iraqi soldier, and asked him to audition for the lead. Tovey lost out to Groff but they wrote the role of Kevin for him.
For now, doing theatre allows Tovey to spend time in his new flat in east London. He's obsessed by contemporary art. "I go round graduation shows and collect young artists, and give money to galleries like the ICA and Studio Voltaire. I'm a fan in that world. I think if I met Frank Auerbach or Jeff Koons, I'd be more wobbly than if I met Robert De Niro!" 
He even got his elder brother (who manages the family coach businesses) buying Howard Hodgkin prints.
Next he's filming the second series of the terrific ITV sitcom The Job Lot, opposite Miranda's Sarah Hadland, playing a Londoner who relocates to Birmingham with dreams of becoming an artist but finds himself working in a Jobcentre. Made by Big Talk, which brought us Him & Her, it has a similarly droll, spiky humour.
But first he's got to find a babysitter for his French bulldog, Rocky, when he's on stage every night. "When I'm out with him, no one notices me," he laughs. "They take a photo of Rocky, have a conversation with him, and walk off!"
The Pass is at the Royal Court Upstairs, SW1 (020 7565 5000; royalcourttheatre.com) from January 13 to March 4. Looking starts on January 27 on Sky Atlantic.
REAL LIFE. REAL NEWS. REAL VOICES.
Help us tell more of the stories that matter from voices that too often remain unheard.
BEFORE YOU GO
PHOTO GALLERY
Favorite Gay TV Couples