Russell Westbrook was in a predictably good mood while recording his NBA-best 27th triple-double in a win over the Knicks Wednesday night. Premiering a new celebration after key plays to replace his "guns holstered" act, the 28-year-old lighting rod of a point guard finally seemed at peace after a tumultuous week.
This came after consecutive blowout losses to Kevin Durant's Golden State Warriors ― when he committed 11 turnovers and his 47 points were not enough ― and to the Washington Wizards, a game in which he shot a season-worst 5 of 19 from the floor.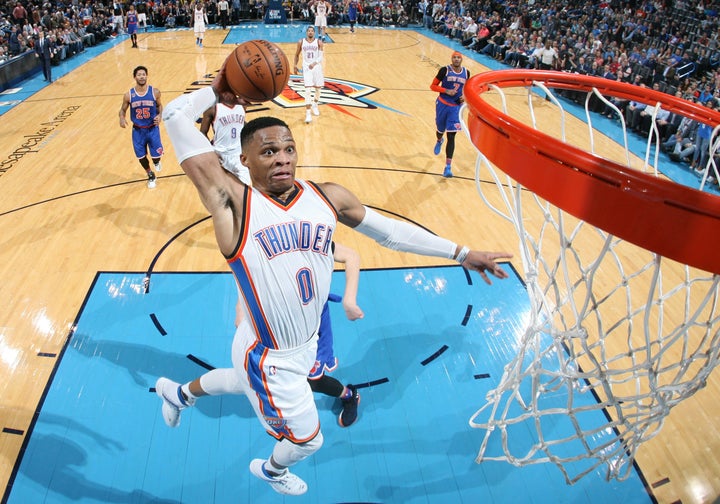 Westbrook, who will represent the Thunder in New Orleans this weekend during his sixth All-Star appearance, was reflective in an interview with The Huffington Post. 
"Basketball has given me a platform to do different things that I wanted to do and obviously work hard at it to be successful," he said. "With basketball, I've been able to create relationships and do different things."
Despite playing in Oklahoma City, one of the league's smallest markets, Westbrook's ascendance as a legitimate superstar has been undebatable. With his unique fashion sense, he has morphed into a sartorial icon, not afraid to wear anything and quick to say he never regrets even the strangest of outfit choices (see above).
Additionally, few players are more frequently seen in commercials. Air Jordan and Mountain Dew have both made him the face of their campaigns, in part because of an electric and goofy personality rarely on display during mundane post-game interviews when he routinely doesn't look reporters in the eye. 
"Going into [the film shoots], I kind of know what I'm doing," Westbrook says. "I look forward to it. The more and more spots you do, you get an opportunity to be creative.
"I don't do anything that I don't want to do. That's just how I feel. ... If it's something that I believe in," he says, "than that's what I do."
Doing what he wants, after all, is what got him here. Growing up in Los Angeles, Westbrook was the shortest player on his high school team, and wasn't even able to dunk until his senior year ― shocking given that many people consider him the NBA's best overall athlete. He was lightly recruited, a general afterthought when he arrived on campus at UCLA (only because another player bolted for the NBA), ultimately alongside mega-recruits Kevin Love, Arron Afflalo and Jordan Farmar. To his credit, however, he worked and worked until, well, you know the story.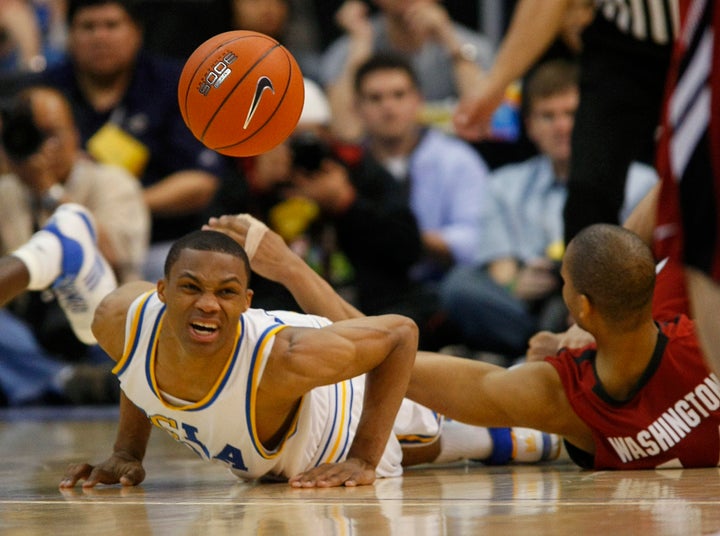 During the summer as a pro, Westbrook's training regimen is so loaded that he might be the only one who can understand it. When I asked him how even during the strenuous 82-game season of playing and producing at such an elite level, he never seems tired, the league's leading scorer simply said: "It's something I don't think about."
For as much personality and flair as Westbrook has on the basketball court, he remains mostly an enigma off of it. Known to be intensely private and have an insatiable appetite for improvement, he is in the running to join Oscar Robertson as the only other player ever to average a triple-double for the entire season. Remember too, that when Robertson accomplished the feat in 1962-63, it was in an era of breakneck pace, rife with extra possessions, easier to compile showy statistics.
Even so, don't dare ask Westbrook about the possibility of such a dynamic achievement.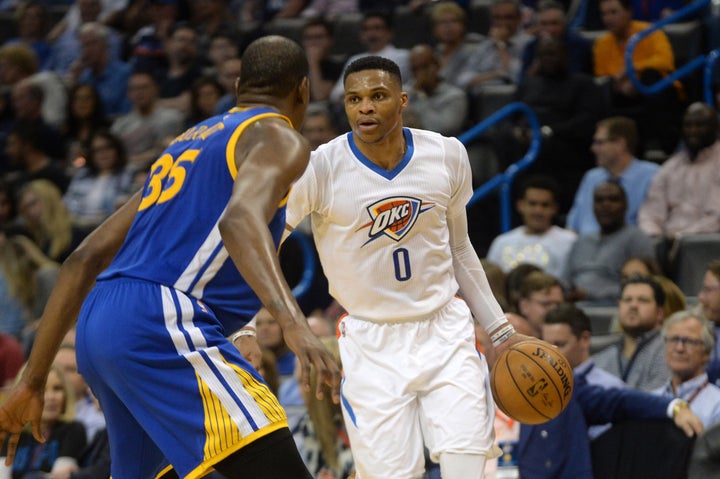 "Honestly, man," he told reporters earlier this season, "this triple-double thing is kind of getting on my nerves. People think if I don't get it, it's like a big thing. When I do get it, it's a thing." He added, "For the 100th time, I don't care."
Whether you believe that is immaterial to Westbrook, who earned All-NBA first-team honors last year. He will continue his relentless quest for a championship sans Durant, while maintaining an unorthodox routine some might even call crazy.
Pay extra close attention to him during the weekend as he attempts to win a third straight All-Star MVP. He may let his guard down just a tad, even if he won't admit that not being voted a starter irked him. (Stephen Curry, Durant's new teammate, is the starting point guard for the West.)
"Once you're selected for the All-Star game," Westbrook says, "you don't take that for granted."
Calling all HuffPost superfans!
Sign up for membership to become a founding member and help shape HuffPost's next chapter