We're only a third of the way through the NBA season, but a lot of people around the league are already wrapping up the 2015-2016 MVP conversation. Barring some unforeseen shift or unexpected injury, the award will likely go, for the second straight year, to Stephen Curry -- the man with the three-point shot who is forcing the entire league to change its approach to basketball, and whose Golden State Warriors currently sit atop the NBA at 28-1. It has seemed at times as if Curry could do no wrong this year, whether on paper or on the court. 
Any and all praise for Curry is well-deserved. The three-point slinging Curry leads the league in various advanced metrics, including Player Efficiency Rating (PER), offensive win shares and box plus/minus, and he is doing it with an astonishing degree of efficiency. Nothing can or should be taken away from him.
But with that said, it would be a shame if Curry and his Warriors' dominance overshadowed what is happening in Oklahoma City, where a man by the name of Russell Westbrook has developed into the closest thing the league has ever seen to a modern incarnation of legendary Hall of Fame point guard Oscar Robertson.  
For as good as Curry and the Warriors have been, Westbrook has been almost nearly as astonishing, and his Oklahoma City Thunder are coming on. The team is 8-2 in its last 10 games, 21-10 in total, and Kevin Durant is back to being Kevin Durant. But make no mistake: This is Westbrook's team now. The newly minted Western Conference Player of the Week is simply overwhelming opponents. 
Westbrook sits directly behind Curry in the aforementioned advanced metrics of PER, offensive win shares and box plus/minus, but it's his old school metrics that truly set him apart through the first third of the season. As of Monday, the Oklahoma City point guard was averaging an eye-popping 25.5 points per game (fifth in the league), 9.4 assists (third), 6.9 rebounds (50th) and 2.4 steals (first).
Those are numbers we just haven't seen before. Should he keep them up, Westbrook would become the only player besides Robertson, the walking triple-double, to average 25 points, nine assists and 6.5 rebounds per game over the course of an entire season, per Basketball-Reference.com.

And he's doing it while pulling off stuff like this.
Now, let's not forget how incredible Robertson was over the course of his career in the 1960s and '70s. Westbrook is on pace to perhaps pull off the 25-9-6.5 season once, but The Big O pulled it off six times, and only one time did he average fewer than nine rebounds per game. He was truly one of a kind. 
But Westbrook's current campaign is superior to any of those six Robertson seasons in terms of PER and win shares per 48 minutes. And his 2015-2016 season sits alone in NBA history should you include his steals per game: No player since the league started tracking steals in 1973 has ever averaged 25 points, 9 assists, 6.5 rebounds and 2 steals per game, as Westbrook has managed to do this season. (That 1973-1974 season was Robertson's final one, so we'll maybe never know how he and Westbrook stack up in that regard.)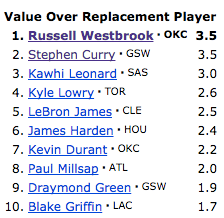 Curry is having an all-time start to the season. He is on pace to smash his own record for threes in a single campaign. He leads the league in scoring, and he will likely win the MVP trophy come next year. But just know that No. 0 for the Oklahoma City Thunder is doing something we haven't ever seen as well, and he'll be all too ready to show your home team come playoff time. 
PHOTO GALLERY
Monster Dunks From The 2015-2016 NBA Season
Calling all HuffPost superfans!
Sign up for membership to become a founding member and help shape HuffPost's next chapter