Right time, right place; Julia Ioffe, Moscow correspondent for The New Yorker and Foreign Policy, had the wherewithal to capture a potentially iconic moment with her iPhone yesterday as a young boy approached Russian police on his bicycle, according to ABC News.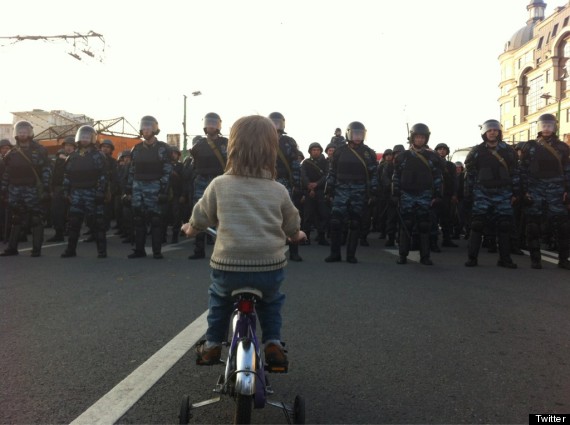 A photo shows a child bicycling toward Russian police. (@IOFFEINMOSCOW/TWITTER)
Ioffe tweeted the photo with the caption "Russia's Tianamen [sic] image," which was promptly retweeted by hoards of Twitter followers:
Despite riding on training wheels, the boy and his bike faced Russian police in the midst of a crackdown on anti-Putin protesters in Moscow. Ioffe's caption alludes to the "Tank Man" photo taken in China's Tiananmen Square on June 5, 1989. The iconic image shows an anonymous man halting a fleet of tanks after protesters had been removed from the Beijing square: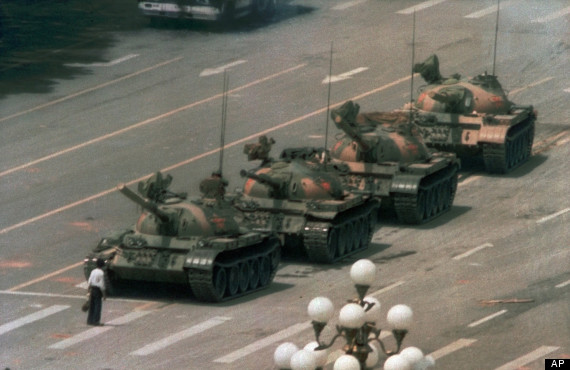 A Chinese man stands alone to block a line of tanks heading east on Beijing's Cangan Blvd. in Tiananmen Square on June 5, 1989. The man, calling for an end to the recent violence and bloodshed against pro-democracy demonstrators, was pulled away by bystanders, and the tanks continued on their way. (AP Photo/Jeff Widener)
Protests in Moscow began on Sunday in anticipation of President Vladimir Putin's inauguration the following day. Protests roiled Russia ahead of Putin's election, but this week's crackdown on the opposition came in response to the largest protests since Putin took power for the first time in 2000, according to Reuters. Hundreds have been detained in the course of this week's protests, including opposition leaders Sergai Udaltsov and Alexei Navalny.
Ioffe's fellow journalist Olaf Koens reportedly pointed out the boy on his bicycle while the two were walking. Koens told ABC News in an email:
This little boy just showed up. His parents were somewhere in the crowd, there was no immediate danger, and the kid just kind of peddled [sic] up to the police, probably out of curiosity.
Ioffe herself said in a Foreign Policy article published on the Putin inauguration, "In the era of Twitter and Facebook" images "become instantly iconic."
The pantheon of icons, then, can thank determined reporting, timing and an iPhone for this particular addition.
Before You Go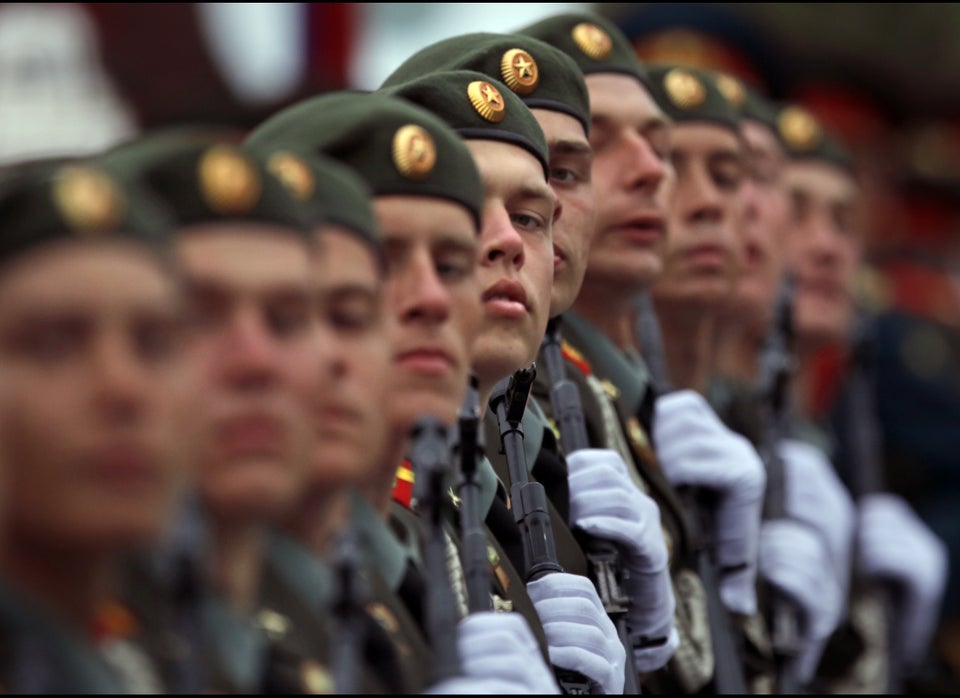 Victory Parade
Popular in the Community