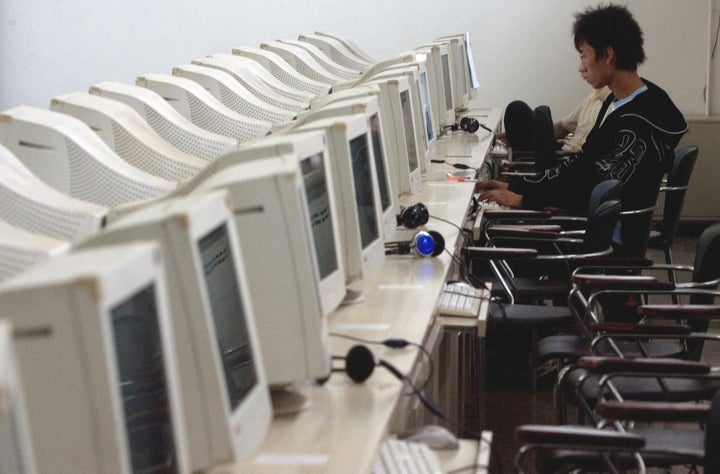 A top State Department official on Tuesday accused China and Russia of abandoning international talks on cybersecurity and seeking United Nations approval to assert greater control over the Internet in their countries.
Michele Markoff, the state department's senior policy adviser on cyber affairs, said 15 countries -- including the United States, Russia and China -- agreed last year to further discuss how countries address the growing use of information technology. But earlier this month, China and Russia -- along with Tajikistan and Uzbekistan -- issued their own proposal to the U.N. Secretary General that included language aimed at restricting Internet freedom, which the United States opposes, Markoff said.
The proposal, called the International Code of Conduct for Information Security, asks countries to help prevent technology that "undermines other nations' political, economic and social stability." Foreign policy experts say the language likely refers to the use of social media, which played an integral role during the recent Arab uprisings and in China on a daily basis.
Speaking at a cybersecurity forum in Washington, Markoff said the proposal from Russia and China was issued "quite unexpectedly" and was "an effort to walk back from that small patch of common ground" reached last year.
"At their heart, they seek to justify the establishment of sovereign government control over Internet resources and over freedom of expression in order to maintain the security of their state," Markoff said.
The United States has long held different views than Russia and China on safeguarding the Internet. Their diplomats even use different language. The United States prefers to use the term "cybersecurity," which it defines as securing computer networks, regardless of the data they hold, while promoting the free flow of information on the Internet. Russia and China, on the other hand, use the term "information security," which they broadly define as encompassing any Internet content that could destabilize government, foreign policy experts say.
Last year, the United States felt like it had found a "valuable consensus" with China and Russia on cybersecurity that "pointed in a fruitful direction for further collaboration," Markoff said. But after the recent U.N. proposal, that optimism appears to have dimmed.
"My personal interpretation of what the Russians and Chinese are doing, given that we had some good bilateral conversations going on, is that they don't care what we think," Markoff said Tuesday during the Billington Cybersecurity Summit.
The draft from Russia and China comes as the Obama administration is seeking international cooperation on cybersecurity. In May, the administration proposed establishing international computer security standards to prevent cybertheft and ensure Internet freedom, with penalties for countries that did not meet those standards.
While China and Russia appear to be seeking greater Internet control, the Obama administration has been making efforts to foster greater Internet freedom abroad, said Adam Segal, a senior fellow for counterterrorism and national security studies at the Council on Foreign Relations. In one example, the State Department is financing research to create an "Internet in a suitcase" that would allow stealth wireless communications by dissidents living under repressive governments seeking to silence them, The New York Times reported in June.
In a blog post on the website for the Council on Foreign Relations, Segal said the proposal from Russia and China attempts to subtly criticize the Obama administration for its policy of using "all necessary means – diplomatic, informational, military and economic" – to defend itself in cyberspace. The proposal by Russia and China calls for countries to "resolve conflicts through peaceful means, without military force or the threat of military force," he wrote.
Jason Healey, director of the Cyber Statecraft Initiative at the Atlantic Council, said the proposal was also notable for what it did not mention, leaving out that nations should control patriotic hackers or pledge to uphold the laws of armed conflict in cyberspace, which the United States and Britain have done, but Russia and China have not.
He said it remains unclear whether the document was intended to be the next step in a serious international dialogue or just an effort to score diplomatic points before countries meet for an international cybersecurity summit in Britain in November.
"Unfortunately, this may just be a stick to beat the West with and throw the conference off track," Healey wrote in a blog on the Atlantic Council's website.
Segal wrote it will take "some serious diplomatic jujitsu" to convince China to rein in their hackers without the United States making a similar promise to subdue their own.
"In short," he wrote, "the U.S. and China are still a long way away from agreeing on acceptable behavior in cyberspace."
Related
Popular in the Community