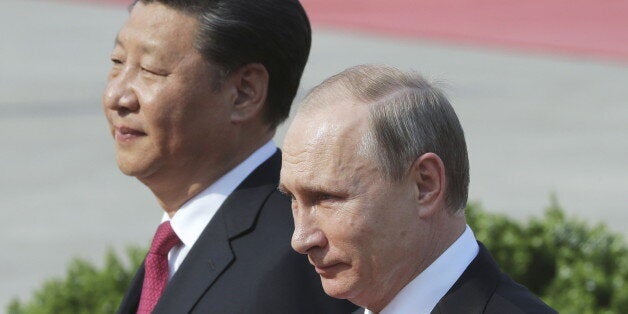 VLADIVOSTOK, Russia -- On July 8 and 9, at the NATO summit in Warsaw, leaders of the Western world met to "reinforce our collective defense ... at a defining moment for the security of our nations and populations." Just three days later in The Hague, an international tribunal on the law of the sea handed down a long-awaited ruling that determined China had no basis for its claim of ownership over the entire South China Sea.
These two events appear unrelated, but both will have the effect of pushing Russia and China closer in standing up to what they perceive as their shared foe -- the United States.
It is absolutely clear to the Kremlin who the mastermind is behind these anti-Russian moves.
The NATO gathering left no doubt about the primary threat to its members -- "Russia's aggressive actions." The Warsaw summit communique's references to Russia read like a criminal indictment. Moscow is accused of, among others things:
[T]he ongoing illegal and illegitimate annexation of Crimea ... the violation of sovereign borders by force; the deliberate destabilisation of eastern Ukraine ... provocative military activities near NATO borders ... irresponsible and aggressive nuclear rhetoric, military concept and underlying posture; and its repeated violations of NATO Allied airspace.
The terrorist threat from the Middle East, which is also mentioned in the communique, comes a distant second to these threats. In order to deter Moscow, the allies agreed to deploy multinational battalion-size battle groups to the four NATO countries that border Russia -- Poland, Lithuania, Latvia and Estonia.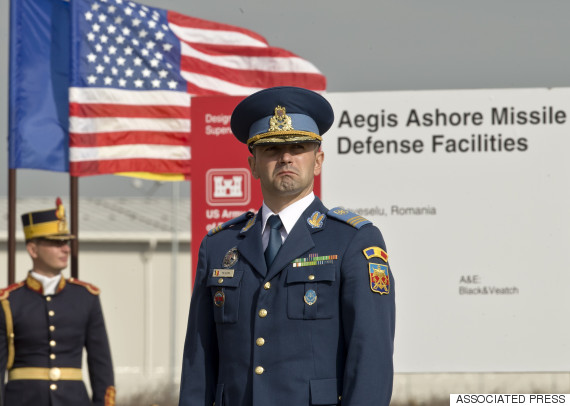 A Romanian officer at a ceremony for the U.S. Aegis Ashore missile defense base in Deveselu, Romania, on Oct. 28, 2013. (AP Photo/Vadim Ghirda)
Russia's response was predictably furious. Moscow views the stationing of troops in Poland and the Baltic states as a major breach of the 1997 Founding Act on Mutual Relations between NATO and Russia, in which both sides agreed to avoid stationing troops near each others' borders. Russia is also seriously worried about NATO's ongoing efforts to build a ballistic missile defense system in Europe. Moscow does not buy the alliance's assurances that missile defense batteries in Romania and Poland are exclusively directed against potential threats emanating from the Middle East or North Korea.
The Kremlin was also offended by NATO's invitation to the tiny Balkan nation of Montenegro, which has historically close ties to Russia, to join the alliance as its 29th member. Moscow fears that the former Soviet republics of Ukraine, Georgia and Moldova may be next.
Putin and Xi's June 24 meeting was remarkable because of the unusually high level of thinly disguised anti-American rhetoric.
Moscow denounced the Warsaw meeting as an attempt "to demonize Russia" in order "to draw public attention away from the destructive role of the bloc and some of its allies in provoking crises and fanning tensions around the world." Even though NATO counts 28 members and all its decisions are based on collective consensus, it is absolutely clear to the Kremlin who the mastermind is behind these anti-Russian moves -- the U.S., supported by a few Russophobic European nations like Britain, Poland, the three Baltic states and Romania.
Just as Russia and NATO are facing off in eastern Europe, there is another drama unfolding on the opposite edge of Eurasia -- in and around the South China Sea. An international tribunal ruled that China's expansive claims to sovereignty over the sea have no legal basis. Predictably, Beijing called the litigation and its outcome "a political farce" and declared it "null and void." Similar to Russia, China sees Washington as the main culprit stirring up trouble in the South China Sea by inciting the Philippines and other countries to stand up to China. Incidentally, of the five-person arbitration panel, four judges represented America's NATO allies (France, Poland, Germany and the Netherlands). Beijing has no doubt that the tribunal ruling is part of Washington's plot to pressure, isolate and contain China.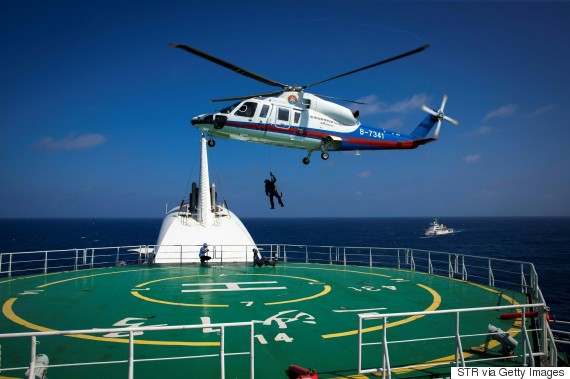 Chinese helicopter crew members practice near Sansha, in the South China Sea, on July 14. (STR/AFP/Getty Images)
In order to better deal with a rising China, even an Asian-style NATO may eventually be in the cards. The U.S. has been vigorously strengthening its bilateral alliances and partnerships in the Asia-Pacific, expanding their reach and networking them into a U.S.-centered strategic web, with Japan, Australia and India assigned the role of the main regional bastions against China.
Given the geopolitical circumstances, Russian President Vladimir Putin and Chinese President Xi Jinping had a lot to discuss at their recent summit in Beijing on June 26. Although overshadowed in the world media by the "Brexit," the Putin-Xi meeting was remarkable because of the unusually high level of thinly disguised anti-American rhetoric. In their joint communique, Russia and China reaffirmed "mutual support on key issues of sovereignty, security and development." They accused the U.S.-led West of undermining strategic stability while seeking "decisive military superiority," and expressed their strong opposition to the U.S. missile defense buildup in Europe and Northeast Asia. Putin and Xi also adopted a separate statement on collaboration in cyberspace, emphasizing the need to "respect state sovereignty in the information domain" and set up a bilateral mechanism to coordinate cyber policies.
Things have only gotten worse.
Rhetoric aside, Russia and China have continued to advance practical cooperation on a range of sensitive political and security issues. In May, Russian and Chinese militaries held their first joint exercises of anti-aircraft and anti-missile defense units. In June, Moscow and Beijing reached an agreement on the joint production of liquid-fuel rocket engines, where Russia has a lot of expertise, in exchange for the supply of Chinese avionics for the Russian aerospace industry.
Last month, Chinese and Russian warships sailed simultaneously into the waters near the Senkaku Islands in the East China Sea, ownership of which is a matter of dispute between Tokyo and Beijing, leaving the Japanese government wondering whether it was a coordinated move to put pressure on Japan. China and Russia might also be considering joint naval drills in the highly contested South China Sea. If Russian warships join the Chinese navy there, this would signify a major change in Moscow's policy that has so far tried to maintain strict neutrality on the sovereignty disputes between China and Southeast Asian claimants.
Two years ago, I wrote that America's policy of dual containment against both Russia and China was inevitably pushing them together to form an anti-Western quasi-alliance, possibly even recreating some conditions that, a century ago, led to World War I. Unfortunately, things have only gotten worse since then. World War III is still a remote risk, but the alarming naval and air brinksmanship in the Baltic, Mediterranean and the South China Seas is happening with increasing frequency.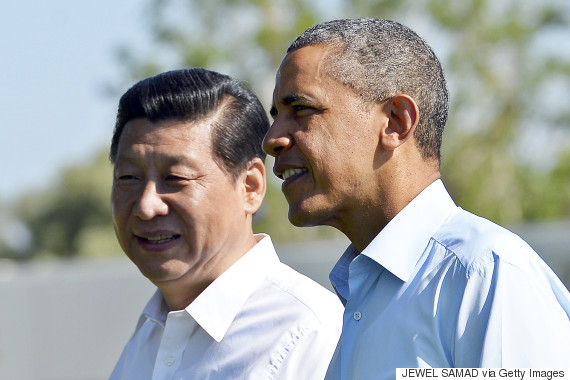 Obama and Xi take a walk at the Annenberg Retreat in California on June 8, 2013. (JEWEL SAMAD/AFP/Getty Images)
The opponents do keep communication lines open. Putin and Obama regularly talk over the phone, the NATO-Russia Council holds meetings, and U.S. Secretary of State John Kerry recently visited Moscow. Xi and Obama have had several personal meetings, and senior Chinese and American officials are engaged in strategic security dialogues.
The problem is that those dialogues are not getting us anywhere, with the different sides talking largely past each other. The U.S. and its allies, as well as Russia and China, obviously need some shift in how they perceive and approach one another. But it remains an open question what it would take to execute such a shift.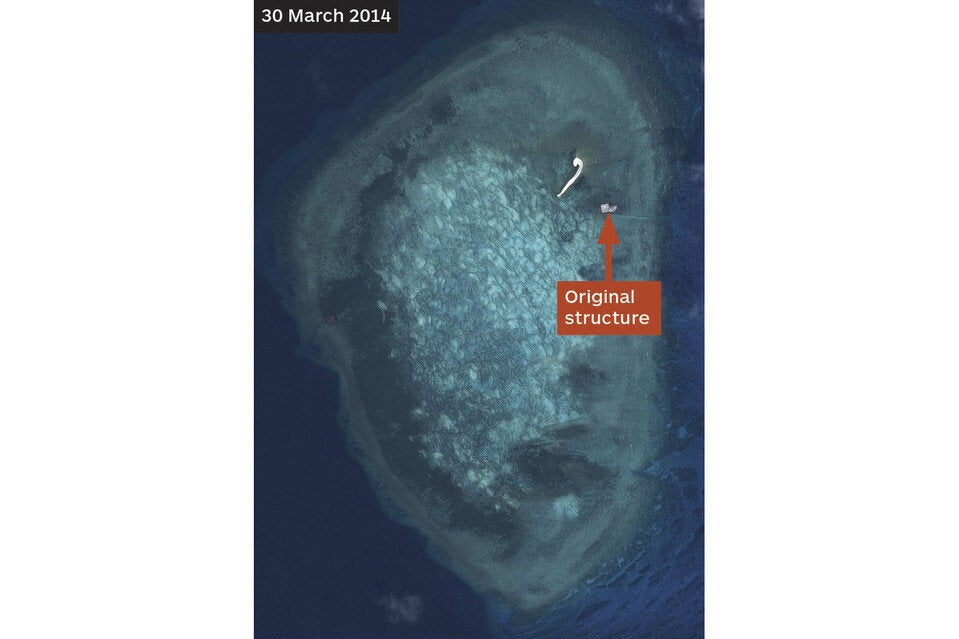 China Sea Fort
Related
Popular in the Community