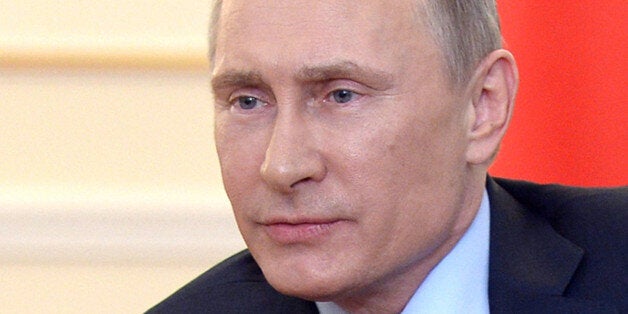 PARIS/KIEV, March 5 (Reuters) - Russia rebuffed Western demands to withdraw forces in Ukraine's Crimea region to their bases on Wednesday amid a day of high-stakes diplomacy in Paris aimed at easing tensions over Ukraine and averting the risk of war.
The European Union offered Ukraine's new pro-Western government 11 billion euros in financial aid in the next couple of years provided Kiev reaches a deal with the International Monetary Fund. Germany, the EU's biggest economy, also promised bilateral financial help.
Scroll down or click here for live updates
Ukraine's new finance minister, Oleksander Shlapak, caused a fall in the Ukrainian bond and currency markets by saying his economically shattered country may start talks with creditors on restructuring its foreign currency debt.
A U.N. special envoy had to abandon a mission to Crimea after being stopped by armed men and besieged inside a cafe by a hostile crowd shouting "Russia! Russia!" Dutch diplomat Robert Serry agreed to leave Crimea to end the stand-off.
And the U.S. Defense Department, in an apparent attempt to signal resolve to Moscow, announced military measures to support eastern European NATO allies adjoining Russia and Ukraine.
Russia and the West are locked in the most serious battle since the end of the Cold War for influence in Ukraine, a former Soviet republic with historic ties to Moscow that is a major commodities exporter and strategic link between East and West.
Ukraine pulled out of a trade deal with the EU under Russian pressure last year, sparking months of protests in Kiev and the Feb. 22 ouster of President Viktor Yanukovich, a Russian ally.
Ukraine says Russia has occupied Crimea, where its Black Sea fleet is based, provoking an international outcry and sharp falls in financial markets on Monday, though they have since stabilised.
The foreign ministers of Russia, the United States, Britain, and Germany met their French counterpart and French President Francois Hollande in Paris to try to start a diplomatic process to defuse the crisis.
But diplomats said it was not clear whether Russian Foreign Minister Sergei Lavrov would take the crucial step of attending talks with Ukraine's new foreign minister, a member of a government Moscow has described as illegitimate.
U.S. Secretary of State John Kerry left the meeting at Hollande's office without making any statement.
Earlier, Lavrov repeated Moscow's assertion - ridiculed by the West - that the troops that have seized control of the Black Sea peninsula are not under Russian command.
Asked whether Moscow would order forces in Crimea back to their bases, Lavrov told a questioner in Madrid: "If you mean the self-defence units created by the inhabitants of Crimea, we give them no orders, they take no orders from us.
"As for the military personnel of the Black Sea Fleet, they are in their deployment sites. Yes, additional vigilance measures were taken to safeguard the sites ... We will do everything not to allow any bloodshed."
Russia did not attend a meeting with Kerry, British Foreign Secretary William Hague and Ukrainian Foreign Minister Andriy Deshchytsia of the so-called Budapest group created to assure Ukraine's security after it abandoned nuclear weapons in 1994.
But Kerry and Hague said they would try to bring the Russian and Ukrainian ministers together later in the day.
Poland's foreign minister tweeted that he would attend a meeting in Paris with those two ministers plus the United States, Germany, Britain, France and the Organisation for Security and Cooperation in Europe (OSCE).
But there was no confirmation that all sides would attend the session, which could be the first step in a diplomatic mediation process.
NATO and Russia were holding talks in Brussels amid concerns that a standoff between Russian and Ukrainian forces in Crimea could still spark violence, or that Moscow could also intervene in Russian-speaking eastern Ukraine.
In a sign of heightened tensions in the east, a pro-Russian crowd in Donetsk, Yanukovich's hometown, recaptured a regional administration building they had occupied before being ejected by police, a Reuters witness said.
The West is pushing for Russia to return troops to barracks, accept international monitors in Crimea and Ukraine and negotiate a solution to the crisis through a "contact group" probably under the auspices of a pan-European security body.
France said European Union leaders meeting in Brussels on Thursday could decide on sanctions against Russia if there is no "de-escalation" by then. Other EU countries, including Germany, are more reticent about sanctions.
French Foreign Minister Laurent Fabius said early measures could include restrictions on visas, the assets of individuals and existing discussions on economic ties with Russia.
President Vladimir Putin on Tuesday defended Russia's actions in Crimea, which used to be Russian territory, and said he would use force only as a last resort.
This eased market fears of a war over the former Soviet republic after sharp falls on Monday, though Russian shares and the rouble slipped again on Wednesday, and Ukraine's hryvnia dropped against the dollar.
Russian forces remain in control of Crimea, where Interfax reported they seized control of two Ukrainian missile defence sites overnight, and Putin gave no sign of backing down.
In Brussels, European Commission President Jose Manuel Barroso said EU deliver assistance to Kiev would in part be contingent on Ukraine signing an IMF loan deal, which will require painful economic reforms such as ending domestic gas subsidies and letting the hryvnia float.
"The package combined could bring an overall support of at least 11 billion euros over the next couple of years," Barroso told a news conference. The United States offered Ukraine $1 billion in loan guarantees on Tuesday.
At his first news conference since the crisis began, Putin said on Tuesday that Russia reserved the right to use all options to protect compatriots who were living in "terror" in Ukraine but that force was not needed for now.
He told his cabinet on Wednesday he did not want political tension to detract from economic cooperation with Russia's "traditional partners". But the foreign ministry said Moscow was preparing counter-measures against Western firms if necessary.
Canadian Prime Minister Stephen Harper said after speaking to Obama that the Group of Seven leading industrialised nations were considering meeting in the near future, a move that would exclude Russia, which joined what became the G8 in 1998.
Lavrov told European Union foreign policy chief Catherine Ashton that an EU-brokered agreement signed by political leaders in Kiev on Feb. 21 should be the basis for stabilising the situation in Ukraine, his ministry said on Wednesday.
In Washington, Defense Secretary Chuck Hagel told Congress the U.S. military was stepping up joint training through an aviation detachment in Poland and boosting participation in a NATO air policing mission over the Baltic states, Estonia, Latvia and Lithuania - the only former Soviet republics that are members of the Western alliance.
Related
Popular in the Community