WASHINGTON ― Did Russians target the key swing states with their social media advertising push, and did they have any help from the Trump campaign? The question has troubled Washington for months. But a review of Facebook advertisements from Russian trolls during the 2016 presidential election now shows that they barely targeted the states that would decide the presidency.
The striking revelation is the result of a review by Democrats on the House intelligence committee who looked at Facebook advertisements from July 2015 to November 2016 by the Internet Research Agency, a Russian company that operates online propaganda for the Putin government and others. The ad release includes previously undisclosed targeting information, including demographic groups and location.
It shows that fewer than 300 of the 3,000-plus Facebook advertisements purchased by the Russian "troll factory" targeted states that could determine the outcome of the 2016 election. Even fewer of these social media ads mentioned the election or the presidential candidates.
It appears the trolls' strategy was to initially gain followers with unremarkable ads. Once someone followed an account, that user could receive the troll's posting in the Facebook News Feed. While most of the content of these accounts simply imitated activist content, toward the end of the election a few accounts bought ads, not targeted to any particular state, telling people either not to vote or to vote for a third-party candidate.
The vast majority of the 277 swing state ads purchased by the Russian agency were about non-electoral issues, including police violence, racism, LGBTQ rights, immigration and Islamophobia. Many of them centered on themes of the Black Lives Matter movement. They mixed calls for protest with denunciations of police misconduct and systemic racism with praise for black celebrities and the black experience. Aside from the inability to conform to the rules of any known North American English dialect, they were mostly indistinguishable from social media posts by actual activists. In fact, many of the ads were incredibly banal.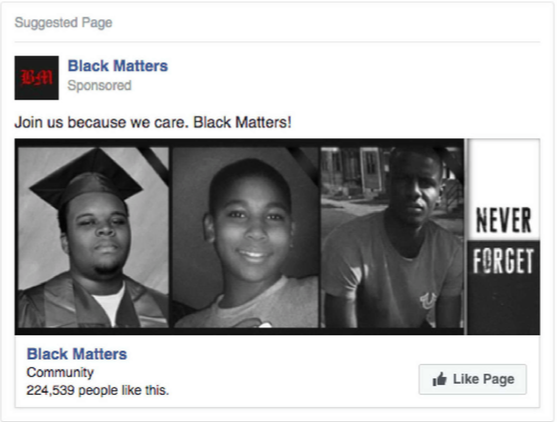 "Join us because we care. Black Matters!" said one ad for Black Matters US, a fake Black Lives Matter activist group set up by Russian trolls. The ad had the highest number of impressions (113,000) of all of the ads that targeted swing states. (Ad impressions are a common way to calculate digital advertising delivery, although an impression does not necessarily mean that a user viewed the ad.) The ad targeted the city of Atlanta and the state of Virginia, as well as non-swing-state regions including the cities of Ferguson and St. Louis in Missouri and the state of Maryland.
"Keeping eye on our brother's cases and much more," the next two swing-state ads with the most impressions said. They were both pushed out by Black Matters US, targeted the same areas and reached 148,000 impressions combined.
Only a handful of ads in swing states made direct electoral appeals. Several of them originated in Being Patriotic, a Facebook group created by the Russian trolls that promoted pro-Trump rallies in Pennsylvania and Florida in the final months of the campaign. "We could help Mr. Trump win Pennsylvania which is a battleground state," one read. "We announce a patriotic flash mob in Florida on August, 2016. We either win Florida or lose. Florida Goes Trump," another read. The Florida ad, which reached 59,000 impressions, depicted Trump giving two thumbs up over a faked image of Hillary Clinton behind bars.
Pro-Trump troll accounts on Instagram joined in to urge Floridians to support the Republican candidate in July 2016.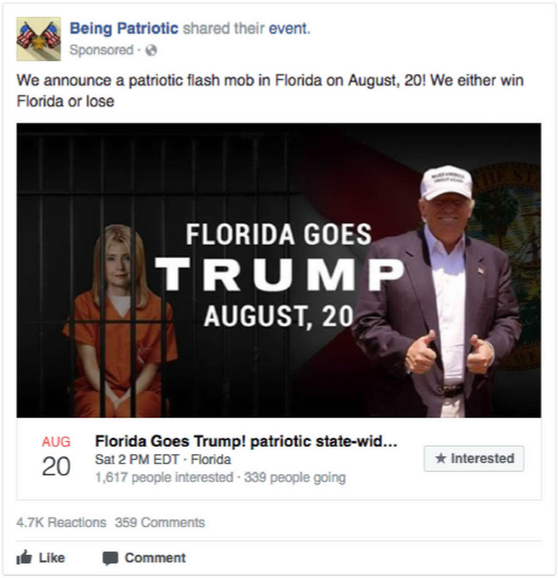 The swing state ads didn't only promote Trump. A Russian troll account called United Muslims of America ran ads in the Washington, D.C., area, which includes Northern Virginia, calling on Muslims to support Clinton. "The time has come to understand one simple thing:we the American muslims are as American Support Hillary. Save American Muslims!" said the the ad, which showed Clinton shaking hands with a woman wearing a hijab.
The Russian trolls' attempts at directly targeting swing-state voters on social media with posts for or against particular candidates were limited, but that does not mean the influence campaign didn't affect those voters.
In the final months of the campaign, the trolls specifically targeted African-American audiences across the country with calls to boycott the election or vote for Green Party candidate Jill Stein.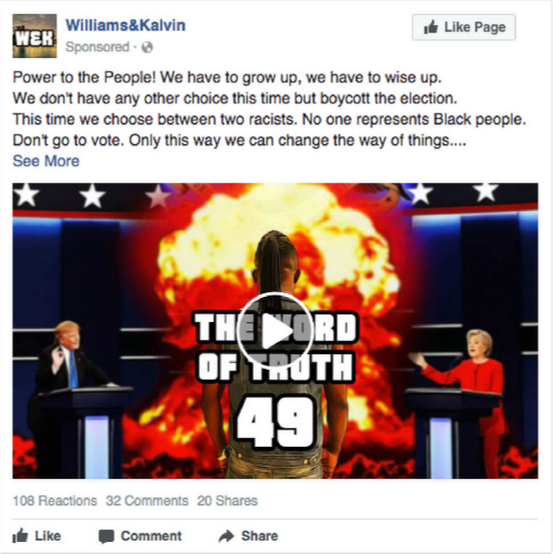 "Choose peace and vote for Jill Stein," said one ad from Blacktivist, a fake Black Lives Matter account, in an ad that ran from Nov. 3 through the election and received over 18,000 impressions. "Trust me, it's not a wasted vote."
The troll account Williams and Kalvin ran an ad on Nov. 7 and Nov. 8, 2016, that targeted users interested in Martin Luther King Jr., Malcolm X, the civil rights movement and the presidential election. "Hillary Clinton is a traitor! Hillary Clinton is a liar! Hillary Clinton is insane!" the message started. "I know that many black people support this old dirty bitch. I don't know why they do this, still it's their personal choice and we are a free country yet. But, listen to my word of truth and don't let them fool you."
"We don't have any other choice this time but boycott the election," said another Election Day ad run by Williams and Kalvin. "This time we choose between two racists. No one represents Black people. Don't go to vote."
Calling all HuffPost superfans!
Sign up for membership to become a founding member and help shape HuffPost's next chapter