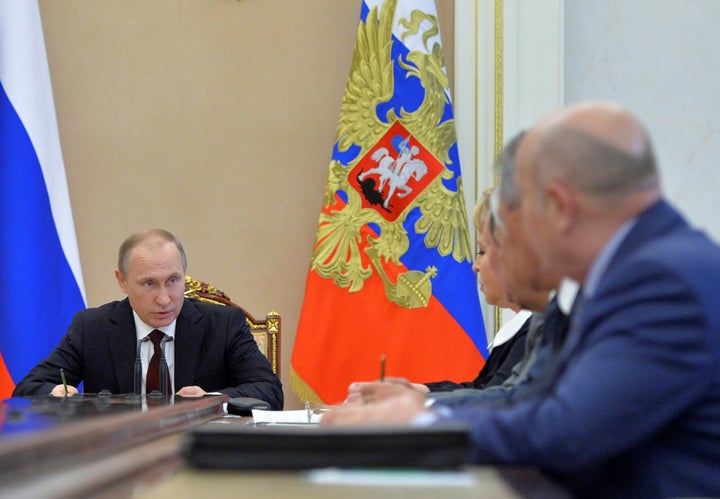 Vladimir Putin summoned his security council and the Russian Navy announced war games in the Black Sea, a day after the Russian president accused Ukraine of trying to provoke a conflict over Crimea, which Moscow seized and annexed in 2014.
The belligerent posture heightened worries in Ukraine that Russia may plan to ramp up fighting in a war between Kiev and pro-Russian eastern separatists that had been de-escalated by a shaky peace process.
Using some of his most aggressive rhetoric against Kiev since the height of the war two years ago, Putin has pledged to take counter-measures against Ukraine, which he accused of sending saboteurs into Crimea to carry out terrorist acts.
Ukraine has called the accusations false and says they look like a pretext for Russia to escalate hostilities. Such an escalation could be used by Putin to demand better terms in the Ukraine peace process, or to inflame nationalist passions at home ahead of Russian parliamentary elections next month.
The Russian leader met his top military and intelligence service brass on Thursday and reviewed "scenarios for counter-terrorism security measures along the land border, offshore and in Crimean air space," the Kremlin said.
Ukrainian President Petro Poroshenko said he had ordered all Ukrainian units near Crimea and in eastern Ukraine onto the highest state of combat readiness. He was seeking to urgently speak to Putin, the leaders of France and Germany, U.S. Vice President Joe Biden and European Council President Donald Tusk.
Oleh Slobodyan, a spokesman for the Ukrainian border guards, said Russia had massed troops on Ukraine's border with Crimea in recent days following an uptick in Russian military activity in northern Crimea and heavier fighting in eastern Ukraine.
"These troops are coming with more modern equipment and there are air assault units," he told a news briefing in Kiev.
The Russian Defence Ministry said its navy - whose Black Sea Fleet is based in Crimea - would start to hold exercises in the area to practice repelling underwater attacks by saboteurs.
Calling all HuffPost superfans!
Sign up for membership to become a founding member and help shape HuffPost's next chapter