In a swipe back at the U.S., Russian lawmakers voted Wednesday to allow restrictions on foreign media outlets.
Russia's State Duma, the lower house of parliament, overwhelmingly passed a bill allowing Russian authorities to designate any media outlets funded from abroad as foreign agents, the state-run news agency Tass reported.
The change subjects all foreign outlets to strict regulations and allows Russian media watchdog Roskomnadzor the ability to block any websites "declared undesirable in Russia," Tass said. It will also require news outlets to disclose where they receive their funding. 
The bill now goes to the Federation Council, the upper chamber of parliament, which is expected to pass it before sending it to President Vladimir Putin, who is likely to ratify it, The Moscow Times reported.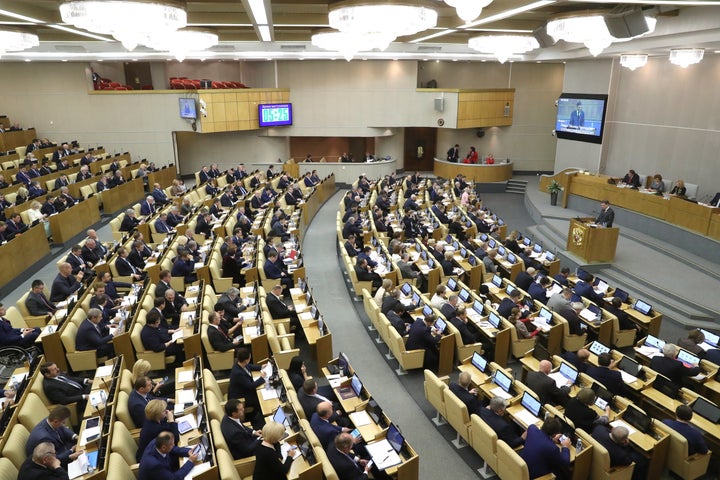 On Thursday, the Russian Justice Ministry published a list of nine U.S.-backed news outlets it says could be designated as foreign agents, Reuters reported. They are the Voice of America, Radio Free Europe/Radio Liberty and seven other Russian or local-language news outlets run by RFE/RL.
Wednesday's vote came about a week after Russian news site and broadcaster RT was forced to register as a foreign agent in the U.S. in compliance with a deadline requested by the U.S. Department of Justice. The new designation requires any reporting to be labeled as being financed or influenced by the Russian government, among other restrictions.
"Americans have a right to know who is acting in the United States to influence the U.S. government or public on behalf of foreign principals," Dana Boente, acting assistant attorney general for national security, said in a statement from the Justice Department last week.
The new restriction comes amid fallout between Russia and the U.S., whose intelligence officials accused the Kremlin of using the Russian media organizations it finances to influence U.S. voters during the 2016 election.
Russian authorities, which dispute the United States' position that the site is an agent of the Kremlin, vowed retaliation in the wake of the DOJ ruling. 
"The Russian side has repeatedly warned that any measures limiting activity of the Russian mass media in the United States will inevitably trigger an immediate symmetrical response," the Russian Embassy said in a Facebook post. 
Already, there are "as many as 11 foreign and international non-profit organizations" declared undesirable in Russia, though none have been blocked, Tass reported. The sites contribute to "shaping a negative public opinion and destabilizing the situation in the country," the bill's authors wrote. 
This post has been updated with the nine U.S.-backed news outlets the Russian Justice Ministry said could be designated as foreign agents.
REAL LIFE. REAL NEWS. REAL VOICES.
Help us tell more of the stories that matter from voices that too often remain unheard.
BEFORE YOU GO
PHOTO GALLERY
Russian-backed Facebook ads