WASHINGTON ― Russian Foreign Minister Sergey Lavrov on Wednesday criticized the ongoing investigation into alleged Russian involvement in the 2016 U.S. election and noted that President Donald Trump appears to share Moscow's view.
"Russia is not involved in your domestic politics," Lavrov said in a morning briefing at the Russian Embassy. "President Trump publicly says that all of it is false news. ... Everyone keeps saying that everyone knows everything but giving no proof. Well, it's not serious."
Trump has repeatedly cast doubt on the U.S. intelligence community's assessment that the Russian government directed a campaign of hacking last year to benefit his candidacy. On Tuesday night, he fired FBI Director James Comey, whose agency has been investigating apparent Russian contacts with the Trump presidential campaign since last July.
The president publicly cited Comey's handling of a probe into former Secretary of State Hillary Clinton's email use as the reason for the firing, but press reports suggest that his anger over the continuing Russia investigation was Trump's true motivation. The New York Times has since reported that Comey requested more resources for the Russia work just last week. 
Republican leaders, including some who occasionally break from party ranks like Sens. Susan Collins (Maine) and Rand Paul (Ky.), and conservative media have rallied behind Trump, rejecting claims that a special independent prosecutor is necessary.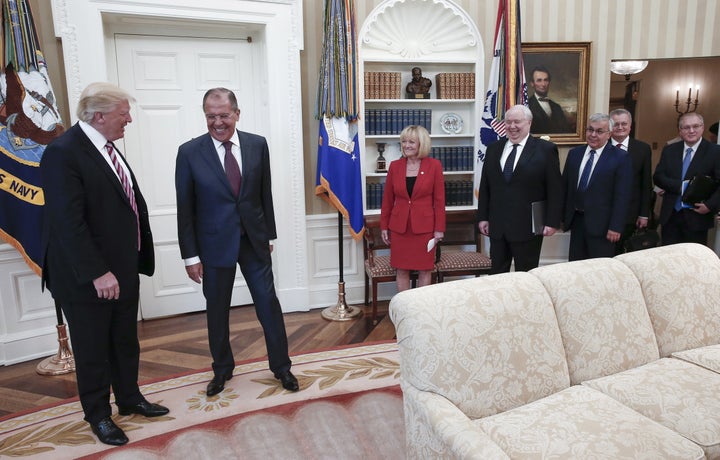 Lavrov's press conference capped a busy day for the Russian emissary. First, he went to the State Department to meet with Secretary of State Rex Tillerson. There, he deflected a question about Comey's dismissal. "Was he fired? You are kidding. You are kidding," Lavrov said to a reporter who'd raised the matter.
Next the minister headed to the White House, accompanied by Russian Ambassador Sergey Kislyak, the man who had controversial undisclosed contacts last year with Trump aides Michael Flynn, Jared Kushner and Jeff Sessions. The Russian Embassy released a photo of Trump shaking hands with Kislyak ― adding another eyebrow-raising image to a day of strange optics.
After meeting with the Russians, Trump was also photographed with former Secretary of State Henry Kissinger, just as much of official Washington was comparing Trump's actions to those of Kissinger's onetime boss, President Richard Nixon.
A White House statement said that Trump's meeting with the Russians covered Syria and Ukraine, and that the president emphasized his desire to improve U.S.-Russia relations. Unusually, Trump's team did not allow U.S. media to briefly enter the meeting, mirroring Russian practice.
At his press conference, Lavrov said he anticipates U.S.-Russian coordination on issues ranging from Afghanistan to Syria and believes that agreements are possible despite months of rocky relations. He rejected U.S. military claims that Moscow is supplying the Taliban insurgency in Afghanistan and called Trump a pragmatic businessman.
Back in Russia, President Vladimir Putin told CBS News that Trump was "acting in accordance with his law."
There are currently four U.S. government investigations into the Russian role in the election. One is being conducted by the FBI, and three are taking place on Capitol Hill ― one each by the House and Senate Intelligence Committees and another by a subcommittee of the Senate Judiciary Committee.
UPDATE: May 11 ― Lavrov's White House visit became even more controversial later on Wednesday, after former national security officials warned that the Trump team made a risky error by permitting Russian media equipment into the Oval Office. (A Russian photographer was allowed in, even though U.S. journalists were not.) An administration official told The Washington Post that they did not realize the photographer worked for the Russian state media, believing that he was the minister's personal photographer, and were not aware he would publicly release the photographs of Trump with Lavrov and Kislyak. "They tricked us," an official told CNN. "They lie."
Calling all HuffPost superfans!
Sign up for membership to become a founding member and help shape HuffPost's next chapter