UKRAINE - Military pressure on Ukraine has never been this strong, but cannons aren't Moscow's best weapon. With the growing Crimea issue — a pro-Russia Ukrainian region — gas appears as a threat in the resolution of the crisis. Ukraine highly depends on Russian energy. Rising gas prices decided by Moscow could lead, at any moment, to the country's collapse.
A new twist could emerge soon in the affair: as of March 1, Russian gas giant Gazprom will have the possibility to renegotiate its contract with Ukraine's state oil and gas company, Naftogaz.
Given the agreement on Russian gas supplies to Ukraine, the two companies are bound to sign a new contract each quarter. When diplomatic relations between Ukraine and Russia are good, so are prices.
The last agreement, signed in December, set the rate at $268.5 for 1,000 meters cubed. This was a competitive price, given the market rate at the time of negotiations was $400.
When prices are negotiated according to the state of relations between Ukraine and Russia
This Gazprom "gesture", coming from the government's main ally in the energy sector, was done for one reason: Former Ukrainian president Victor Yanukovych had just put an end to the free-trade agreement between his country and the European Union and was on the verge of reinforcing Ukrainian cooperation with Moscow. Now that the new interim governments is turning toward Brussels, a new pressure on gas supplies is expected.
Russia provides most of the gas consumed in Ukraine — it is Russian gas' largest importer — and the Russian government has often been accused of using its neighbor's dependency on gas as a means of political pressure. Several industry sectors in Ukraine, such as the metalworking and fertilizer industries, depend entirely on Russian exports. Another fact to consider — and to worry about — is that Kiev is a poor payer.
As of today, Ukraine owes about $4 billion to Gazprom. The country also needs to find $35 billion to pay its debts over the next two years. These are reasons to fear a third "gas war".
In January 2006 and early 2009, Gazprom decided to cut off all supplies to Ukraine — through which 90 percent of Russian gas towards travels to Europe — on the Kremlin's order. The Russians wanted to speed up the settlement of a commercial dispute on gas prices and debt. They also wanted to punish Ukraine from moving closer to the EU. As a result, several Eastern and Central European countries were deprived of gas supplies. Now, only 60 percent of Russian gas imported by European countries passes through Ukraine. The country's neighbors tend to see an upcoming gas crisis more serenely.
Europe is less dependent on Ukraine
But in comparison with the previous crises, Russia now has more freedom to pressure Ukraine. The country has a network of gas importers through Europe, and can cut off Ukraine's supplies without compromising the provision of other European countries.
Gazprom has built a giant dual pipeline in the Baltic Sea, in collaboration with the German companies E.ON, BASF and the French gas company GDF Suez. Called Nord Stream, this pipeline can drain 55 billion meters cubed every year, directly from Russia to Germany. The country is also highly dependent on Russian gas, but Gazprom can't deprive it of energy. Nord Stream is also led by a consortium whose head is Gerhard Schröder, the Germany's chancellor from 1999-2005 .
On the southern side, the South Stream pipeline will begin to function soon. It will cross through Bulgaria, Serbia, Hungary and Italy. This pipeline will ensure that there is a permanent transit through Central Europe.
According to Alexandre Razouvaev, head of Alpari's analytical department, "Gazprom is today much less dependent on Ukrainian transit than it used to be. Several alternative itineraries have been created over the last few years: BelTransGaz, Belarus' transit, but also Nord Stream, and the pipeline connecting Russia to Turkey through the black Sea.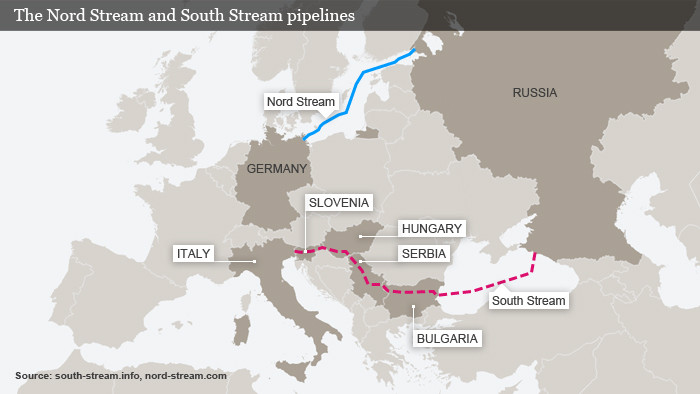 (Highly hypothetical) alternatives to do without Russia
As Russia tries to free itself from Ukraine in gas transit, Kiev is trying to diversify its providers. Ukraine's former Prime Minister Mykola Azarov pointed out at the end of 2013 that the country had reduced its Russian gas imports by 40 percent since 2010. Eventually, he added, his country could even live without Russian gas supplies. Ukraine's government has accomplished an "enormous" work in trying to extract domestic gas, Azarov said.
Many contracts have been signed, notably with Shell and ExxonMobil, which can now extract natural gas from the Black Sea shelf. The Ukrainian government has also given the American company Chevron the right to start researching and explore shale gas in the country. A consistent gas well has been found at Oleski in western Ukraine, the former presidency said.
Experts, however, remain quite cautious about the actual potential of shale gas wells in eastern Europe, as several exploration campaigns have already failed in the past. The nature of soils there makes the production more difficult than in the United States. These projects also face rejection and hostility from part of the population, worried about their environmental impact. Hundreds of people demonstrated last October against the Chevron exploring project in Lviv, western Ukraine's major city.
In green: potential shale gas basin for which data is available. In blue: potential shale gas basin for which no precise data is available. Source: Energy Information Administration (EIA) estimates based on several studies.
The sudden rate rise should not stop soon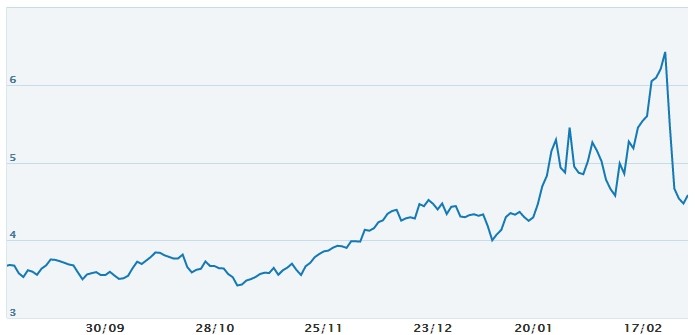 (The peak matches with street fighting in Ukraine, followed by a major rest with the nomination of a new government. Yet rates remain very high.)
Natural gas has strengthened by 30 percent since the beginning of the Ukrainian crisis. What to expect remains an important question.
"There are chances of seeing natural gas prices go down," said Alexandre Baradez, an analyst for IG Markets. "The rate bounce started during the first semester of 2012, well before the start of the Ukrainian crisis. It catalyzed the rate rise over the past few weeks."
"This trend could continue knowing that Ukraine is a strategic actor in the provision of Europe in gas, and that the consumption of Russian gas in the country is still very high," the specialist said. In the end, "the combination of geopolitical tensions on the short run, and the improvement of global economic fundamentals on the medium run give little chance of a gas prices decrease in the upcoming months."
Popular in the Community