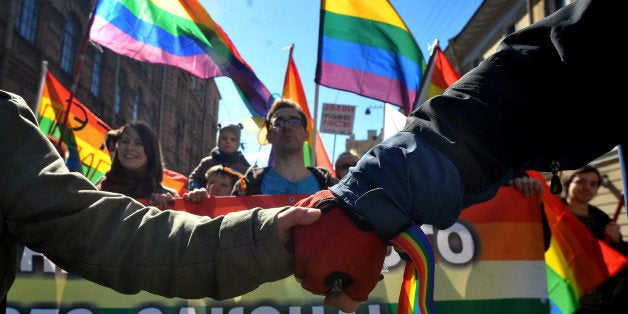 It's more bad news for Russia's embattled gay community now that a State Duma deputy has reportedly called for a national ban on blood donations from both gay and bisexual men.
As The Moscow Times is reporting, Moscow mayoral candidate and State Duma MP Mikhail Degtyarev described his proposal as a precautionary measure rather than a discriminatory one.
"We will suggest amendments to the law on donors that reintroduce homosexuality to the list of contraindications for blood donations in Health Ministry instructions," Degtyarev is quoted by RT as saying. According to that report, Degtyarev noted that over 65 percent of HIV-positive individuals were men, but did not provide a source for those statistics.
In addition, Degtyarev added that Russia's lower house was also working on an initiative to offer gays voluntary consultations with psychologists and psychotherapists in an effort to help them to "return to normal life and become heterosexuals, as are 95 to 99 percent of our citizens," the report added.
Degtyarev's views contrast sharply with that of fellow Moscow mayoral candidate Alexei Navalny, who last week vowed to allow lesbian, gay, bisexual and transgender (LGBT) relevant rallies if elected, according to Reuters.
"The constitution says that everyone can [demonstrate], and the mayor of Moscow cannot ... forbid this," he said in a radio interview. "I will adhere to the constitution ... If everyone is clothed and marches in an orderly way with their slogans, I do not care at all what their sexual orientation is, where they are going and what they are saying."
Russia's stance on the LGBT community has come under international scrutiny in recent weeks in the wake of the country's so-called "gay propaganda" legislation, which imposes hefty fines for providing gay-relevant information to minors or holding pride rallies, according to reports.
REAL LIFE. REAL NEWS. REAL VOICES.
Help us tell more of the stories that matter from voices that too often remain unheard.
BEFORE YOU GO
PHOTO GALLERY
Gay Pride Around The World