LONDON, Aug 10 (Reuters) - Hundreds of people protested in London on Saturday against a Russian anti-gay propaganda law that has attracted international condemnation as the world athletics championships kick off in Moscow.
Gathering in the British capital near the residence of Prime Minister David Cameron and the foreign ministry, demonstrators called for the government to push Russia to repeal the laws.
"Putin is the 'Czar of Homophobia'," veteran gay rights campaigner Peter Tatchell wrote on his website ahead of the protests.
"His regime has outlawed the public expression of LGBT (Lesbian, gay, bisexual and transsexual) identity and affection - and prohibited the advocacy of LGBT human rights - in circumstances where a person under 18 might see it."
Clutching banners bearing slogans such as "Love Russia. Hate Homophobia" and rainbow flags, protesters called for a change in the policy that has attracted criticism from world leaders including U.S. President Barack Obama.
Critics of the anti-propaganda law have said it effectively disallows all gay rights rallies and could be used to prosecute anyone voicing support for homosexuals.
The law, as well as a ban on adoptions of children by same-sex couples, are part of a more conservative course taken by President Vladimir Putin on social issues since his return to the Kremlin in May, 2012.
On Friday, Olympic president Jacques Rogge asked Russia to explain how the country will implement the law in detail ahead of next year's Sochi Winter Olympics.
Cameron tweeted on Saturday that Britain would not boycott the Games over the issue, in response to a letter from comedian Stephen Fry who said British athletes should stay away.
"I share your deep concern about the abuse of gay people in Russia," Cameron wrote.
"However, I believe we can better challenge prejudice as we attend, rather than boycotting the Winter Olympics."
Sebastian Coe, who headed the organising committee for the 2012 London Olympics, also argued against a boycott.
"It's an issue we'll need to address, but an issue that's not one of a boycott," he told reporters in Moscow on the first day's action of the Aug. 10-18 world athletics championships.
Britain's parliament approved gay marriage earlier this year - the final step in a string of recent law changes designed to bring about equality - with the first civil ceremonies expected in the spring of 2014.
Internationally, over 350,000 people have signed an online petition calling on world leaders and Russian politicians to push for a repeal of anti-gay laws and to protect citizens from violence and discrimination.
Gays bars in the United States and other countries began boycotting Russian vodka earlier this month in protest at the laws.
Stories including the murder of a Russian teen reportedly killed due to his sexuality have gained much media attention in Britain and other western countries in recent days. (Additional reporting by Mitch Phillips in Moscow; editing by Mike Collett-White)

Before You Go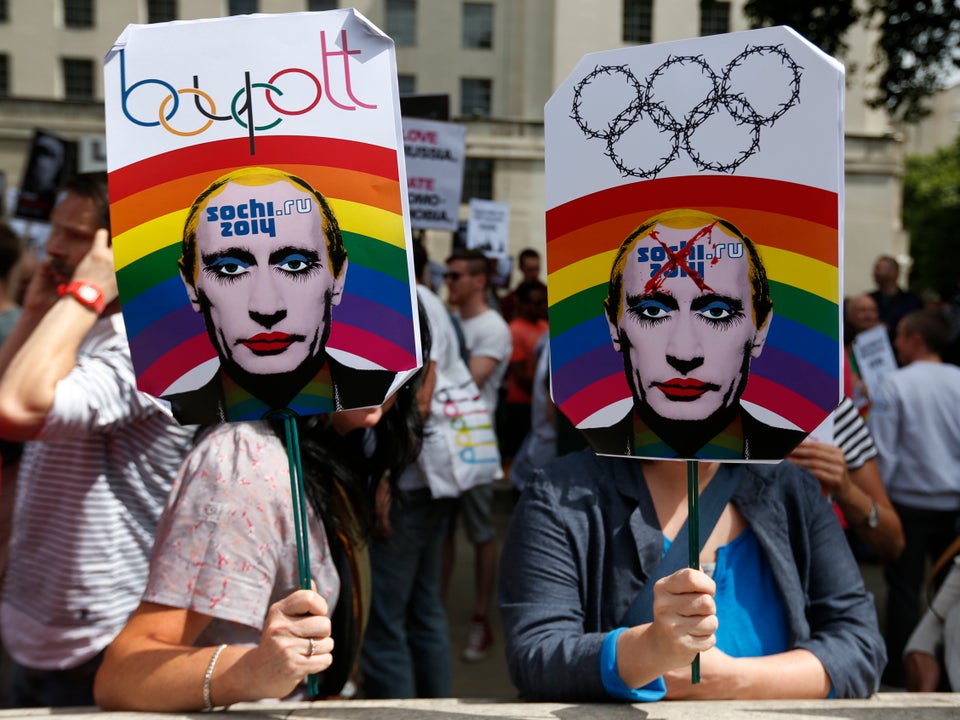 Russia's Anti-Gay Law Protest In London
Popular in the Community