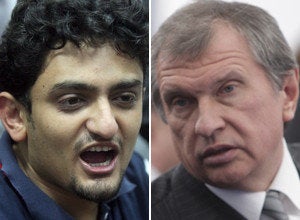 In an interview with the Wall Street Journal, top ranking Russian official Igor Sechin, the country's deputy prime minister and "energy czar," pinpointed Google for what he viewed as the company's role in catalyzing the protests that rocked Egypt and led to the ousting of President Hosni Mubarak.
"In this case, we need to more closely examine what has happened in Egypt," Sechin said. "See, well, what senior managers of Google have been doing in Egypt, what kind of manipulations of the energy of the people took place there."
The "senior managers of Google" was likely a reference to Google executive Wael Ghonim who emerged as a leader of and figurehead for Egypt's protests.
Last week, outgoing Google CEO Eric Schmidt said the Mountain View company was "very, very proud" Ghonim. On Twitter, the company told Ghonim, who had said he would like to return to work at Google if he was "not fired," "We're incredibly proud of you, @Ghonim, & of course will welcome you back when you're ready."
Reuters wrote of Sechin's statement to the Wall Street Journal, "Such strong comment from one of Putin's most trusted deputies is a clear signal of growing concern among Russian hardliners about the role of the Internet in the unrest which has swept across the Arab world."

Popular in the Community