On Tuesday, also known as International Women's Day, the Russian TV channel REN TV honored the country's women in a very bizarre way -- through a video laden with military euphemisms.
In the video, called "March 8," an interviewer talks to a young blonde woman named Maria. If you don't speak Russian, the video, which has no subtitles, seems pretty innocuous. But if you do speak Russian, you realize something weird is going on here.
Maria says she doesn't like wearing high heels. She says she owns a German shepherd -- we see it sitting next to her. The clip is meant to showcase strong Russian women and "refute the traditional ideas about blondes," according to REN TV.
International Women's Day is an official public holiday in Russia. People usually observe it by giving flowers and other gifts to the women in their lives: mothers, wives, female colleagues and so forth. But REN TV decided to put a little spin on those traditions this year.
"Instead of the expected spring bouquets, the channel will show Russian military hardware," the channel says in an introduction to the video on its website.
Maria says her favorite place in Moscow is Bolotnaya Square, the site of a widely reported 2012 incident in which protesters demonstrating against President Vladimir Putin clashed violently with riot police. She also says her favorite flower is the bird cherry, or cheremukha. As she says this, she takes out a can of pepper spray -- colloquially known in Russia as "Cheremukha."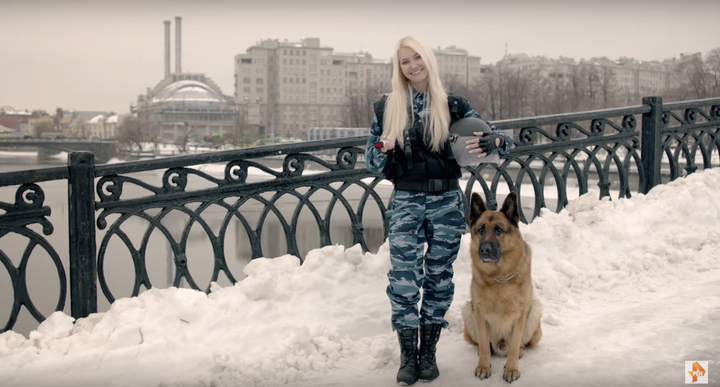 The video ends with Maria dressed in Russian police army gear, holding a helmet and standing next to that German shepherd. An announcer's voice says: "Russian spring, Russian flowers. Happy 8th of March, dear women!"
Russia has also been known to refer to some of its military armaments as flowers. Self-propelled guns with 203-millimeter cannons are nicknamed "peonies." Self-propelled mortars are "tulips," automatic mortars are "cornflowers" and the Russian army is a "garden."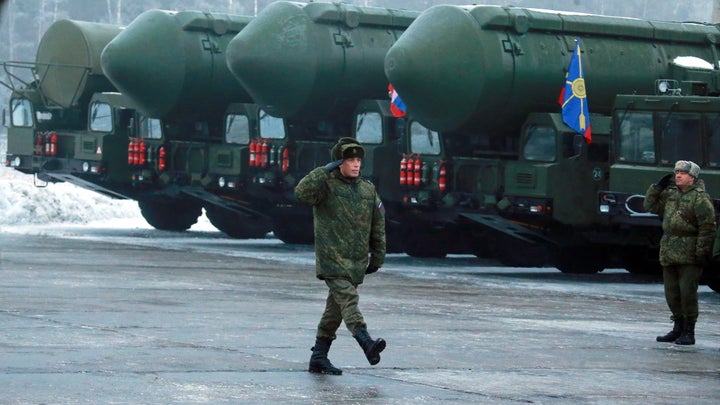 In recent years, Russia has made its ambitious military goals clear. Despite a worsening economy, the country continues to be heavily involved in military intervention in Syria. IHS Jane's, a defense think tank, estimated in October that Russia was spending $4 million a day on its military activity in Syria. The country has also been supporting separatists in eastern Ukraine since early 2014.
REAL LIFE. REAL NEWS. REAL VOICES.
Help us tell more of the stories that matter from voices that too often remain unheard.
BEFORE YOU GO
PHOTO GALLERY
Ukraine's Volatile East