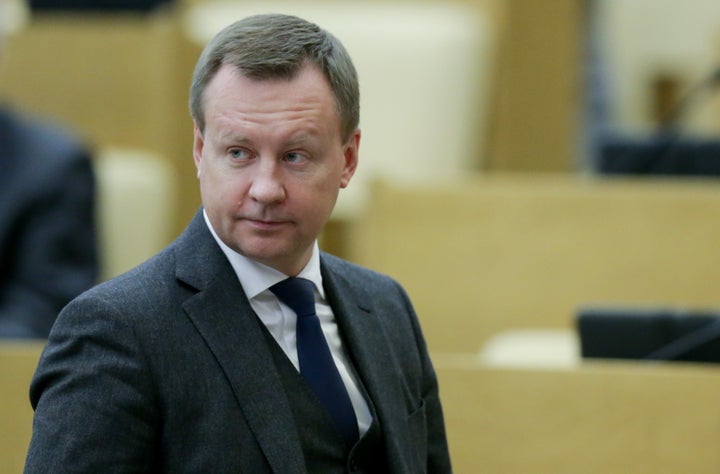 KIEV, March 23 (Reuters) - Ukraine accused Russia of "state terrorism" after a former Russian lawmaker and key witness in a treason case against former leader Viktor Yanukovich was shot dead in broad daylight outside a hotel in central Kiev on Thursday.
Russia called the allegation "absurd."
Former MP Denis Voronenkov was killed by an assailant who was armed with a pistol. The assailant was wounded by Voronenkov's bodyguard and later died in hospital, police said.
Voronenkov fled to Ukraine last year and was helping the Ukrainian authorities build a treason case against Yanukovich, Ukraine's pro-Kremlin former president.
Voronenkov had also spoken out against Russia's annexation of Crimea in March 2014, although he voted for the move at the time.
President Petro Poroshenko said the killing "is an act of state terrorism on the part of Russia, which (Voronenkov) was forced to leave for political reasons."
"Voronenkov was one of the main witnesses of Russian aggression against Ukraine and, in particular, the role of Yanukovich regarding the deployment of Russian troops to Ukraine."
Relations between Kiev and Moscow are at an all-time low after Russia's annexation of the Crimean peninsula in March 2014 and the subsequent outbreak of separatist fighting in Ukraine's eastern Donbass region that has killed more than 10,000 people.
Poroshenko said it was "no accident" that Voronenkov was shot on the same day as a warehouse storing tank ammunition was blown up at a Ukrainian military base.
Moscow denied any involvement Voronenkov's murder .
"We believe that all the falsehoods that can already be heard about much-hyped Russian involvement are absurd," Kremlin spokesman Dmitry Peskov was quoted as saying about the killing.
Voronenkov, 45, had been placed on a Russian federal wanted-list in connection with an alleged $5 million property fraud. He came to Ukraine with his wife, opera singer Maria Maksakova, who was also an MP.
Voronenkov was gunned down on his way to meet another former Russian parliamentarian, Ilya Ponomarev, who was the only member of the Duma who voted against the annexation of Crimea.
"There's an obvious theory - I've said that Voronenkov wasn't a crook, but a deadly dangerous investigator for Russian officials," Ponomarev wrote on Facebook.
Television footage showed Ponomarev and Maksakova leaving the scene in a car together with Ukraine's General Prosecutor Yuriy Lutsenko.
Lutsenko called the shooting a "cynical murder."
"He had provided investigators of the military prosecutor's office with highly important (witness) testimony for the case. This was a typical show execution of a witness by the Kremlin," Lutsenko said.
Yanukovich fled Ukraine during the 2013-2014 Maidan street protests, which he said were tantamount to a "coup" organized by armed nationalist radicals. The former leader has praised Russian President Vladimir Putin for saving his life by helping him escape from Ukraine.
(Additional reporting by Vladimir Soldatkin in MOSCOW; Writing by Matthias Williams; Editing by Tom Heneghan and Richard Lough)
Related
Popular in the Community