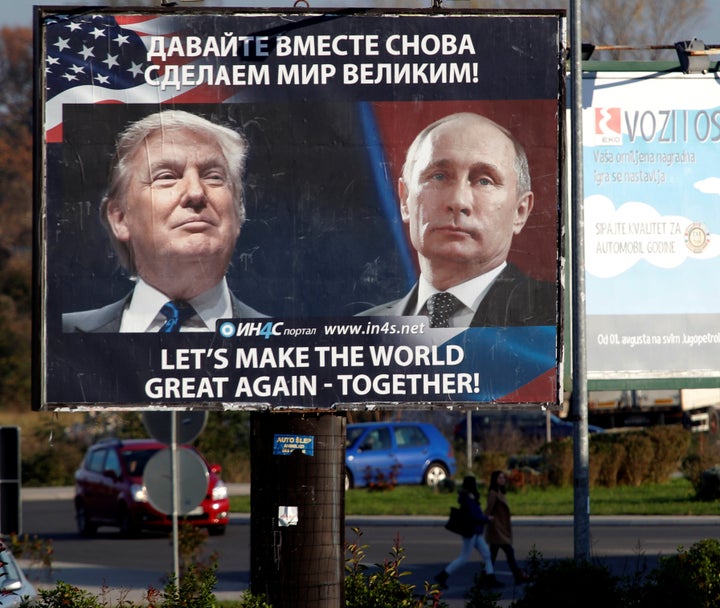 Donald Trump's first news conference as president-elect last week featured a mix of deflected questions, cheering supporters and accusations CNN is "fake news." The circus atmosphere was strange for many viewers and reporters, accustomed to more formality and respect.
For some Russians, however, Trump's go with the press was oddly familiar. One Russian journalist, Alexey Kovalev, captured that feeling in a widely syndicated post on Medium that lays out similarities between Trump's treatment of the press last week and Russian President Vladimir Putin's massive annual press conferences.
Kovalev is the founder of fact-checking site Noodle Remover and a former senior editor at Russia's largest state-sponsored news agency RIA Novosti, which Putin shuttered in December 2013.
The Huffington Post spoke with Kovalev on sentiments toward the press shared by Trump and Putin, and what Russia's pundits are saying about the new American president.
Trump's press conference struck a familiar chord with a lot of Russians for its similarities to Putin's annual presser. Why do you think it felt so immediately recognizable?
I wouldn't say Russians in general, because, as I found out this year, the farther you go from Moscow, the less people care about Putin's press conferences. But to anyone who has ever been in that [press conference] room or watched it on a live feed from the conference center in Moscow, several things instantly jumped out.
The way that Trump shut down a reporter, for instance ― Putin used to lash out at reporters like that while he was still, in a way, green. There are some subjects that really freak him out, and seasoned reporters know that there are several areas that are no-go.
What's an example of that?
His family. Once a reporter was careless enough in 2009 to ask a question about his alleged affair with a famous gymnast and he really lashed out. So he does share these hostilities towards the press with Trump, but the difference of course is that the media in Russia are much more subdued and controlled than in the United States.
Unless Donald Trump somehow manages to completely dismantle the foundations of democracy, like the First Amendment, I don't think it will come to the point where the media is in a really dire situation like in Russia.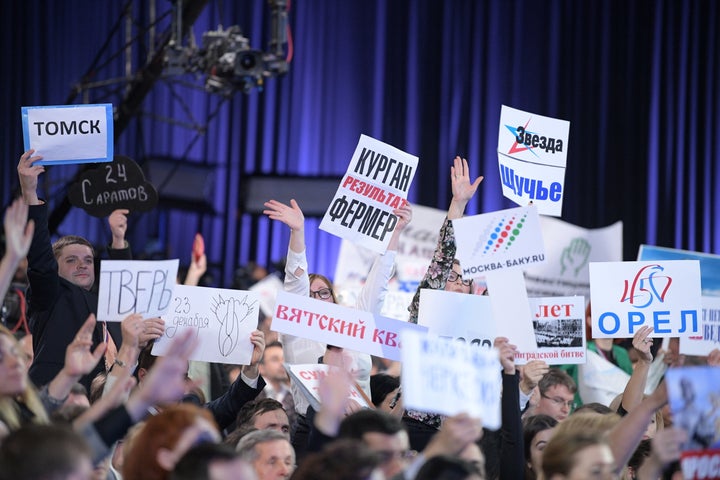 Russian media outlets and newsrooms have faced closures and restrictions in the past number of years. What's the climate like right now in Russia for independent journalism?
Well, one thing that you need to know about journalism in Russia is that on paper, we are also protected by the Russian constitution. But unlike the United States, there aren't any checks and balances to keep that in place. It works on paper, it exists on paper, but there are millions of ways to humiliate or threaten a publication without resorting to unconstitutional measures.
There has been a lot of debate in Russian media community about where the independence ends. Where lies the line between censorship and self-censorship. If you want to stay afloat, for the sake of your audience you want to keep your publication free from harassment, but that means that you are self-administering these restrictions.
In terms of Russian press, what kind of coverage has Trump received and what's the view of Trump in major Russian media outlets?
It really depends on whether we're talking about domestic coverage or Russia's foreign language. RT's coverage of the presidential campaign, I can definitely say they were not campaigning for Trump. They were quite vocally anti-Clinton. If you look closely at the coverage, you'll see they had a soft spot for Bernie Sanders and had an exclusive interview with him.
"There's so much bizarre hatred and really racist insults thrown at Obama in Russian TV coverage."
As far as domestic coverage is concerned, it was insanely anti-Clinton and anti-Obama. There's so much bizarre hatred and really racist insults thrown at Obama in Russian TV coverage. There's so much confusion now [about Trump], because no one really knows what to think.
There isn't an official line on it yet?
Yeah, and I can see the gears turning in the talking heads on TV.
For instance, when Rex Tillerson was doing his congressional hearing, it was just assumed that Tillerson was our guy. We gave him an Order of Friendship, he should be on our side. Then Tillerson said something to the effect of "sanctions should have been tougher on Russia and Russia had no right to annex Crimea" and there was a lot of confusion, like, "How could this happen? He was supposed to be our guy!"
But, then a minute passes and you can see the flashing light bulb over their heads ― "Oh he's just saying that to pass through Congress, but he's really on our side." You can see pundits on Russian TV debating that.
They're still trying to find a way to have an angle on this?
To rationalize it, because they don't know what to expect. Even with all of Trump's comments and sympathetic talk about Russia, no one really knows what to expect. There's this weird, really confused euphoria about this. You can see it on Russian news bulletins showing how many days until Trump's inauguration.
"There's a lot of confusion, but domestic coverage is definitely so sympathetic to Donald Trump that it's getting bizarre."
They are heaping praise on him, like it was Obama who ruined everything in terms of relations with Russia, and Trump is going to fix everything. But it's almost like they don't really believe that, because really no one knows what to expect.
There's a lot of confusion, but domestic coverage is definitely so sympathetic to Donald Trump that it's getting bizarre.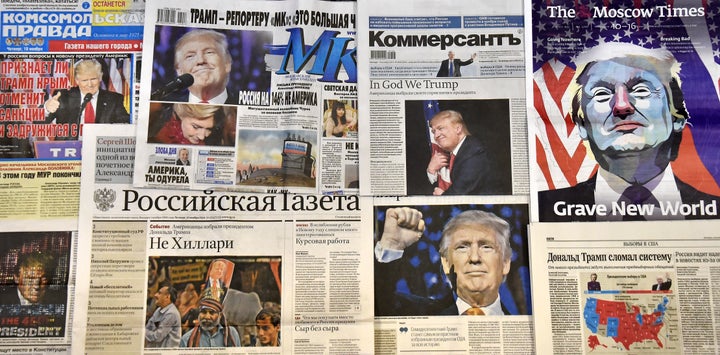 In terms of Trump's relationship with Putin, in a lot of American media coverage, he's in the pocket of Putin or being played by Putin. How is that relationship depicted in domestic Russian media?
It's like weather in England, in that it changes every 15 seconds. All the Russian officials are very vocally denying, saying, "No, we don't have any control over Trump," or, "No, we weren't trying to influence the elections." They're saying that, and all the pundits are like, "Oh, but we could have influenced the elections, and we are indeed a superpower if we could do that."
What are some major things you think that American media get wrong or don't understand in their coverage?
We're getting to my favorite bit. I've been seeing a lot in my Facebook feed among my Russian colleagues, especially those critical of Putin, who have been really dismayed about the quality of coverage that Russia has been getting recently. I even put together a list of the worst Russia articles of 2016.
Huffington Post is not there, but there are some real gems. There is this mainstay of real, old-school Kremlinology: We have no idea what we're talking about, but let's infer from something really unrelated. Like, "5 Russian Words You Have to Learn To Understand Putin." What the fuck? That's not how you understand Putin. Five random words are not the way that you understand a culture. That's one of my favorites.
"Why You Have To Read Dostoyevsky To Understand Russia," or Putin, or whatever. I can see 100 face-palms on my Facebook feed, because that's really inane.
This interview has been edited and condensed for clarity.
Popular in the Community