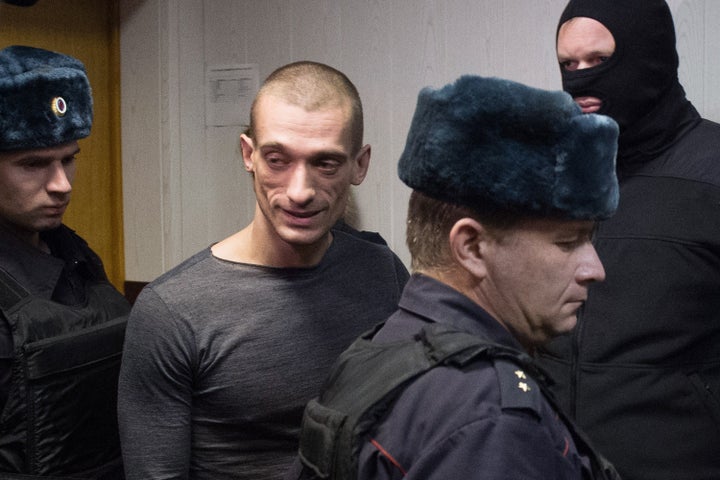 Provocative Russian artist Pyotr Pavlensky took a canister of gas to the headquarters of Russia's FSB security service in Moscow on Monday, doused the large wooden doors in fuel and set them alight. He then stood in front of the flames posing for photos until a policeman arrested him.
The latest performance piece of the radical artist, entitled "Threat," was intended as a protest against surveillance tactics of the FSB.
"The threat of inevitable reprisal hangs over everyone who can be tracked with devices," Pavlensky said in a statement, according to Reuters.
The organization is the successor to the KGB spy agency of the Soviet Union, though it has different powers and does not oversee foreign spies like its predecessor. The FSB, which Russian President Vladimir Putin led for a period in the 1990s, operates out of a massive historic building, known as the Lubyanka, which has traditionally housed the nation's security and spy agencies. 
This is not the first time that Pavlensky, whose previous pieces have usually involved some degree of self-harm and nudity, has made headlines with his extreme artistic endeavors. In the winter of 2013, he disrobed in the middle of Moscow's Red Square, sat on the ground and nailed his scrotum to the cold stones below. 
That piece was called "Fixation," and was meant to draw attention to the apathy of the Russian public toward the nation's politics. He was charged with hooliganism soon after the performance. 
Earlier works included sewing his lips shut to protest the detention of radical punk band Pussy Riot and rolling himself up in barbed wire while naked to oppose limits on civil liberties in the nation. In the piece "Separation," a nude Pavlenksy sliced his ear off on the roof of a psychiatric hospital to demonstrate against using psychiatric assessments to detain and discredit dissidents.
As each of his acts garnered international attention, Pavlensky built up a reputation as a controversial voice in the Russian art scene. His anti-authority work has also resulted in legal trouble, however, and he is currently on trial for vandalism, related to a 2014 pro-Ukrainian revolution protest piece.
Pavlensky could serve up to three years in prison if convicted, but the ongoing legal action didn't deter him from targeting the headquarters of the national security service for Monday's display.
No formal charges have yet been laid against Pavlensky for lighting the Lubyanka on fire, though Russian law enforcement sources told Reuters that he could face petty hooliganism charges. 
While Pavlensky's "Threat" is more than a harmless act of free expression, Russia's government has cracked down on more benign artistic displays that have challenged state authority in recent years.
In 2013, police seized artwork and shut down a gallery after it exhibited a painting depicting Vladimir Putin in women's lingerie. The artist fled the country in fear.
PHOTO GALLERY
Russia Gay Rally Arrests
Calling all HuffPost superfans!
Sign up for membership to become a founding member and help shape HuffPost's next chapter