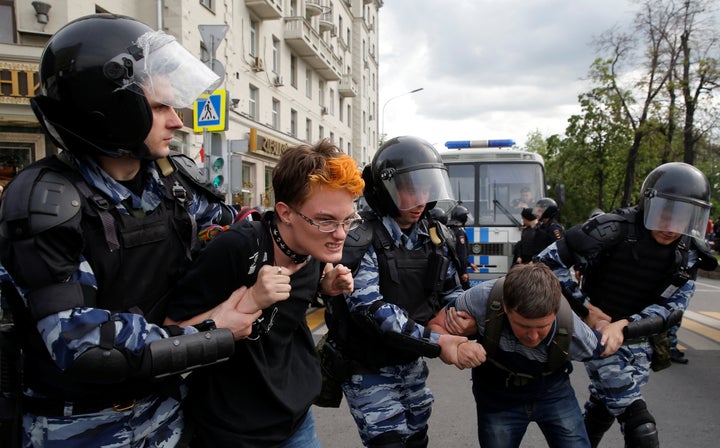 In a crackdown meant to quell a movement of youthful activism, many of the arrests appeared to target students and young people, watchdog groups reported.
The rallies were organized by vocal anti-Kremlin politician Aleksei Navalny and coincided with Russia Day, a national holiday, which helped to swell the crowds.
Navalny, an outspoken critic of President Vladimir Putin who has crusaded against corruption, was arrested before he could join the protests and sentenced in a midnight hearing to 30 days in jail, his second such sentence this year. Before this week's event, he used a series of social media postings to call on young Russians ― who had also appeared in force during a March protest movement ― to step out once again.
"I'm proud that there are tens of thousands of brave young people in the country who are not afraid of any threats and ready to go out to the streets to ask the authorities some relevant questions," Navalny said in a YouTube video posted earlier this month. "I want to puke when I hear the hypocritical government officials say that the youth should stay out of politics. ... Young people should be involved in politics, they should pressure the regime, force it to change."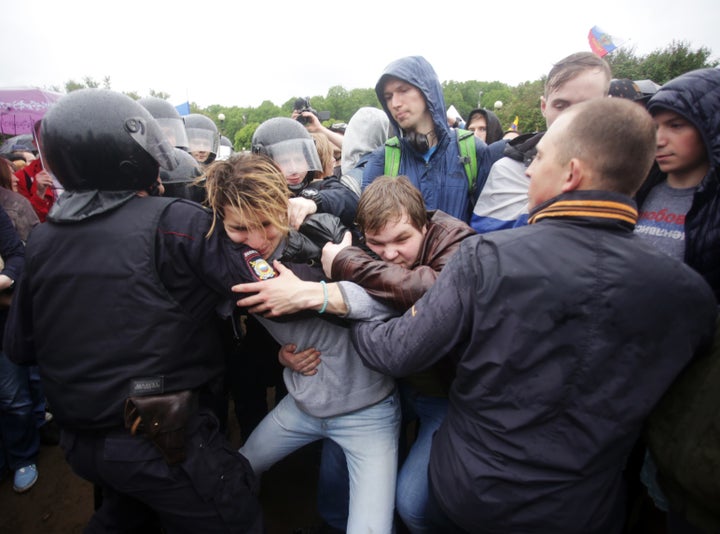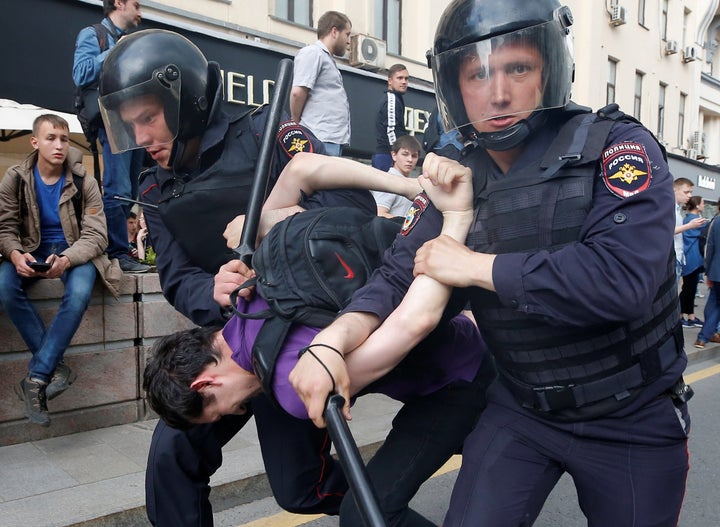 As media outlets and several photo agencies in Russia noted, those calls appeared to have been heard. The Guardian described crowds of "mainly young protesters" chanting anti-Putin slogans. The New York Times chronicled the "enthusiastic resolve of mostly young participants." Dramatic footage showed police dressed in riot gear dragging protesters away, arresting others and at times getting violent amid a sea of young faces.
"It's a new generation of Russian voters. It's a new generation that's growing up," Rachel Denber, the deputy director of the Europe and Central Asia division of Human Rights Watch, said. "I suppose they are not affected by or don't watch state television. They have other ideas. They have fresh ideas."
Many young Russians have only known their country with Putin at or near the helm. The former KGB agent has been either prime minister or president for 17 years and is likely to win an election next year to another six-year term.
Denber, who was in Moscow during the March protests, described the response from Russian authorities during both events as "concerning" and pointed to a recent HRW report that warned that students and children were being targeted in a massive campaign to discourage activism. The watchdog group detailed initiatives to show anti-Navalny films during classes and noted Valentina Matvienko, an influential politician in Russia's upper house of parliament, last month suggested new laws barring children from participating in protests.
"Rather than responding to legitimate public demands for accountable government, the Russian authorities are trying to quash the voices of the next generation of voters," Hugh Williamson, HRW's director for Europe and Central Asia, said in the report. "The opinions of children and young adults matter, and the government should listen to their concerns, not silence them."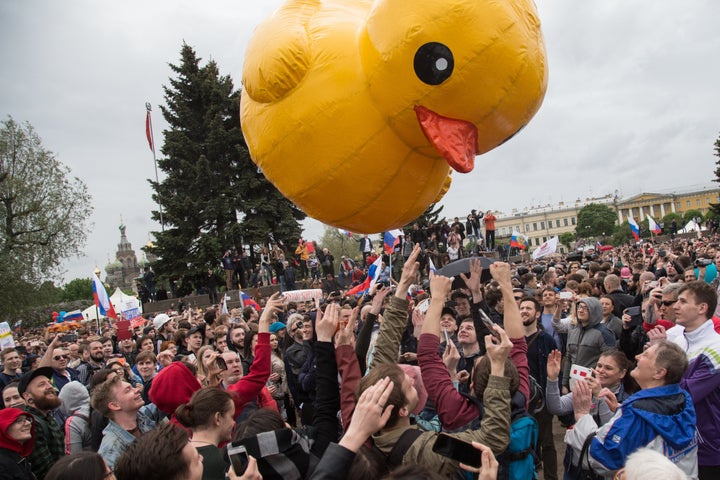 Those calls were echoed by another watchdog group, Amnesty International, who said actions by Russian police demonstrated "the authorities' utter contempt for fundamental human rights."
"The Russian authorities' stranglehold on freedom of expression grows tighter by the day," Denis Krivosheev, the group's deputy director for Europe and Central Asia, said in a statement. "Peaceful protest is a fundamental human right, not a privilege to be bestowed or refused on a whim."
Denber noted that even if some of the arrests were legitimate, the sheer scale of detentions made it "easy to see that it's disproportionate." She said history has shown courts willing to hand down unfair sentences in these cases and a justice system that "isn't interested in a defense." But, she noted, young people will likely be a force at these rallies for some time.
"It's really hard to say, but if the past is any indication, thousands came to the streets in March, thousands came out today," Denber said. "I think as long as people are motivated and as long as they feel their voice isn't heard, they're probably going to come out. That's why it makes sense for the authorities to listen to them."
Calling all HuffPost superfans!
Sign up for membership to become a founding member and help shape HuffPost's next chapter