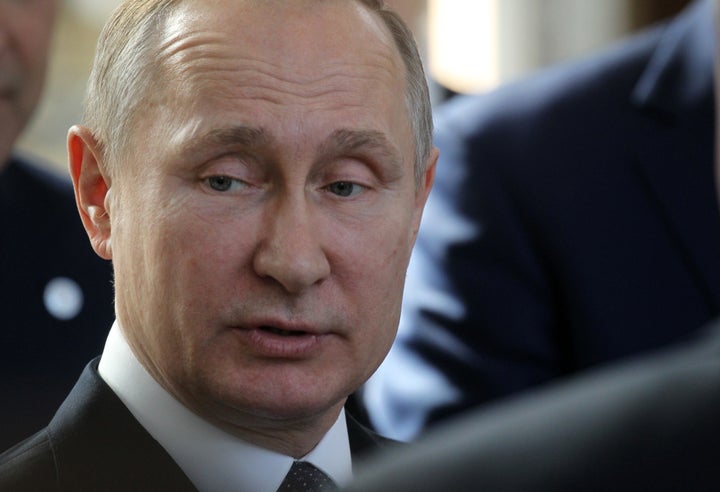 Russia condemned the United States, the United Kingdom and France for their joint retaliation strikes in Syria less than a week after Russian President Vladimir Putin had denied responsibility for a deadly chemical attack on a town east of Damascus.
In a statement released early Saturday morning, Putin denounced the strikes as an "act of aggression" that would have a "destructive influence on the entire system of international relations." The Kremlin also said it would call an emergency meeting of the United Nations Security Council.
Friday's joint airstrikes hit three targets associated with Syrian President Bashar Assad's chemical weapon program, including a scientific research center in Damascus, chemical weapon storage facilities and a command post.
In an address to the American people on Friday, Trump called out Russia and Iran for supporting Assad's regime.
"To Iran and to Russia I ask, What kind of nation wants to be associated with the mass murder of innocent men, women and children? The nations of the world can be judged by the friends they keep," Trump said.
"President Putin and his government promised the world that they would guarantee the elimination of Syria's chemical weapons," he added. "Russia must decide if it will continue down this dark path or if it will join with civilized nations as a force of stability and peace."
After the strikes were launched, the Russian Embassy in Washington issued a warning to the U.S.
"Again, we are being threatened. We warned that such actions will not be left without consequences," Russian Ambassador Anatoly Antonov said in a statement.
"Insulting the president of Russia is unacceptable and inadmissible," Antonov added. "The U.S. ― the possessor of the biggest arsenal of chemical weapons ― has no moral right to blame other countries."
Russia's Foreign Ministry spokeswoman Maria Zakharova also accused the U.S. and its allies of attacking Syria at a time when there was a chance for peace.
"First the 'Arab spring' tested the Syrian people, then Islamic State, now smart American rockets. The capital of a sovereign government, trying for years to survive under terrorist aggression, has been attacked," Zakharova wrote in a Facebook post.
"You have to be quite abnormal to attack Syria's capital just at the moment when it had a chance for a peaceful future," she added.
Iranian Supreme Leader Ayatollah Ali Khamenei called the strikes "crimes" in a speech cited by Iranian TV, according to Reuters.
"U.S., allies will not gain any achievements from crimes in Syria. Attacking Syria is a crime. U.S. president, U.K. prime minister and the President of France are criminals," he reportedly said.
Earlier this week, Trump called the chemical attack in Douma "atrocious" and vowed that those responsible would "pay a price."
"If it's the Russians, if it's Syria, if it's Iran, if it's all of them together, we'll figure it out, and we'll know the answers quite soon," Trump said on Monday.
"We cannot allow atrocities like that. ... Everybody's going to pay a price."
Trump had tweeted a similar statement last Sunday, saying that Russia and Iran are responsible for backing Assad's regime. U.S. allies including France and Britain then quickly joined Trump in denouncing Syria and agreed there was a need to respond to the chemical attack.
The Syrian government has denied it used any chemical weapons in an attack, while Russia's Foreign Ministry claims there is no evidence of a chemical attack in Douma.
On Monday, Russia warned that any military intervention from the U.S. against Russian allies in Syria would result in the "most serious consequences" and called news of last weekend's chemical attacks "fabricated."
Jesselyn Cook contributed reporting.