Russia's propaganda machine reportedly extends far beyond its alleged interference in the U.S. elections. It also took "active measures" to exert "covert influence" on public opinion and decision making in Sweden, according to a report the Swedish Institute of International Affairs released last week.
Experts determined that a series of forged letters, fake news items and disinformation tactics have peppered the Swedish information landscape since 2014, after the Russian annexation of Crimea from Ukraine. The move created what the report called a "deteriorated security situation in the wider Baltic region."
More specifically, a handful of pro-Kremlin non-governmental organizations have emerged in the country in the past two years, said the study, titled "Russia's strategy for influence through public diplomacy and active measures: the Swedish case."
Social media research indicated "troll armies are targeting journalists and academics, including the 'hijacking' of Twitter accounts."
Agents for Russia also deliberately spread misinformation via Russian-owned news websites including Sputnik, which ran a Swedish language site between 2015 and 2016, the report found.
Researchers trawled through almost 4,000 articles on Sputnik's Swedish site and determined that the most common themes they found in pieces were anti-NATO and pro-Russia ― "Crisis in the West," "Positive image of Russia" and "Western aggressiveness" to name a few.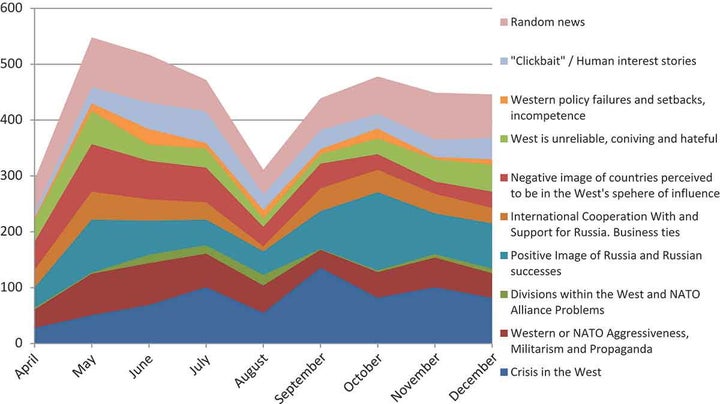 "Russian public diplomacy measures such as Sputnik have gained in importance over the course of the last few years, so we wanted to study its dominant narratives and how they shifted over time," report co-author Sebastian Asberg told The Huffington Post via email.
After taking a closer look, he said researchers determined that Russia's influence tactics "went beyond these traditional public diplomacy measures."
A forged letter purportedly written by Sweden's foreign affairs minister about seeking cooperation with the self-described Islamic State militant group was among the most egregious findings, he added.
Russia has not yet commented on the allegations, but Swedish prime minister Stefan Löfven said Monday that he "cannot rule out" that Russia could try to influence Sweden's elections, The Local reports.
Russia's reported focus on Sweden isn't surprising, according to Asberg.
"The Baltic Sea region is of increasing geostrategic importance to Russia," he said. "This is mainly due to the Baltic States' membership in NATO, which would make it a likely scene of any potential conflict between Russia and NATO. Russia therefore wants to minimize NATO's presence in the region."
Sweden has been one of Europe's most vocal critics of Russia's activity in Ukraine, he noted.
Whether this campaign has effectively swayed opinios is difficult to weigh, Asberg said ― but the timing was certainly uncanny. Russia allegedly intensified its efforts in the lead-up to a Swedish parliament vote last May "which would entail closer cooperation between Sweden and NATO."
And we can likely expect more where this came from, according to the U.S. intelligence report on Russian interference in the election, allegedly under the directions of Russia's President Vladimir Putin.
"Moscow will apply lessons learned from its Putin-ordered campaign aimed at the U.S. presidential election to future influence efforts worldwide, including against U.S. allies and their election processes," the U.S. report said.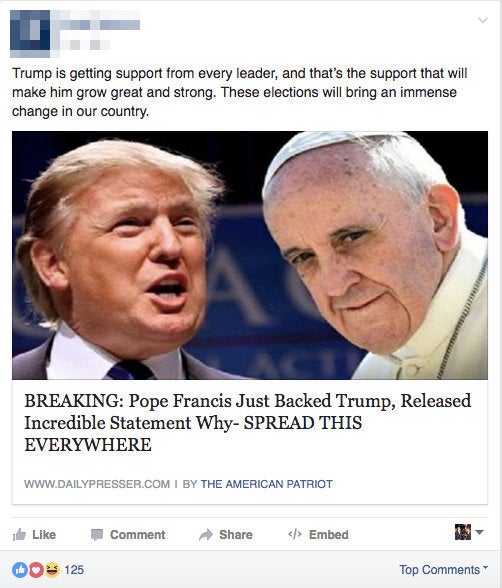 Fake News Spread By Social Media During The 2016 Election
Popular in the Community