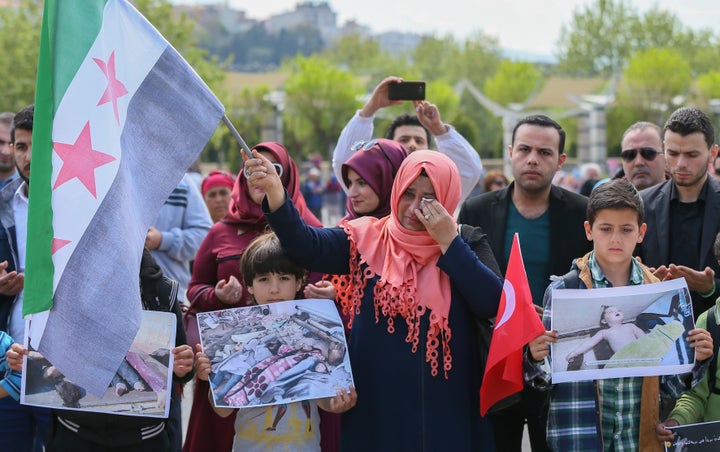 WASHINGTON ― While U.S. intelligence has not yet concluded that Russia knew about Syria's plan to gas civilians ahead of time, senior White House officials said Tuesday that Russia must be pushed on that question.
Officials noted the years of close cooperation between the two militaries and the presence of Russian troops at Syrian military bases ― particularly the Shayrat air base that officials said was used to launch the April 4 nerve gas attack that killed close to 100.
"We do think that it is a question worth asking the Russians," said one official, who like the three others spoke to reporters on condition of anonymity. "How is it possible that their forces, who were co-located with the Syrian forces that planned, prepared and carried out this chemical weapons attack, at the same installation did not have foreknowledge?"
The White House held the briefing to refute claims being pushed by Russia, Syria and their surrogates in the media ― including such websites as Infowars ― that the attack was either a hoax or the result of a Syrian government airstrike on a chemical weapons store under the control of rebels and terrorists.
A second official said there was simply too much corroborating evidence available too quickly for it all to have been disinformation. "It's just too massive for any intelligence organization to fabricate in that short a time," the official said. "I think it's clear the Russians are trying to cover up what happened there."
A four-page memo released Tuesday by the White House, based on declassified intelligence reports, said that Russia's response to the gas attack is part of a longstanding pattern in Syria. "The Syrian regime and its primary backer, Russia, have sought to confuse the world community about who is responsible for using chemical weapons against the Syrian people in this and earlier attacks," the memo stated.
Officials at the briefing said the sarin gas attack was part of Syrian dictator Bashar Assad's efforts to punish civilians in territory where rebel forces have been making progress and moving closer to government-held population centers and military bases.
Assad previously used sarin and other chemical agents in 2013, leading then-President Barack Obama to threaten military strikes against Assad. Obama backed away from that idea when Congress failed to support it and Syria agreed to give up its chemical weapons program. Thousands of pounds of banned weapons were subsequently removed and destroyed under that agreement, which included Russian participation in rounding up the weapons.
The second official said Syria's possession of sarin now calls into question how Russia performed that key role. "This is concerning since Russians were part of the deal where Syria was supposed to give up its chemical weapons. We do know Syria gave up a huge amount of its chemical weapons. Nevertheless, it is clear that Syria's declaration was not complete," the official said.
The April 4 attack dramatically changed the United States' public position on Syria. Just days before the strike, both Secretary of State Rex Tillerson and United Nations Ambassador Nikki Haley said that the United States was not concerned with Assad's continued leadership and that it was up to the people of Syria to determine his fate. That posture reflected the views of President Donald Trump, who had campaigned on the idea of partnering with Russia and possibly Syria to fight the Islamic State terrorist group.
The day after the attack, though, Trump said his views about Assad had changed. On the next night, the U.S. Navy launched a cruise missile attack on the Shayrat air base. And the White House's position became that Assad cannot be part of Syria's future.
Popular in the Community