Russia's Defense Ministry issued an ominous warning to Washington on Monday, saying it would track U.S.-led coalition aircraft operating in certain areas of Syria as potential targets.
Moscow also declared it would suspend the use of a military hotline meant to avoid conflicts between the U.S. and Russian military campaigns in Syria.
"Any aircraft, including planes and drones of the international coalition, detected in the operation areas west of the Euphrates River by the Russian air forces will be followed by Russian ground-based air defense and air defense aircraft as air targets," Russia's Defense Ministry said in the statement.
The Russians' announcement is retaliation for the U.S. downing of a Syrian military plane on Sunday near the city of Raqqa. It was the first time an American fighter jet has shot down a Syrian aircraft in the civil war, with U.S. officials saying the action was taken to defend Washington-allied forces in the area.
Syria and its ally Russia condemned the incident, claiming the downed jet was targeting Islamic State militants.
Both the U.S. downing of the jet and Moscow's response are evidence of escalating tensions between the two powers in Syria, as in recent months Washington has shown an increased willingness to target Syrian President Bashar Assad's forces. Sunday's incident came one month after a U.S. airstrike hit a pro-Assad militia that threatened U.S.-backed forces in southern Syria.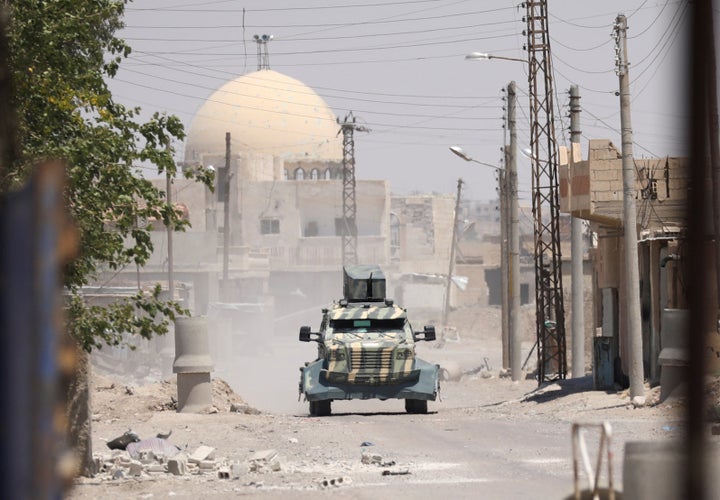 In early April, Russia similarly suspended the agreement with Washington to coordinate on matters such as airstrikes and flights over Syria ― a deal intended to limit the danger to pilots and prevent unintended conflict between the two powers. The cause then was the U.S. missile strikes on Syria in response to Assad's deadly chemical attack in the country's Idlib province.
The agreement was reinstated after U.S. Secretary of State Rex Tillerson visited Russia later that month.
The fight to take back the city of Raqqa from ISIS has meant an increased potential for clashes between the multitude of different forces converging on the militants' de facto capital. U.S.-backed Syrian Democratic Forces are taking the lead in the offensive, but so are Russian-backed Syrian army forces and pro-Assad militias.
As ISIS is set to be squeezed into smaller areas in Syria's east, various factions are competing over who will hold the land it leaves behind that could further complicate the conflict.
Adding to the region's instability, Iran launched a barrage of missiles on Sunday into eastern Syria as retaliation for ISIS's twin attacks in Tehran earlier this month. Iran's strike was the first time the country has launched missiles into Syria since the civil war began and pulls the country deeper into it. Along with Russia, Iran has been a prominent backer of Assad's regime and its support has helped prop up Damascus against opposition forces.
Related
Popular in the Community