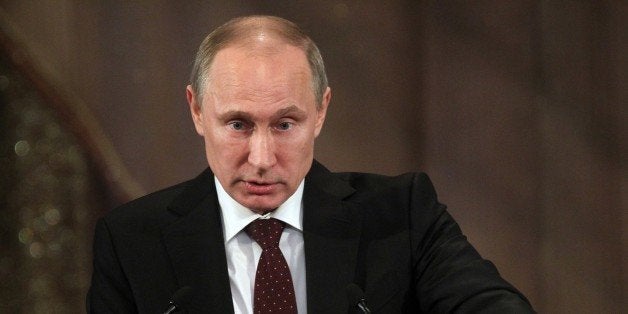 * Ukrainians take issue with Russian television coverage
* Russian TV reporter handed fake "Oscar" in Kiev
* Western states portrayed as meddlers, protesters as hooligans
* Putin's media shakeup elevates assertive presenter
MOSCOW, Dec 11 (Reuters) - Ukraine is descending into anarchy and civil war. Economic collapse, even partition looms for a Russian ally enmeshed by a conspiracy involving the United States, the EU, Sweden, Poland, Lithuania. That at least is the view Russians might well get, watching state media coverage of events in Kiev.
Russian state media, the dominant force under Vladimir Putin's presidency, has broadcast a consistent message of caution to the domestic audience and to millions across Ukraine who understand Russian and can receive Russian television.
Ukraine's salvation, press and television declare, is in league with Russia. The plans for an association agreement with the European Union, abandoned dramatically by President Viktor Yanukovich last month, were never a realistic alternative.
"Ukraine is like a liner going in a circle," said pro-Putin journalist Dmitry Kiselyov. "The passengers are calmed by the fact that Europe is near, there is not far to go. In reality the economic collapse of the whole country lies ahead...Passengers will be hurt. Some will not survive."
This week, Putin named Kiselyov as the head of a new media organisation intended to promote Russia abroad and replace state news agency RIA Novosti. [ID:nL6N0JO2T9}
Many Russian experts saw his appointment as affirmation of state media coverage hostile to protests over Kiev's decision to reject the EU agreement in favour of alignment with Russia.
"The choice of a new boss, or tsar, for foreign propaganda is symbolic. He practises Soviet-style propaganda. This is seen in his Ukraine coverage," said Boris Makarenko, an analyst at the Centre for Political Technologies think tank in Moscow.
Putin himself has described the Kiev protests as reminding him "more of a pogrom than a revolution." Protesters, he said, were "very well prepared and trained militant groups".
Russian networks have at times vastly underestimated the number of protesters in the snowy streets of Kiev, accused foreign states of organising the protests and suggested demonstrators are paid to protest.
After decades of Soviet communist rule, Ukrainians are used to state-controlled news and political manipulation of the media, but some watching Russian television have been shocked by what they see as deliberate misrepresentation of the facts.
One took matters into his own hands on Sunday, interrupting a live broadcast from the Kiev protests by Russian state channel Rossiya 24 to hand the astonished presenter a fake "Oscar" for the "lies and nonsense" he said it was spreading.
"We love Russians but after the way you have covered the events...", Ukrainian journalist Vitaly Sedyuk had time to say before he was pushed off screen by reporter Artyom Kol, who ended his piece to camera with the statuette in his hand.
Sedyuk also had time to suggest the "Oscar", normally a reward for good acting, should be awarded to Kiselyov.

Komsomolskaya Pravda, one of the most popular dailies, led its front page on Tuesday with the banner headline "Ukraine may split into several parts" above a map showing division into four areas depicted in red, green, yellow and purple.
The same newspaper had a frontpage headline on Wednesday declaring: "Western Ukraine is preparing for civil war". Inside, it carried a story quoting a Ukrainian member of parliament, Oleg Tsarev, saying: "The Americans want victims!"
Many Russians see Ukraine as historically akin to Russia, and industrial eastern Ukraine is largely Russian-speaking.
Russia wants Ukraine to join a Moscow-led customs union with two other former Soviet republics instead of signing up for a free trade pact with the European Union, a move that would symbolically take it out of Russia's sphere of influence.
"There are only a few media outlets that are independent, you could count them on one hand," said Natalia Rostova, an independent media commentator.
"It's very hard for media to work independently. In some cases the media get direct orders on how to cover a certain event," she said, referring to a weekly meeting between senior editors and the head of the presidential administration.
Sedyuk, who interrupted Sunday's live broadcast from Kiev, was particularly angered by a report by Kiselyov which described the situation in Kiev as anarchic, suggested the Ukrainian capital had become especially dangerous for Russians, and implied protests were orchestrated by Western countries.

Kiselyov suggested the protests were organised by Sweden, Poland and Lithuania, a sign of continuing rancour over Russia's defeat of the Swedish empire in the 1709 Battle of Poltava, in what is now Ukraine. Kiselyov is not a man known for his use of tongue-in-cheek humour.
"It looked like thirst for revenge for Poltava," he said in his weekly "News of the Week" show.
At one point on Sunday, Russian channels suggested there were hundreds of people on the streets when Western media said there were tens of thousands or hundreds of thousands.
Russia's state-run First Channel likened Ukraine's situation to that of Yugoslavia in the early 1990s, before it broke up and collapsed into warfare, of which the channel showed footage accompanied by sombre music.
It also carried warnings of dire consequences if Ukraine, laden with debt, looked West for trade instead of East.
Control of the media is vital for the Kremlin.
One of Putin's main tasks after first rising to power in 2000 was to rein in the media, which had won immense freedom under President Boris Yeltsin in the 1990s and were backed by wealthy industrialists who bankrolled outlets to maintain political support for their business empires.
The media are now largely in the hands of the state or businessmen loyal to Putin. Television coverage almost entirely excludes direct criticism of Putin, even though satire of him is common on the Internet and in social media.
The appointment of Kiselyov and media coverage of Ukraine have highlighted the president's determination to have press and television serve both domestic and foreign policy in what the Kremlin sees as an unsympathetic political environment.

Related
Before You Go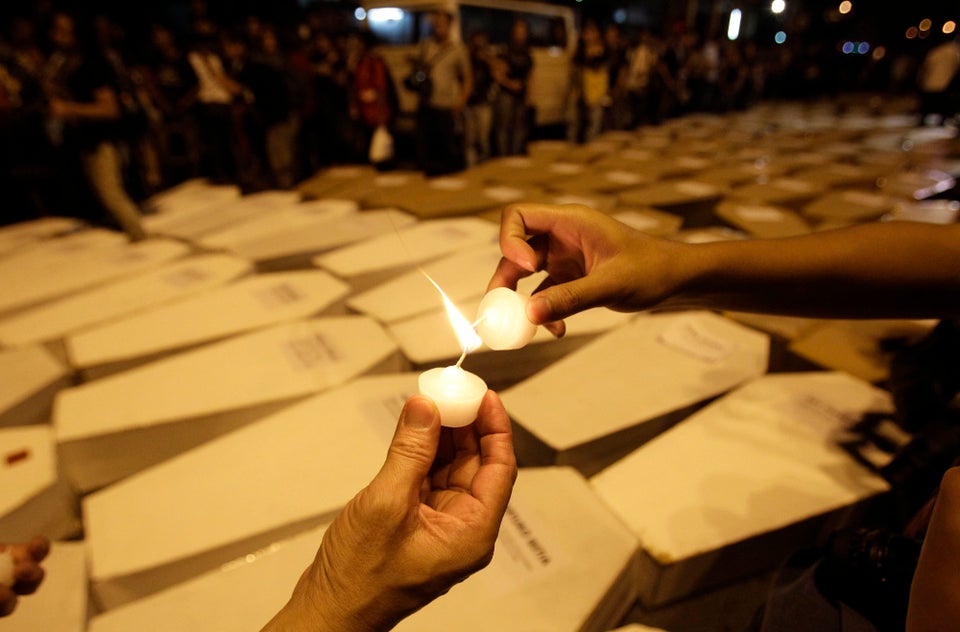 Journalist Protests
Popular in the Community