WASHINGTON – When Russian leader Vladimir Putin meddled in key Rust Belt states to help Donald Trump become president, he also may have exposed an election law loophole big enough to drive busloads of Macedonian internet trolls through.
Fabricated claims about Democratic nominee Hillary Clinton's poor health, impending indictment, even involvement in a pizza-parlor based pedophilia ring that were then amplified and recirculated by Kremlin-paid hackers may have helped Trump win critical states like Wisconsin, Michigan and Pennsylvania.
But it's not clear that paying for the creation or dissemination of such "fake news" violates election law, campaign finance experts said.
"Getting at what Russia did, but establishing that they broke the law in some way, is not as easy as looks like from some distance," said Paul Ryan, head of policy and litigation at Common Cause. "We're kind of in a new world here. This is the first time in the United States where fake news was deployed and used effectively."
Investigators from congressional intelligence committees and the office of Special Counsel Robert Mueller are looking into Russian interference in the election and possible links to the Trump campaign. Had Trump's data operation shared information with the Russians or asked them for help targeting voters, that coordination would be enough to expose both the campaign and the Russians to election law charges.
The Trump campaign, and subsequently the Trump White House, have for a year denied collusion with the Russians ― a claim that fell apart this week when Trump's eldest son, Donald Trump Jr., released an email showing he was eager for negative information about Clinton, even if it was part of the Russian government's efforts to help his father.
"This is ridiculous. It's nuts," said Richard Painter, who was the George W. Bush White House chief ethics lawyer. He pointed to Trump's public call last year for Russia to find Clinton's emails deleted from her private server. "He basically encouraged criminal activity, told a foreign government to engage in computer hacking. People voted for him anyway."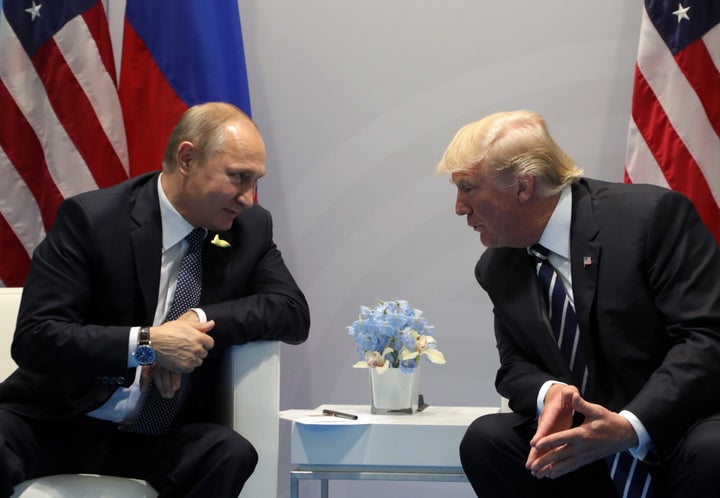 The U.S. intelligence community's Jan. 6 report about Putin's work to help Trump says the propaganda campaign began with state-paid news organizations like RT and Sputnik.
"RT's coverage of Secretary Clinton throughout the U.S. presidential campaign was consistently negative and focused on her leaked e-mails and accused her of corruption, poor physical and mental health, and ties to Islamic extremism," the report states, adding that there was a sophisticated organization to widely distribute that propaganda on the Internet through "professional trolls."
"The likely financier of the so-called Internet Research Agency of professional trolls located in Saint Petersburg is a close Putin ally with ties to Russian intelligence," the report says.
Trolls were located in other areas, as well, including Macedonia, where an unusual number of pro-Trump websites were registered.
The number of people involved in the effort is not detailed in the Jan. 6 report, which is an unclassified version of a highly classified assessment. Virginia Sen. Mark Warner, the ranking Democrat on the Senate intelligence committee, in March said there may have been 1,000 such trolls.
If Putin did have that many people working to elect Trump, his operation was more than twice as large as the Trump campaign's paid staff in the final weeks before the election. And if each Putin cybersoldier was paid just $10,000 over the course of the year, that would put Russia's expenditure on its pro-Trump propaganda at $10 million, making Putin one of Trump's biggest financial supporters.
Robert Maguire, with the Center for Responsive Politics, said the situation is similar to rich donors funneling large contributions to secret-money political groups to buy ads.
"The main difference here is that you have a foreign government paying for the creation of stories that get picked up little by little by various news outlets, and in some cases by the candidate himself from the podium," Maguire said. "Obviously, the aim was to influence, but man, this is so beyond anything we've ever seen before. I mean, where do you even start with that?"
Spending even a single dollar on any type of ad telling voters to support Trump or oppose Clinton would have been illegal for Russia, as foreign entities are prohibited from participating in federal elections.
But the invention of false news and posting or reposting it on websites without paying advertising fees – that is not explicitly outlawed.
"We used to talk about illegally coordinating with Americans. The idea that they might have coordinated with a foreign government is mind-boggling," Maguire said. "I don't think I have the capacity to be surprised anymore."
Brendan Fischer, with the Campaign Legal Center, said he supports a broader interpretation of a particular law that be believes makes sense in this instance. Paying a Macedonian teenager to write a fake blog post and then repost it under a number of fake identities, Fischer said, shows clear intent to influence the election. "I would call that an expenditure," a term of art in campaign finance law prohibited for foreigners, he said.
Of course, according to U.S. intelligence, Russian agents obviously committed serious crimes when they stole emails from the Democratic National Committee and from Clinton campaign chairman John Podesta for release through the WikiLeaks website.
In that act, as well as the disinformation campaign, a fundamental problem for prosecutors going after Russians or Macedonians or anyone outside the United States is the practicality of bringing them to trial.
"It's going to be hard to prosecute anyone overseas," Fischer said. "I would presume that the ones to be prosecuted would be the ones in the United States."
Popular in the Community