Public opinion on the United States' relationship with Russia has barely budged over the last several weeks, despite a series of congressional hearings about the Kremlin's possible interference in the 2016 election and the Donald Trump administration's connections to Moscow.
Americans currently say, 43 percent to 30 percent, that the Trump administration's relationship with Russia is a legitimate issue, according to a new HuffPost/YouGov survey. Forty-seven percent consider that relationship to be at least a somewhat serious problem, although only 29 percent believe it to be very serious.
They're close to split, 35 percent to 31 percent, on whether Congress should prioritize investigating Russia's role in the election or the leaking of classified information about that role to journalists.
All those numbers are similar to those from a March poll taken just after the FBI confirmed it was investigating possible ties between Trump associates and Russian government officials.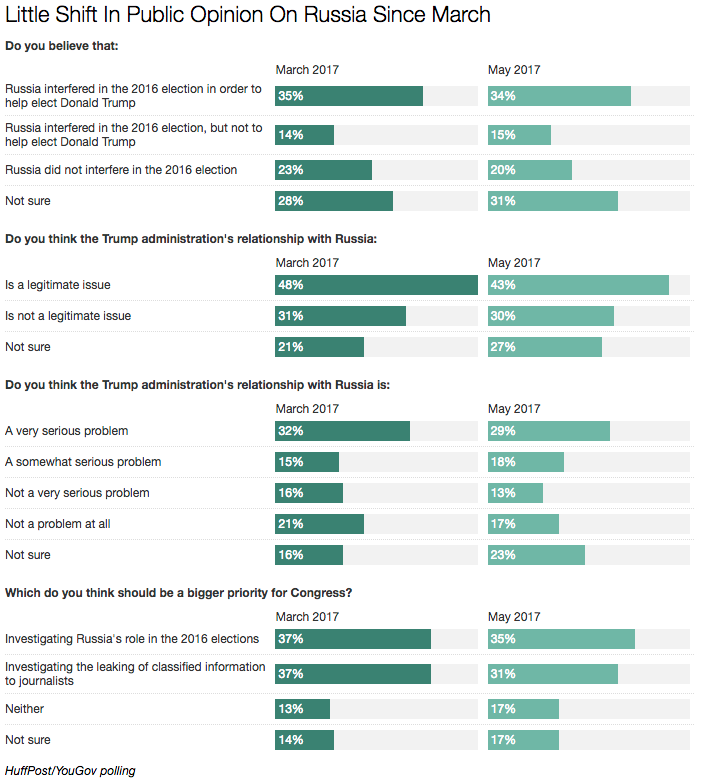 What's striking about the results ― and a main factor in their stability ― is how deeply entrenched views remain along partisan lines.
Voters who supported Hillary Clinton in last year's election, for instance, are nearly 20 times likelier than those who supported Trump to believe that Russia intervened in the Republican's favor during the campaign. Seventy percent of Clinton voters, but just 3 percent of Trump voters, think the administration's relationship with Russia presents a serious problem.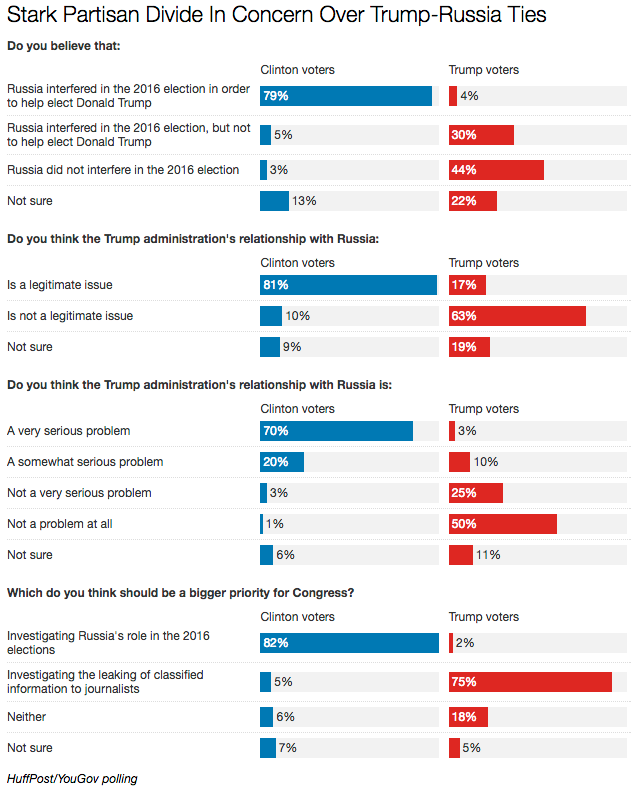 The latest survey was taken after former acting Attorney General Sally Yates and former Director of National Intelligence James Clapper testified at a Senate hearing on Russia. But it was fielded almost entirely before Tuesday, when Trump fired FBI Director James Comey, who was leading an investigation into the Trump-Russia ties.
Just 19 percent of Americans say they watched some or all of the Senate hearing on Russia, and another 35 percent say they later watched clips or read news stories of the proceedings. Forty-five percent hadn't heard anything about it.
It remains to be seen how, if at all, Comey's firing ― which Trump claimed was related to the director's handling of an investigation into Clinton ― will affect opinions. So far, partisan attitudes in Washington have mirrored views nationwide. Democratic senators used the hearing largely to ask about Russia and about the Trump administration's handling of the controversy surrounding former national security adviser Michael Flynn. Republican senators by contrast, focused more on intelligence leaks.
"I've spent the last several hours trying to find an acceptable rationale for the timing of Comey's firing," Sen. Jeff Flake (R-Ariz.) tweeted Tuesday night. "I just can't do it."
Clinton voters' concerns seem unlikely to dissipate anytime soon. But if GOP officials prove willing to raise continued, prominent objections over Comey's firing, and to tie it to the broader controversy over Russia, their concerns may transfer to some of their supporters. At the least, it could test whether Trump voters' loyalties lie solely with the president, or whether they're more broadly rooted in partisanship.
Use the widget below to further explore the results of the HuffPost/YouGov survey, using the menu at the top to select survey questions and the buttons at the bottom to filter the data by subgroups:
The HuffPost/YouGov poll consisted of 1,000 completed interviews conducted May 8-10 among U.S. adults, using a sample selected from YouGov's opt-in online panel to match the demographics and other characteristics of the adult U.S. population.
The Huffington Post has teamed up with YouGov to conduct daily opinion polls.You can learn more about this project and take partin YouGov's nationally representative opinion polling. Data from all HuffPost/YouGov polls can be found here. More details on the polls' methodology are available here.
Most surveys report a margin of error that represents some, but not all, potential survey errors. YouGov's reports include a model-based margin of error, which rests on a specific set of statistical assumptions about the selected sample, rather than the standard methodology for random probability sampling. If these assumptions are wrong, the model-based margin of error may also be inaccurate. Click here for a more detailed explanation of the model-based margin of error.
CORRECTION: Sen. Jeff Flake sent his tweet on Tuesday night, not Thursday.
Before You Go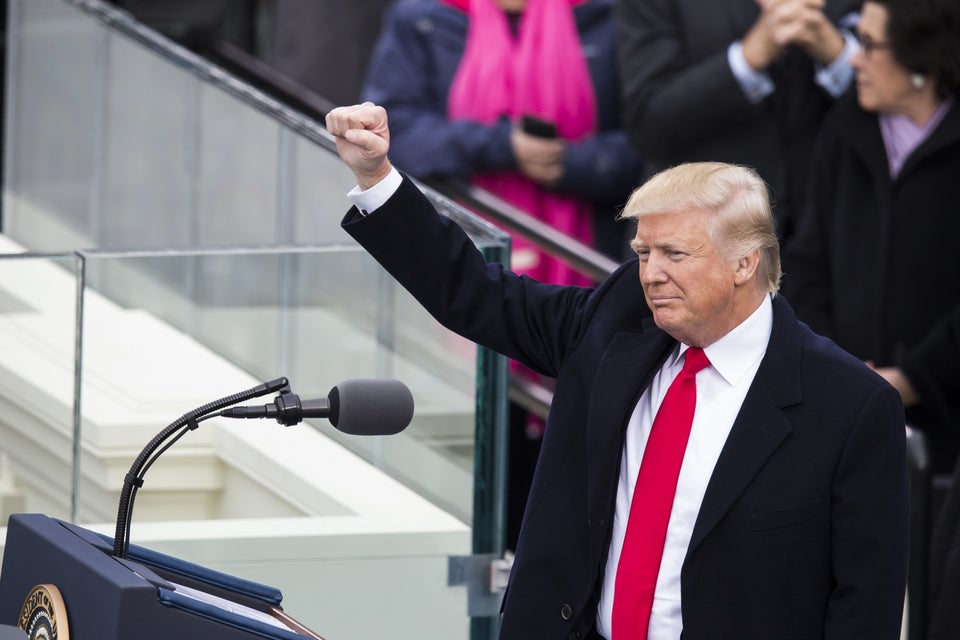 Best Photos From Trump's First 100 Days
Popular in the Community