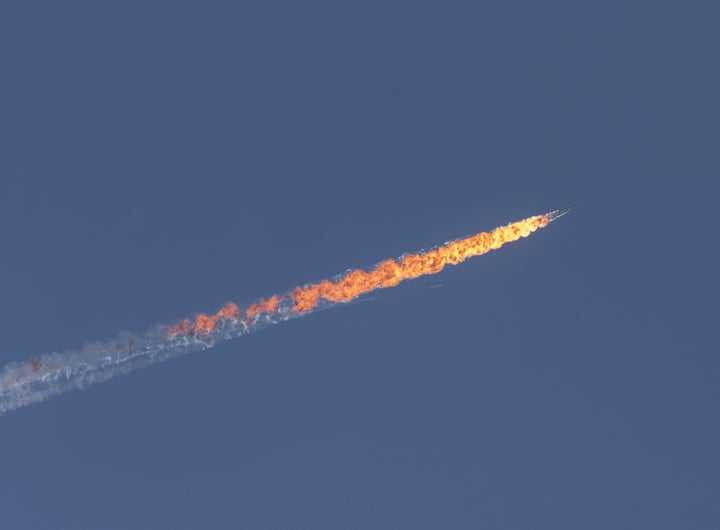 BUCHAREST, Nov 27 (Reuters) - Russia has the right to make a military response after the downing of a Russian warplane earlier this week by NATO member Turkey, lower house speaker Sergei Naryshkin said on Friday.
Speaking in an interview with Romanian television station Digi24, Naryshkin, who spoke in Russian and was translated by the broadcaster, said: "This is intentional murder of our soldiers and this deed must be punished."
The shooting down of the Russian warplane by the Turkish air force on Tuesday was one of the most serious clashes between a NATO member and Russia, and further complicated international efforts to battle Islamic State militants.
"We know those who did this and they must be judged. At the same time, the response from the Russian side will surely follow, in line with international law. And aside from this, Russia has also the right to military response," added Naryshkin, who was attending a meeting of the Parliamentary Assembly of the Black Sea Economic Cooperation (PABSEC) in Bucharest.
Naryshkin, who said economic measures against Turkey might be on the cards, said Moscow had allocated additional military resources on Thursday to boost the security of Russian warplanes.
"Even yesterday, military resources were allocated, (for) the S400 Triumph, which is the most advanced missile defense system, with the role to maintain flight safety of Russian planes, of ourmilitary and air forces whose task is to destroy terrorist infrastructure of the so-called Islamic State and other organizations operating in Syria."
World leaders have urged both sides to avoid escalation, and China's Foreign Ministry added its voice to that on Friday.
On Thursday, Turkish President Tayyip Erdogan was quoted as saying, Russia should apologize for violating Turkey's airspace.
(Editing by Ralph Boulton)
Calling all HuffPost superfans!
Sign up for membership to become a founding member and help shape HuffPost's next chapter