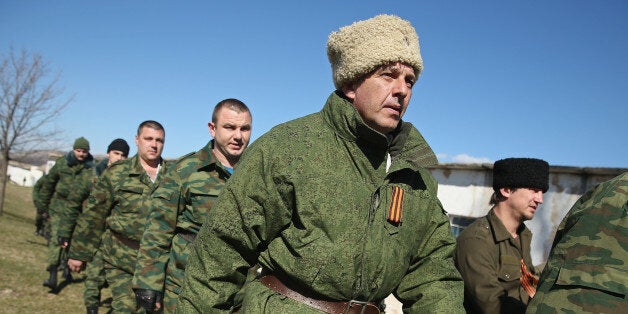 DONETSK, Ukraine, March 3 (Reuters) - Pro-Russian demonstrators occupied the first floor of the regional government building in east Ukraine's city of Donetsk on Monday, the latest in days of rallies that Kiev says are organised by Moscow as a pretext to invade.
A Reuters reporter in a press centre on the fourth floor of the building said the protesters had seized the first floor but were unable to go higher because lifts were disabled and stairwell doors shut.
The 11-storey building has been flying the Russian flag, rather than the Ukrainian flag, for three days, with demonstrators carrying Russian flags staging rallies outside.
Donetsk is the home city of Viktor Yanukovich, the pro-Russian president who was toppled in Kiev 10 days ago. Most people in the region are ethnic Ukrainians who speak Russian as their native language. Few now support Yanukovich, but many still look to Russia as an ally.
Russian forces have already seized Ukraine's Crimea region, an isolated Black Sea peninsula, and Moscow has threatened to invade Ukraine to protect Russian speakers from what it says is a nationalist new government in Kiev.
There have been large pro-Russian demonstrations in many eastern and southern cities since Saturday, frequently ending with Russian flags raised at regional government buildings.
Kiev blames Moscow for organising the demonstrations and sending Russian citizens across the frontier to stage them.
A protest in the eastern city of Kharkiv turned bloody on Saturday, with scores of people hurt in clashes when pro-Moscow demonstrators wielding chains and axe handles seized the regional government building. Kharkiv was quiet on Monday.
In Donetsk, a Reuters photographer said several hundred protesters, waving Russian flags and shouting "Putin, come!", had managed to enter the regional government building through a side door after confronting police who guarded the main entrance. Windows were broken on the second floor as protesters tried to get to higher floors.
The Donetsk protest leader, Pavel Gubarev, demanded the parliament in Kiev be declared illegitimate, a pro-Russian governor be accepted in Donetsk and all security forces be put under regional command.
The Donetsk regional authorities have already voted to hold a referendum on the status of the region, which Kiev has branded illegal. The pro-Russian demonstrators say the referendum should be held on March 30. (Reporting by Lina Kushch; Writing by Peter Graff; Editing by Will Waterman)
Calling all HuffPost superfans!
Sign up for membership to become a founding member and help shape HuffPost's next chapter
BEFORE YOU GO
PHOTO GALLERY
Ukraine Tense As Russian Troops Advance