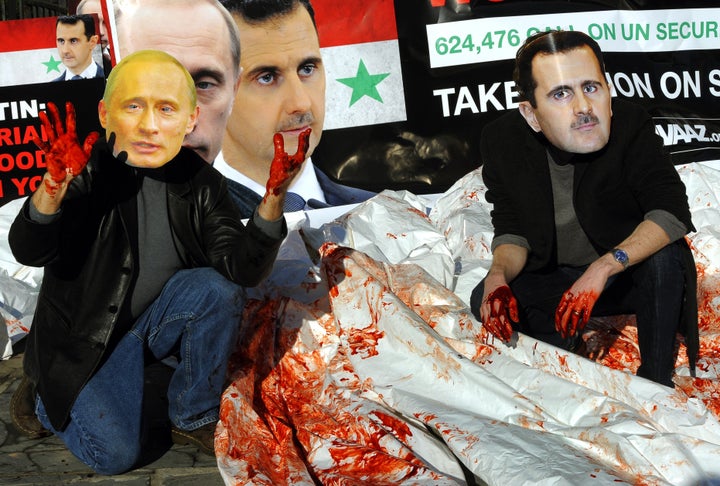 WASHINGTON -- Syria's civil war is at a critical juncture.
International focus has returned to the long-overlooked conflict in the past few weeks because of Europe's difficulties in accommodating the hundreds of thousands of refugees fleeing Syria.
At the same time, the countries whose consent and influence are key to ending the war seem more diplomatically inclined than ever -- the U.S. and Iran, the former a leading critic of the Syrian government and the latter Syria's key regional ally, just concluded a groundbreaking nuclear agreement.
The players in Syria see an opening. And now Russia, one of the most powerful of those players, is working hard to turn that into an opportunity to protect its own interests in the Middle East, Western officials and analysts tell HuffPost.
Moscow has spent the past two weeks significantly expanding its military footprint in Syria. The Russian goal appears to be to establish a major new air base on the Mediterranean in the country's western coastal city of Latakia, a Pentagon spokesperson told reporters Monday, confirming previous reports from Foreign Policy, Bloomberg View and The New York Times. Fifteen or more Russian planes filled with military equipment and personnel traveled to Syria last week, according to the Times. That equipment includes housing units, armored vehicles and material needed to operate aircraft, like mobile air traffic control towers and ground supplies, per Foreign Policy. It builds on the Russian presence that has already been in Syria for years, which includes military advisers and a naval base.
While Russia is a historic ally of Syrian president Bashar Assad, whose crackdown on peaceful protests in 2011 led to a civil war between his regime and opposition groups, its latest actions are significant enough to have earned multiple rebukes by the Obama administration. The administration has asked allies in Europe to deny airspace to the Russian supply planes headed to Syria.
Russia's moves "could further escalate the conflict, lead to greater loss of innocent life, increase refugee flows and risk confrontation with the anti-[Islamic State] coalition operating in Syria," Secretary of State John Kerry told Russia's foreign minister, Sergey Lavrov, in a Sept. 5 phone call.
At question is what Russia wants to achieve with its growing deployment. Russia says its support for a partner is in line with international law and that it wants to fight "terrorists." But to Moscow, which is not a member of the U.S.-led alliance against the Islamic State group, that label applies to all the opposition to Assad -- among them Syrian Arab nationalist rebels who for years have been armed by Washington, Turkey and the Gulf Arab states. The U.S. sees those rebels as central to Syria's future, to defeat extremists and to become strong enough that Assad must negotiate with them. For Moscow to help Assad more brutally pummel them -- and Syrian civilians -- would be a setback.
Asked on Monday about whether the U.S. has learned more about Russia's plans for Syria, White House spokesman Josh Earnest responded, "To be blunt, not really."
"We continue to believe that additional Russian support for the Assad regime would be destabilizing and counterproductive," Earnest continued, adding that an increased Russian commitment to Assad would be a poor choice strategically -- a nod to the American position that the dictator, who is partially responsible for both the rise of the Islamic State group and the flood of refugees out of Syria, must step down.
Europe, even as it pays a price for Syria's chaos, seems equally uncertain. "We don't have the full picture" of Russia's plans, Peter Wittig, the German ambassador to the U.S., told reporters on Friday.
To some close observers of the Syrian conflict, though, the answer is clear -- and it's about Russian President Vladimir Putin, not Assad.
"I wouldn't necessarily call it a game-changer in terms of battlefield dynamics. I think why it's being perceived as such a game-changer is because of the message Russia's sending," said one congressional source regularly briefed on U.S. policy and intelligence regarding Syria.
Moscow wants to signal to the West that while it may be open to taking advantage of the current focus on Syria to try to end the civil war, it will only do so on its own terms, the source continued.
Key to that message is showing that Russia will remain assertive in the Middle East, despite the pain of sanctions the West imposed last year over its aggression in Ukraine.
"The most striking part to me is how few constraints and obstacles Russia sees to escalating a direct military involvement in Syria, effectively involving itself in a proxy war with the United States and its allies," Faysal Itani, an analyst at the Atlantic Council, said in an email to The Huffington Post. 
The congressional source noted that the units Russia is sending to Syria include units it used to invade Crimea last year. "The Obama administration can say that the Russians are overstretched all they want," the source said. "Clearly they feel like they have the capacity to fight on multiple fronts."
That Russian interest yields a dividend for Assad. What's unclear is whether it will potentially challenge Iran's sizeable role in Syria, Itani said.
"It's become quite clear that the regime neither can nor wants to hold onto or retake the majority of Syrian territory east of the Homs-Damascus axis. I imagine that Russia shares this strategy, and will be focused on protecting the same parts of Syria as the regime is, especially the northwest which, incidentally, is the location of Russia's military base. The regime is not really in a position to be dictating strategy past that point," he wrote. "Iran is though, and it will be interesting to see whether and how Iranian and Russian interests and strategy can be reconciled here.
For now, Tehran and Moscow seem to be in agreement: Iran allowed the use of its airspace for Russian cargo planes after Bulgaria yielded to the U.S. request to deny passage to them, the Times reported Monday. So did the Iran-friendly government in Iraq, despite its ties to Washington. ("We are tracking these developments closely and are in touch with our allies and partners," a State Department official said over email when asked about Iraq's policy.)
There is also little certainty about what part Russia wants to take in the ISIS fight. In the best-case scenario, Moscow will run its own operations against the extremist group that can be coordinated with the ongoing airstrikes by the U.S.-led coalition, Earnest said Monday. Both he and Wittig, the German diplomat, underscored that Russia is threatened by the violent radical extremism of ISIS just like the rest of the international community is.
Yet Russia's past actions regarding Syria -- in vetoing anti-Assad steps at the United Nations, planting forces on the ground, and staging negotiations that most opposition forces see as illegitimate -- have largely served to bolster Assad rather than prevent the mushrooming of extremist groups or ease citizens' struggles. Moscow's commitment to that unpopular stance suggests that it's unlikely to bow to world pressure until it sees a change in policy as directly beneficial.
The Russian developments are "to send a very clear message on the international stage that what is happening is what Russia wants," the congressional source said. "Whatever direction this goes in it goes in, it's going in Russia's favor, and they're going to be the people dictating it."
Calling all HuffPost superfans!
Sign up for membership to become a founding member and help shape HuffPost's next chapter