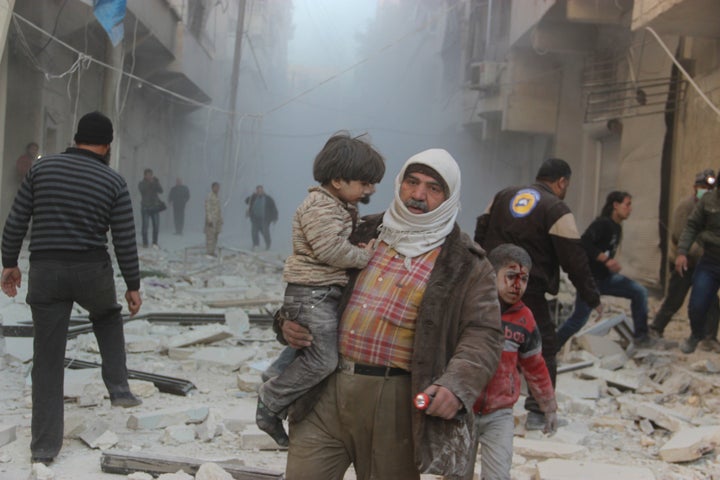 Every week, we bring you one overlooked aspect of stories that made news in recent days. Did you notice the media forgot all about another story's basic facts? Tweet @TheWorldPost or let us know on our Facebook page.
The Syrian and Russian air forces have pounded a small strip of rebel-controlled territory near Syria's border with Turkey in recent weeks, in what could be one of the most decisive battles in Syria's nearly five-year war.
It could also, however, spark a new humanitarian crisis in the country. The Azaz corridor, a passageway that is 5 to 15 kilometers wide and runs from the Turkish border to the Syrian city of Aleppo, provides a critical lifeline for aid and supplies for over half a million Syrians. In recent weeks, several aid groups have been forced to suspend or scale back operations in the area after airstrikes hit vehicle convoys and civilian infrastructure.
"This is the main route through which aid is brought into northern Syria," said Christy Delafield, senior communications officer for humanitarian aid group Mercy Corps, which had to suspend cross-border aid multiple times in recent weeks.
Mercy Corps, which is one of the main providers of food aid in Syria, has stockpiles of supplies inside the country, but even distributing them has become more difficult and dangerous. The surge in airstrikes "leaves people cut off," she said.
Some 600,000 people -- both residents and displaced Syrians -- live in the Azaz district and east Aleppo, according to Doctors Without Borders, which had to briefly suspend distribution of relief in the area earlier this month.
For people in damaged homes or who live in displaced sheltering in tented camps with few possessions, "the arrival of winter makes the situation worse," Carlos Francisco, the head of mission for Doctors Without Borders in Syria, told The WorldPost. It's also hard for them to get medical care, even in emergencies, he said. Most of the medical facilities in the area have been targeted at one point or another during the Syrian war.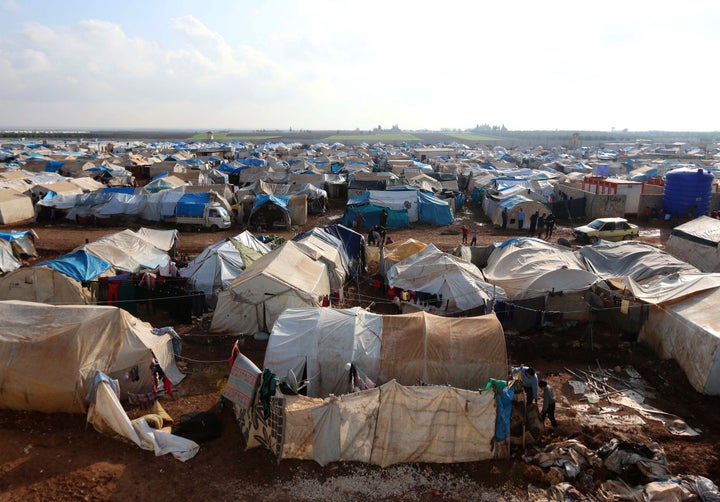 Russia has been bombing opponents of Syrian President Bashar al-Assad in different parts of the country since late September. While the Kremlin insists it is only targeting extremist groups, most Russian airstrikes have hit areas controlled by a range of opposition groups, from al Qaeda's Syrian affiliate to Western-backed fighters.
Moscow's intervention in the Syrian conflict has heightened tensions between Russia, a long-standing Assad ally, and countries that back the Syrian opposition, most notably Turkey. On Nov. 24, Turkey shot down a Russian jet that Ankara said had strayed over the Syrian border into Turkish territory. Russian President Vladimir Putin vowed payback.
In the days and weeks that followed, Syrian and Russian airstrikes sharply increased in northern Syria, according to the United Nations' humanitarian agency OCHA. They hit markets and bakeries, hospitals and schools. Dozens of civilian casualties were reported.
The airstrikes nudged closer to Turkey's border, striking repeatedly at trucks gathered in transportation depots near two border crossings -- Bab al-Hawa in north Idlib and Bab al-Salam on the northern edge of the Azaz corridor. Residents identified some of the warplanes as Russian.
Footage from the Turkish aid group Humanitarian Relief Foundation showed trucks burning near the border after a reported airstrike in late November.
The targeting of roads and vehicles caused alarm among humanitarian organizations that depend on the road from Turkey to Aleppo to bring food, fuel and emergency aid to Syrian civilians. After the airstrikes, several transportation companies that bring aid and other goods into the country suspended supply routes. Several humanitarian organizations have been forced to halt or reduce their activities in the area, the U.N. agency said.
"It is simply not safe enough for our staff, our partners or the people in need to have the activities go as normal during these circumstances, where we see a range of civilian structures and properties being hit," said Bendik Sørvig, regional adviser for the Norwegian Refugee Council, which has temporarily suspended activities in the area due to the bombing. "The Azaz corridor has been a lifeline to Aleppo and surrounding areas since the early days of the conflict."
The area has also provided some refuge for hundreds of thousands of Syrians displaced by conflict in other parts of the country.
"The area has been attacked before, but due to its proximity to the Turkish borders, many have considered it relatively safe, at least in comparison to the available alternatives across the opposition held areas," Sørvig said.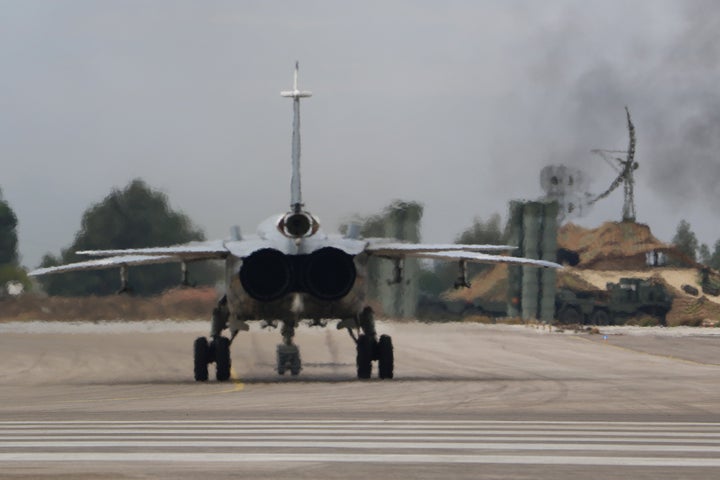 Analysts say the Syrian regime and its Russian ally hope to cut off opposition fighters from Turkish supplies and take full control of the city of Aleppo -- the largest city in Syria before the war.
Meanwhile, the rebels, who include Turkmen rebels supported by Turkey and an umbrella coalition called Jaish al-Fatah, are under attack on all other sides -- the Kurdish Democratic Union Party in the west, the self-described Islamic State to the east, and the Syrian regime and allies in the south.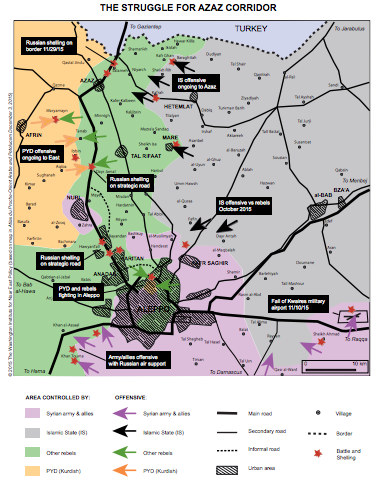 The bombs are coming nearer, and many Syrians have nowhere left to flee. Turkey officially closed its border crossings with Syria in March, and according to Human Rights Watch, has recently cracked down on Syrians trying to slip across the border after promising Europe to stem the flow of migrants and refugees into the continent.
"There's a huge increase in civilian casualties, a new wave of displacement, and with European pressure on Turkey to keep their border secure, a lot of people feel trapped in between," Delafield said.
Read more on the conflict in Syria: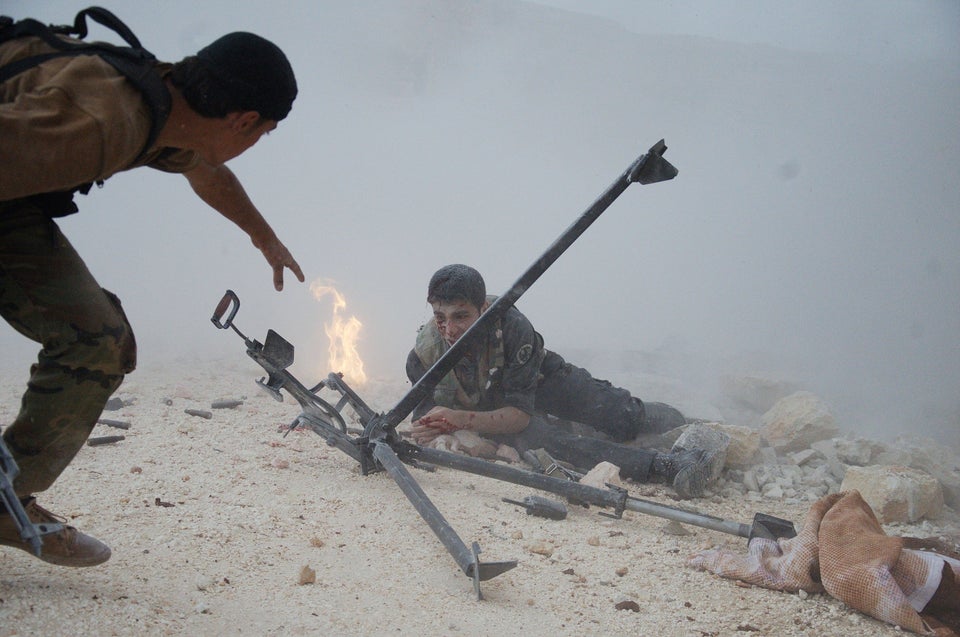 War In Syria
Related
Popular in the Community