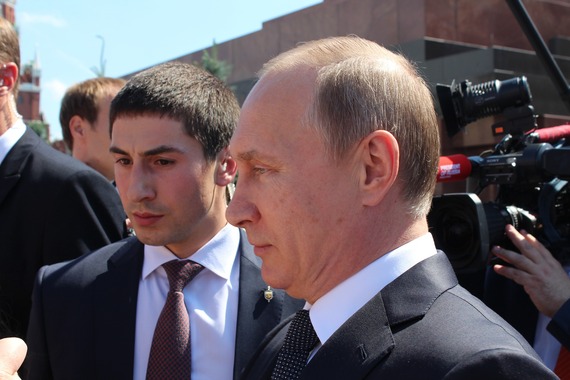 Image: Russian President Vladimir Putin denies interfering in the U.S. presidential election in support of Republican candidate Donald Trump. Pixabay.com
I love it when Russia gets caught with its pants down.
Vladimir Putin has denied for months that Russia has been interfering in the U.S. presidential election to try to get Donald Trump elected.
"We have never interfered, are not interfering and do not intend to interfere in (other countries') domestic politics," he said when asked in early September whether the Russian government was behind computer hacks that have targeted Hillary Clinton's campaign.
Putin also denied that the Kremlin was behind the hacking.
Most people who have not had a lobotomy have no doubts that the Kremlin has been attempting to swing the election to Trump, however.
The evidence is clear, ranging from the fact that none of the political material that hactivists have released was about Trump to the fact that the Russians' buddy, Wikileaks founder Julian Assange, chirped that he would deliver an "October surprise" that would knock Clinton out of the presidential race. (That hasn't occurred, an indication that Assange has embraced the Russians' propensity to lie.)
Despite mounting evidence of a concerted Russian campaign to throw the election to Trump, the Kremlin continues to deny involvement.
But a just-released Associated Press story is likely to convince even those who have had lobotomies that Russia is trying to help Trump win.
The story is about Russia's United Nations ambassador, Vitaly Churkin, complaining bitterly about a ranking U.N. official's criticism of Trump.
Zeid Ra'ad al-Hussein, the U.N. high commissioner for human rights, railed against demagogues in speeches in Cleveland, Ohio, on April 15 and in the Hague, Netherlands, on September 5. And you didn't have to be a political genius to know he was talking Trump.
Zeid said in Cleveland that a "front-running candidate to be president of this country" was engaged in "a full-frontal attack -- disguised as courageous taboo-busting -- on some fundamental, hard-won tenets of decency and social cohesion."
That speech irked the Russians, but Zeid's speech in the Hague infuriated them so much that they lodged a complaint about him with the United Nations.
In the second speech, Zeid lumped Trump in with several European politicians whom he blasted as being demagogues.
To make sure there was no mistaking which leaders he meant, he named them.
They included Dutch nationalist Geert Wilders; Nigel Farage, the head of Britain's pro-Brexit Independence Party, who appeared with Trump at a rally in London in August; Slovakian Prime Minister Robert Fico; Hungarian Prime Minister Viktor Orban; Czech President Milos Zeman; French nationalist leader Marine Le Pen; and Austrian presidential candidate Norbert Hofer.
Trump and several of the European leaders whom Zeid mentioned have taken anti-Muslim, anti-migrant and pro-Russian stances.
The United States and a number of European nations have accused Moscow of financing or lending non-financial support to the movements of the European politicians whom Zeid ripped. Russia's objective is to sow discord to weaken the European Union and NATO, according to those making this assertion.
Churkin's complaint against Zeid came in a closed-door meeting with U.N. Secretary General Ban Ki-moon on September 13, only eight days after Zeid's speech in the Hague, according to the Associated Press. It attributed its story to unnamed diplomats familiar with the discussion.
One of Churkin's comments at the meeting was telling because it revealed what had most upset him -- and by extension, the rest of Russia's leadership -- about the Zeid speeches: Churkin made a point of specifically condemning Zeid's references to Trump.
As the AP story noted, it is unusual for a U.N. ambassador to make a formal complaint about a U.N. official. Et was even more astounding that a ranking Russian official would lodge a complaint on behalf of a political candidate in the United States, a country it see as its sworn enemy.
Russia refused to comment for the AP story, saying it doesn't discuss diplomatic conversations.
You can be sure the Kremlin is as angry about the story of Churkin's complaint as it was with Zeid's speech, however.
Because the story shows how desperately Russia wants Trump to win the election.
If it were truly the disinterested observer it claims to be, the ambassador would never have complained so bitterly to Ban about Zeid.
The Kremlin knows Hillary Clinton will oppose Russian adventurism in the countries in its neighborhood, in Syria and elsewhere. It knows Trump will let it run amok.
Those in the former Soviet Union who long for democracy -- such as in my country, Armenia, which has been a Russia puppet as long as we can remember -- would like to see a Clinton victory, of course.
But a Trump win would let Russia accelerate its efforts to rebuild its empire.
So there's a lot at stake for the Kremlin in the American election. Enough to cause Russia's ambassador to the United Nations to choke on his borscht over the Zeid speeches.
Armine Sahakyan is a human rights activist based in Armenia. A columnist with the Kyiv Post and a blogger with The Huffington Post, she writes on human rights and democracy in Russia and the former Soviet Union.
Related
Popular in the Community