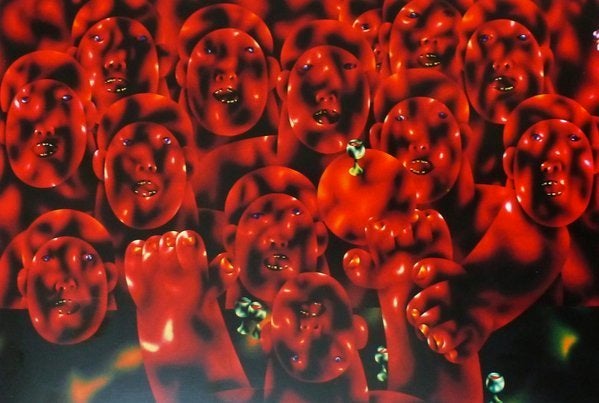 London, not Moscow, has long been the global center for Russian art -- but the twice-yearly batch of specialist auctions at Sotheby's, Christie's, Bonhams and MacDougall's (who specialize exclusively in Russian art) attract a clientele that is essentially Russian -- not British, or even Western.
Ignorance is one factor: there has been little to raise the profile of 20th century Russian art for the British museum-goer. Now the Saatchi Gallery is seeking to change that with two blockbuster exhibitions: one devoted to Non-Conformist Art of the 1960s-80s (through February 24), the other to art since the fall of Communism in 1990 (through May 5).
The Non-Conformists spurned the political dictates of Socialist Realism, often working clandestinely. The Saatchi show reveals that a handful of them -- led by Vladimir Neumukhin and Lydia Masterkova -- were already, by the 1960s, producing abstractions worthy of their European and American contemporaries. Abetted by the visual ingenuity of Kinetic artist Francisco Infante, they give the exhibition a powerful, somewhat intellectual start.
Then it is suddenly and sensuously hijacked by Oleg Tselkov and his bald-headed men in a variety of gap-toothed grimaces, drenched in hues of saturated color so dense you can almost chew them. Tselkov (born 1934) is destined to be acknowledged as the greatest Russian artist of his era. The process has already begun. In London this November a shock-pink Tselkov greeted you at MacDougall's as soon as you walked through the door; a green Tselkov lorded it over Christie's main showroom like a giant icon; and a red Tselkov, wrapped up in bandages, lurked at the back of the Aktis Gallery like a cursing Egyptian mummy.
Tselkov can dominate any setting and, in the low-ceilinged galleries on Saatchi's top floor, he is overpowering. His sensational 6 x 9ft reinterpretation of The Last Supper is a shimmering, port-red sea of twilit faces, clamoring for a drink like eager punters in a 1970s disco. Owned by the artist, and last shown in public in his adopted Paris by Galerie Le Minotaure in 2007, it would be worth the admission price alone (if there was one -- entrance, admirably, is free). Tselkov's Last Supper ranks alongside Picasso's Guernica as the most powerful group image of the 20th century. It should be bought for the nation and hung in Tate Modern.
Oleg Tselkov "The Last Supper." (Photo courtesy the artist)
Little-seen works from private collections constitute the Saatchi show's greatest strength. Several offer new insight into artists' early careers, like Dmitri Krasnopevtsev's Landscape with Fanza -- a desolate, moonlit snowscape from 1947, stylistically at daggers drawn with the monochrome still lifes of the 1960s and 70s that underpin his reputation.
It is good to see the show's section on Moscow Conceptualism downplay its intellectual side -- as exemplified by the torrent of Cyrillic verbiage espoused by the movement's perceived leader, Ilya Kabakov. His status is challenged here by Dmitri Prigov, for flair and originality; by Victor Pivarov and Grisha Bruskin, for graphic wit; and, for historic importance, by Mikhail Roginsky -- who, in 1965, conjured up the forlorn world of the Communist apartment with his battered Red Door, and plain-colored panels randomly arrayed with electric sockets.
Ivan Chuikov also deserves to be represented in this Conceptualist context -- as does Sergei Shablyavin alongside the optical games of Bulatov and Vasiliev, and Sergei Shutov in a spurious section on 'Russian Pop Art' that would have benefited immeasurably from works by St Peterburg's New Artists of the 1980s, led by Timur Novikov, Afrika and Oleg Kotelnikov -- all admired by Andy Warhol (and the recent subject of a superb retrospective at the Moscow Museum of Modern Art).
True, the Saatchi exhibition is subtitled Moscow Art 1960-80s -- but to most visitors this is a Russian art show, and they will walk away with the mistaken impression that Soviet artistic rebels were based exclusively in Moscow.
Saatchi's second show of Russian art takes over, chronologically, where the Non-Conformists left off, but is light years behind in terms of quality: a curatorial hotch-potch whose second-rate artists struggle to fill Saatchi's gigantic ground-floor halls -- with the honorable exception of Valery Koshlyakov's epic architectural monuments in acrylic on sheets of cardboard, arranged one to a wall like altarpieces in some Palladian chapel.
The galleries to either side house monumentally repulsive photographic parades of tattooed prisoners (Sergei Vasiliev) and naked, aged down-and-outs (Boris Mikhailovsky) that might look better in a morgue.
Like the Non-Conformist show, dubbed Breaking the Ice, this second exhibition has been given a silly, patronizing title: Gaiety is the Most Outstanding Feature of the Soviet Union. This 1930s Stalin quote is of scant relevance to Russian artists active since 1990 -- other than to enmesh them in ignorant, time-warped cliché.
Russian Contemporary -- In Need Of A Boost
Albeit for different reasons, both Saatchi shows catch the eye and have been getting people talking, so the London auction houses will be hoping they boost international interest in Russian post-war art -- which, believes William MacDougall, offers "the best value in the world at the moment: cheap relative to both classic Russian art and international contemporary art." The reason, he suggests, is that the market is "segmented between Russians buying to impress Russian friends with Russian classic, and Russians buying to impress foreign friends with international contemporary. Neither have been much interested in Russian contemporary."
The market for Russian post-war art at auction has proved erratic. It peaked back in 2008 with total sales of £20.6 million in London (from 1350 lots). But in 2009 the market caved in, with sales plummeting to £3.9 million and has yet to recover.
In November 2012 just 129 lots were offered in the field; sales totalled £2 million, with a top price of £229,000 for Vladimir Weisberg's Reclining Nude (1973) -- an atypical subject for this master of the Morandi-esque still life -- at Sotheby's. Krasnopevtsev led at MacDougall's with a 1971 still life at £75,000, while Tselkov's green 'icon', Person with Fork, justified its star billing at Christie's with £127,000.
In contrast to the market for Russian Contemporary Art, that for Russian Art from the 19th and early 20th century remains robust -- yielding total sales of £85 million in London in 2012. According to James Butterwick, a dealer in Russian art now based in London after several years in Moscow, London has "consolidated its status as the undisputed global center of the Russian art market." Sotheby's, who enjoy 40 percent of the market, no longer sell in New York, while the doddering Moscow market has slumped still further since Vladimir Putin's authoritarian return to the presidency, with the country's business elite fleeing the country in ever-denser droves -- preferably to London.
The spate of London sales in late November saw eight sessions in the space of four days (November 25-28). Christie's landed the week's top price: £4.4 million for Boris Kustodiev's ruddy-cheeked, blond-bearded Coachman emerging from the snow in a blue kaftan, first shown at New York's Russian Art Exhibition of 1924.
After fun in the snow, Vasily Vereschagin (1842-1904) served up hell in the heat at Sotheby's with Transporting the Wounded -- part of a 100-work Vereschagin exhibition that toured the U.S. from 1888-91 before being auctioned in New York. This was one of the finest Russian paintings seen at auction for years -- and not seen in public since 1891, when New York businessman Samuel Ullman snapped it up for $705. Here it sold for for £937,000.
Vereschagin had two brothers killed at Plevna yet, as in all his war paintings, his approach is dispassionate, the moral outrage implicit. The scene, he noted, features "primitive carts" and "execrable roads" that made the "agonies of the wounded horrible beyond description." His portrayal of these is neither gory not sentimental. Some of the wounded stumble along, heads bowed; others are in carts drawn by emaciated oxen. A dead cow lies by the side of the road, and the whole scene is shrouded in golden dust. Did anyone ever paint better dust than Vereschagin?
After the heights of their sale in May 2012, when they landed a world record £2.3 million for Petrov-Vodkin, MacDougall's were hampered this fall by some overly aggressive estimates, although they still posted week's top price for the ubiquitous seascapist Ivan Aivazovsky: £1.01 million for a View of Venice.
Auctioneer Charlie Ross maintained admirable wit and humor during MacDougall's second session, which ran to 400 lots and lasted six hours. Yet his pronunciation faltered at times... rhyming Dniepr with wiper and Riga with tiger. Wishful-thinking for the Latvian economy, perhaps! Riga usually rhymes with meager.
While demand for the big names remains high, prices for mainstream 20th century Russian art have not greatly progressed in recent years. Alexei Gritsai's Power Station at a Collective Farm (a landscape a thousand times more bucolic than its title suggests), sold for £67,900 in June 2008, was here re-offered by MacDougall's with a slightly lower estimate (£50,000-70,000) -- and made £63,500. A stupendous kaleidoscopic work by Filanov's student Vladimir Luppian, Revolution as a Stage of Evolution, was unsold here against an estimate of €250,000-400,000 -- after selling for £270,000 in 2008.
And Pavel Tchelitchew's La Dame Voilée (1954), an important work from his final 'dancing box' period featuring heads so stylized as to resemble glowing spider's webs, also remained unsold against a modest estimate of £120,000-180,000. But works by Tchelitchew, in very different styles, found takers elsewhere: three Exter-like stage designs for Rimsky Korsakov's opera The Golden Cockerel totaled £82,350 at Bonhams, and a somber 1928 Male Portrait brought a top-estimate £49,000 at Sotheby's.
Tchelitchew's saleroom appeal could benefit from a new, 336-page book, Pavel Tchelitchew -- Metamophorses, launched during MacDougall's pre-sale viewing. Author Alexander Kuznetsov skillfully navigates the stylistic shifts of an artist who fled Soviet Russia aged 20, to Berlin then Paris, where he abandoned his youthful neo-Cubism for monochrome portraits and Surrealist landscapes before moving to the U.S. with his partner Charles Henri Ford in 1934. His style morphed again in the late 1940s with his 'dancing boxes'. Not for nothing did Gertrude Stein dub Tchelitchew (pronounce Chel-lee-cheff) the 'New Picasso.'
Like the Non-Conformists, his talent has yet to be fully appreciated. There is much still to discover in Russian 20th century art, and much to enjoy -- including the prices.
Related
Popular in the Community