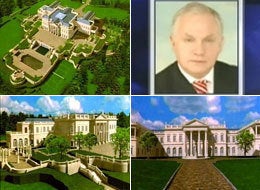 Greenwich, CT is in an uproar over a mysterious Russian billionaire's proposal to buy an $18 million home, tear it down, and build what would be the biggest home ever built in the tony Connecticut enclave - a 27,000 square foot supermansion. The billionaire in question is reportedly Valery Kogan, who has ties to Vladimir Putin.
The Connecticut property is the latest in a buying spree. Just last month he finished purchasing a huge beachfront lot in Israel, combining 5 neighboring properties, for about $17 million (scroll down for more). He'll be tearing down existing homes there, too.
The expansive plans for the new Connecticut home include 26 bathrooms, a billiards room, game room, Turkish bath, Finnish bath, a wine cellar and a dog grooming room.
Watch a detailed report on the Greenwich home:
Valery Kogan was entirely unknown in Israel up until a month ago, when he drove the local business and real-estate world crazy by purchasing five lots in Caesarea, a total of 11.5 dunams, for $17 million, on which to build an estate. Amid the media circus, it was reported that the Jewish businessman is connected to the secret services in Russia, and that he is close to former president Vladimir Putin. Some imagined Putin coming to visit his close friend and the two of them walking along the beach in Caesarea.

The aura of mystery increased when news came of the impressive rise in Kogan's wealth, at least according to the Russian magazine Finans. In 2007 it showed him in 499th place on the list of the richest people in Russia, worth $90 million. A year later he skipped up to 157th place with $600 million.

The only thing that is known for certain is that Kogan is connected to East Line, which operates Domodedovo International Airport, the largest airport in Russia, with 13-14 million people passing through each year.
Beyond that, little is known of Kogan.
Calling all HuffPost superfans!
Sign up for membership to become a founding member and help shape HuffPost's next chapter