Russian cigarette company Kiss has launched new ads that are being accused of blatantly targeting teenage girls.
According to Copyranter the headline roughly translates to: "Thoughts in the style of Kiss!" and the copy reads: "I love everything, new, delicious and round!
Russian advertising website Adme reports that Russia's Federal Antimonopoly Service ordered the cigarette company to pull the ads, claiming it glamorizes smoking. Kiss responded by filing a lawsuit, which is scheduled to be ruled on August 9th.
The company is no stranger to targeting teenage girls with its ads. Adme reports that the "Kiss Club," a website for Kiss smokers with hot pink Barbie-like graphics, allows registrants to enter a birth date up to the year 2000, meaning that the youngest registrants can be 11-years-old.
From December 2009 through June 2010, the organization says, the Kiss Club website promoted their products via drawings for pink iPods, iPhones and Apple computers, as well as a grand prize trip for two to Paris. Contestants had to buy promotional packs of Kiss cigarettes to be eligible to win.
In 2009, Russia was the largest market worldwide for the slim and ultra-slim cigarettes that are often marketed to teens and young women. "In just three years, from 2006 to 2009, slim cigarette sales increased by 91 percent and accounted for 13 percent of the total cigarettes sold in Russia in 2009," reports Tobacco-Free Kids.

Cigarette companies have a long history of targeting teens, despite legal prohibitions against it. Copyranter notes that the Joe Camel women's brand "No.9" targets young, fashion-conscious American women with it's "stiletto" length cigarettes. The cigarettes have proven a big hit with girls aged 12 to 16, according to a study published in Pediatrics last year. USA Today reported that Camel launched the No.9 brand in 2007 with promotional giveaways including berry-flavored lip balm, cellphone jewelry, purses and wristbands.
Check out the slideshow below to see the Kiss advertisements plus other ads that have been accused of glamorizing smoking and targeting teenagers.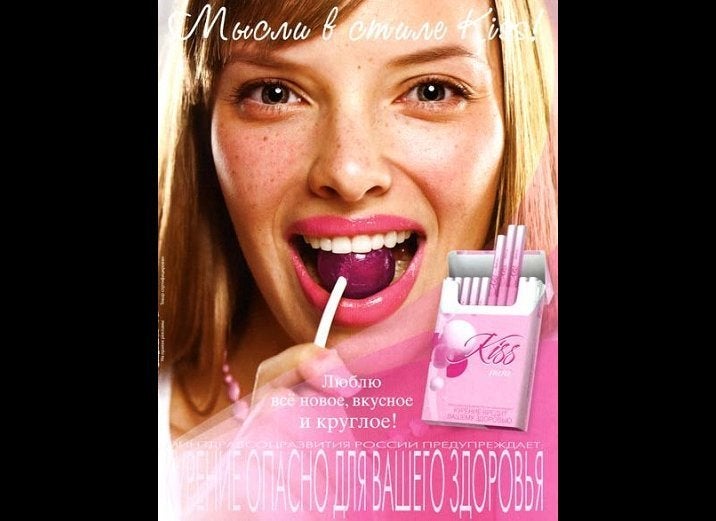 Cigarette Ads Targeting Teens
Related
Popular in the Community