A court in the Kaluga Region of Russia has ruled that a painting of Jesus Christ with the head of Mickey Mouse is offensive and banned it from being exhibited. The courts called the work "extremist," and ruled that it was "religiously offensive" under Article 282.
Russian news source Ria Novosti reports that, "unless the Kaluga Region court's ruling is successfully appealed, the painting will be banned from exhibitions, newspapers, magazines or television. The case was heard in the Kaluga Region after a local complained to the authorities."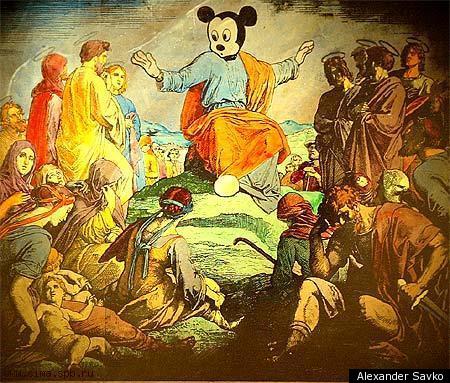 A statement on the prosecutor's website says, "During the court hearing, it was established that Savko's technique of uniting the image of Jesus Christ, which is sacred for Christians, and the comical image of Mickey Mouse, which in this situation is vulgar, has turned the graphic work into a caricature of Jesus Christ. The Gospel story is therefore presented by the artist in the form of a comic, which is an extremely cynical and mocking insult to the religious beliefs and feelings of Orthodox Christian believers."
Savko told Huffpost Arts that his intention with the piece was not to incite hatred, saying:
THE PUPROSE OF THIS PAINTING IS NOT ABUSE OF CHRIST AND NOT ABUSE OF CHRISTIANS. THIS IS DISPLAYING OF CURRENT REALITY: THE SUBSTITUTION OF HUMAN SPIRITUAL, MORAL VALUES WITH MASS-CULTURAL VALUES.
Do the pieces seem hateful, or was the Russian court being too sensitive? Let us know in the comments.
Popular in the Community