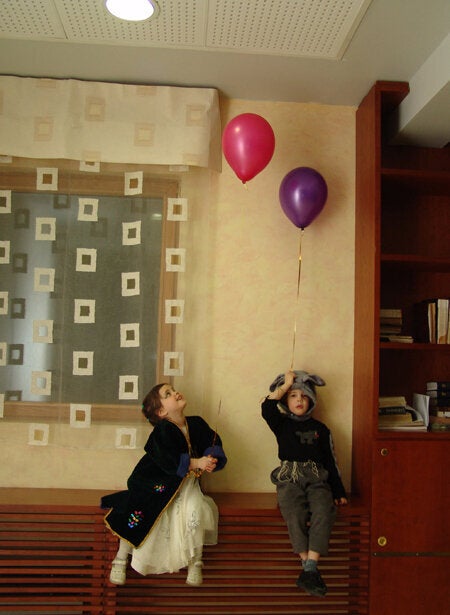 During the Gaza war this winter, 26-year-old Olga Dukor made a couple of posters, put on her Star of David necklace and organized a group of friends on the streets of Moscow. This kind of display of Jewish pride would have been unimaginable under Communism, but nearly 20 years later, it's thriving.
At the Nikitskaya Jewish Cultural Center in central Moscow, both preschoolers and pensioners learn Hebrew, and there are lectures, book readings and classes that fill the entire spectrum of Jewish life. Interest is so high, there's even a waiting list for the center's services, says director Regina Yoffe.
"Before, we would celebrate a holiday and then close the door," said Yoffe, whose center opened in 2001 and today has about 10,000 members. "Now, we're trying to create daily activities that give a Jewish identity. The American JCCs have been doing that for a long time, but it was something we had to learn."
More than three million Jews left the Soviet Union starting in the late '70s. But another 400,000 stayed (some say the number is as high as 2 million because of intermarriage) and many threw themselves into the Jewish community, especially after the collapse of the USSR.
Like many Russian Jews, Zhenya Mikhaleva suffered a fair share of anti-Semitism growing up. A star pupil at the Moscow Pedagogical University studying Russian folk culture, she was passed up for a position because her teacher did not think "a Jew could entirely love Russia."
The rejection stung, but set Mikhaleva on a path of self-discovery. She began taking Hebrew classes and then studied in Israel. Today she works for Federal Jewish National and Cultural Autonomy of Russia, one of the many Jewish organizations that have sprung up in the past 20 years. She also heads a Jewish volunteer club, where 700 members pitch in to help needy children and families.
"A while ago a group of us met and we realized that we didn't have anything that united us with a common purpose," says Mikhaleva, 44. "The club is our self-identification as Jews and something that fills us spiritually and emotionally."
In the years after the collapse of the Soviet Union, being Jewish became trendy, as Russians looked back into the family tree for any Jewish relatives. Some were motivated by the chance to emigrate, but for others it meant being a part of a community that suddenly had massive support of wealthy overseas organizations.
"People didn't have any stability and were looking for a place to belong in the early '90s," recalls Vladimir Paley, director of the Russian Hillel, the international Jewish college student organization. "It was a time of anarchy with elements of freedom and a lot of people were asking 'Who am I?'"
Today, the excitement has subsided and anti-Semitism is on the rise. In late June, a rabbi in Chisinau, Moldavia was attacked and robbed while camping with students by a group of young men. In 2006, nine people were injured during an attack on a synagogue in Moscow, believed to have been the work of a neo-Nazi group. A year before that, 19 members of the Russian parliament signed an open letter urging the closure of all Jewish organizations in the country because they allegedly promoted an anti-Russian agenda.
"Russia is still a country for Russians," says Masha Murashova, a 25-year-old Moscow PR director who wants to emigrate to Israel. "Right now the economy is in a bad shape and many people are blaming the immigrants. As soon as they get rid of them, they'll turn on the Jews. It's only a matter of time."
Although no longer an ideological policy of the government, anti-Semitism is still prevalent in everyday interactions and highly accepted.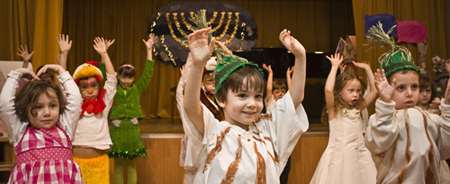 Photo: Courtesy of Nikitskaya Jewish Community Center
The Protocols of the Elders of Zion are on sale in many outdoor book kiosks and Live Journal, a popular social networking site in Russia, is rife with comments blaming Jews on everything from the high unemployment to instability of the country. A circus that opened this spring with a theme of cultures of Russia includes an act in which two chimpanzees dressed as Orthodox Jews stand under a huppah, the Jewish wedding canopy. Several journalists have criticized the act, but for the most part, audiences were enthralled.
"For a vast majority of Russians, especially out in the provinces, Jews are a phantom based on some book," says Paley. "To be a Jew in Russia is still to be a stranger, to be 'not like me.'"
Still, Jewish leaders says authorities crack down on anti-Semitism with a vigor not seen before. When Rabbi Berel Lazar, the head of the Lubavitcher community, approached then-president Boris Yeltsin about hate crimes against Jews, Yeltsin told him to "just leave the word out of the dictionary," Rabbi Lazar recalls. "He didn't even want to talk about it."
Today Lazar has close relations with the Kremlin, for which he is sometimes criticized. He says the friendship is an advantage.
"I don't agree with everything they do, but when I don't, it's good to have the leadership's ear," Rabbi Lazar says. For example, when the country's school exit exam fell on the Jewish holiday of Shavuot, the government allowed Orthodox students to take it separately. And during last year's Israeli Independence Day celebration in Ostankino Park in Moscow that drew 7,000 people, Moscow police officers worked side by side with hired security to make sure the event went smoothly.
There are also signs that the Russian government is cozying up to Israel, after years of seeking allies among Arab countries. Israeli Foreign Minister Igador Lieberman recently visited Russia to discuss ways the two countries could collaborate. Russians also no longer need visas to travel to Israel.
Russia, a country of 140 million, is trying to reinvent itself to become a global player. But it's also an Orthodox Christian country (90 percent of Russians consider themselves Orthodox) where the influence of the church is growing, both in the classroom and in the cultural sphere. That makes carving out a space for Jewish life a continual challenge.
"Today people aren't really thinking beyond how to make a lot of money and start a family," says Anna Pivovarova, the director of education at Hillel Russia. "Most of the people for whom Jewish life was really important moved to Israel."
Still Jewish leaders remain optimistic that by investing in future generations, the Jewish community can again thrive in Russia. The JCC of Moscow recently began offering after-school classes for teens and the Lubavitcher community just celebrated the graduation of six young rabbis who were educated entirely in Russia.
"We've had to teach people a whole new set of values and are only now beginning to see the fruits of our labors, "says Rabbi Lazar. But "in a country where for 80 years you could end up in prison for anything having to do with religion...to take away that fear and bring out the pride of being Jewish is not easy."
Calling all HuffPost superfans!
Sign up for membership to become a founding member and help shape HuffPost's next chapter