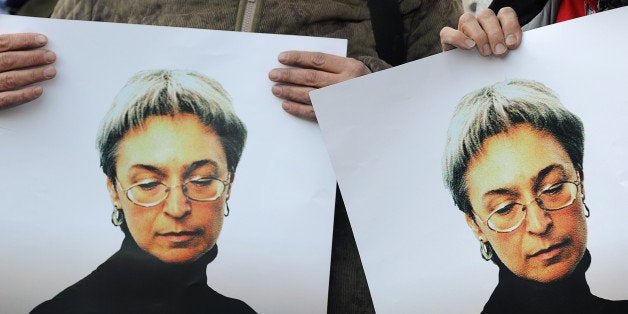 In her final years, Anna Politkovskaya was twice the victim of apparent poisoning. She was threatened numerous times, brought to her knees and subjected to mock executions. To the uninitiated, she would appear to be a prisoner, trapped behind enemy lines, but the reality is tragically different. Anna Politkovskaya was a journalist; those enemy lines merely demarcated her own homeland; and she was threatened and ultimately murdered because of her profession.

Russia has largely failed in sustaining media freedom and ensuring journalists' safety.

The Committee to Protect Journalists reports that since 1992, 56 journalists have been murdered in Russia in connection with their work. The majority of them were local journalists reporting on politics and war, corruption and human rights. In most cases there were no arrests, no convictions -- total impunity.

Despite every assurance to the contrary, the stark reality is that the atmosphere of journalistic oppression is pervasive in the Russian Federation. Consider the following: In late 2011, the Russian parliament adopted additions to Article 144 of the Criminal Code that punished threats or violence against journalists as a professional group with up to five years of corrective labor or up to six years in jail. I welcomed this decision and expressed hope that it would contribute to curbing violence against journalists.

My hopes were premature. The Russian Union of Journalists claims that not a single criminal case has been initiated on this provision since its formal enforcement. Threats and violence aside, at least four journalists have been murdered in Russia since 2011, with complete impunity for the perpetrators.

It is the obligation of any modern state to prove its political will to protect journalists. It is time for Russia to demonstrate that will.

Impunity leads to an atmosphere of fear and to self-censorship. Self-censorship leads to avoiding risky subjects, namely politics and crime. Is this the reason felonies against reporters are almost never solved?

Propaganda poses another real and clear threat to free media in Russia, exercised mainly by state-run media outlets. This is a growing phenomenon that must be fought fiercely. Publishers, editors and government authorities with ownership in media outlets must make honest and real efforts in this regard to improve ethical standards.

Russian media is in dire need of self-examination. It must free journalism of fear, propaganda and routine frustration. Independent media must be strengthened as the main instrument of the public to expose corruption, report on violations of human rights, promote political pluralism and stop encroachments on democracy. In the absence of critical journalism, democracy suffers and deliberate misinformation becomes the standard.

But there is hope. Despite the grave danger Anna Politkovskaya faced on a daily basis, she never relented. Her life and death are a testament to the resourceful toughness of the Russian journalist and of journalism as a profession. There is a light at the end of the tunnel -- Anna Politkovskaya will never see it, but maybe the rest of us will.
Calling all HuffPost superfans!
Sign up for membership to become a founding member and help shape HuffPost's next chapter