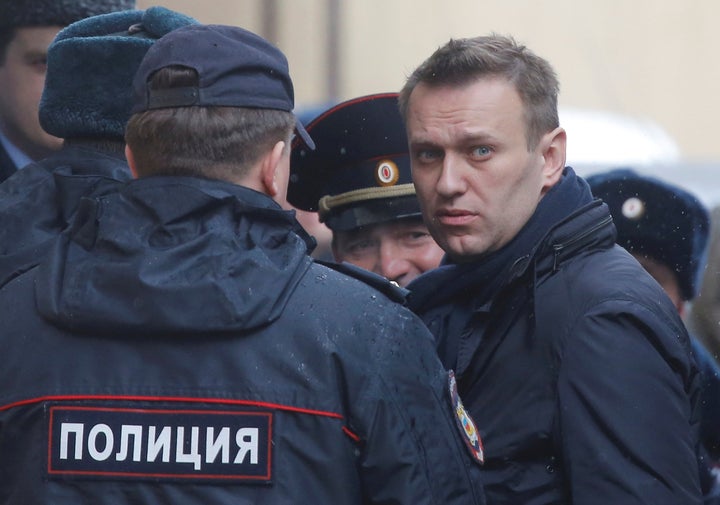 By Andrew Osborn and Svetlana Reiter
MOSCOW (Reuters) - Kremlin critic Alexei Navalny was handed a 15-day jail sentence on Monday for his part in a big anti-government protest in Moscow which buoyed the liberal opposition's morale a year before a presidential election.
Sunday's protest and others like it across Russia were estimated to be the largest since 2012 and foreshadow a presidential election which Vladimir Putin is expected to contest.
Opinion polls suggest Navalny, who hopes to run against Putin, has little chance of unseating the Russian leader, who enjoys high ratings. But Navalny and his supporters hope to channel public discontent over corruption to get more support.
Navalny, who will appeal the court's verdict, was found guilty of disobeying a police officer at Sunday's Moscow protest and sentenced to 15 days in jail. He was also fined for organizing the protest, which the authorities said was illegal.
Navalny told reporters in the Moscow courtroom that he and his allies would not give up.
"You can't detain tens of thousands of people," he said. "Yesterday we saw the authorities can only go so far."
Police detained more than 1,000 protesters across Russia on Sunday as crowds took to the streets, at Navalny's urging, to demonstrate against corruption and demand the resignation of Prime Minister Dmitry Medvedev.
Medvedev's spokeswoman has dismissed corruption allegations against him as "propagandistic attacks".
Navalny said Russians would keep protesting for "as long as people see tens of billions of dollars being stolen by top officials".
The Kremlin dismissed the protests as an illegal provocation and rejected U.S. and European Union calls to free detainees like Navalny.
"We can't agree with these calls," Kremlin spokesman Dmitry Peskov told reporters on a conference call, saying the police had been professional and properly enforced Russian law.
He said the Kremlin had no problem with people expressing their opinions at protest meetings, but the timing and location had to be agreed with authorities in advance, something he said had not been done in large part on Sunday.
"We can't respect people who deliberately misled minors - in essence children - calling on them to take part in illegal actions in unsanctioned places and offering them certain rewards to do so, thus putting their lives at risk," said Peskov.
A Reuters reporter saw Navalny being loaded into a van after his court appearance. It was surrounded by supporters holding placards reading" "We believe" and "Alexei, we are with you." Police then detained the group of around 20 young people.
(Editing by Andrew Roche)
Support HuffPost
The Stakes Have Never Been Higher
Related
Popular in the Community