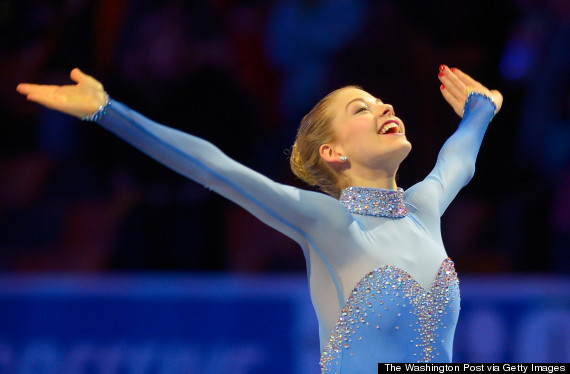 As two time U.S. champion figure skater Ashley Wagner faces a backlash at home over her unusual elevation from fourth place to join the three woman U.S. Olympic team in Sochi, a fresh front of skepticism is creeping her way from Russia itself.
"Pro-gay American Figure Skater Dragged to Sochi," read the headline on RBC Holding, a media conglomerate. Without actually accusing the judges of promoting a human rights agenda over fair play, the article calls the unprecedented nature of Wagner's selection "not according to sport principal," and reveals that Wagner spent the evening after her poor showing at the national championships "drinking wine and watching movies".
The bulk of the article, however, is reserved for Wagner's position on Russia's ban on gay propaganda -- views which the athlete made public last September. The article concludes with a mention that the skater, who technically placed higher than Wagner, Mirai Nagasu, "for her part, has not clarified her position on the 'anti-gay' law."
Wagner's place on the team may not win her friends among critics who see her selection as political, fraudulent or essentially anti-Asian ("They bump the one Asian girl and send the 3 white blonde girls," notes one commenter). But the cynical scenario that paints her as a plant for an LGBT agenda is almost endearing.
It would seem that even RBC.ru agrees. Not only did the site devote two separate articles, six color photos, and eight inches of verbatim quotes to Wagner's activist "propaganda," it gave her the dubious honor of predicting a "homosexual revolution" in Sochi, a bold proclamation that has not appeared in the English-language press, which is sticking with the young woman's determination to show up in Sochi with rainbow mittens and nail polish.
I'm frankly, indifferent to the intrigues of the rink, but I hope the revolution puts in a slightly more impressive showing than that.
Calling all HuffPost superfans!
Sign up for membership to become a founding member and help shape HuffPost's next chapter