Investigators have concluded that it's "highly likely" Russia is responsible for poisoning the former Russian spy and his daughter who were found in Salisbury, England, last week, U.K. Prime Minister Theresa May said Monday.
Sergei Skripal, 66, a former colonel in the Russian military intelligence, and his daughter Yulia, 33, have been hospitalized in critical condition since last week after they were found unconscious near a park bench in Salisbury and tested positive for contamination by a nerve agent.
May announced in Parliament on Monday that investigators identified the nerve agent used as Novichok, a military-grade poison developed in Russia.
"We must now stand ready to take extensive measures," May said.
"Should there be no credible response [from Russia], we shall conclude that this action amounts to an unlawful use of force by the Russian state against the United Kingdom," she continued, noting that the British government will not be able to continue "business as usual" with the Kremlin.
The Kremlin's alleged "record of state-sponsored assassinations" adds to the likelihood that Russia either deliberately carried out the attack or let the poison get into the hands of others, May said. Russia has denied any involvement in the poisoning incident.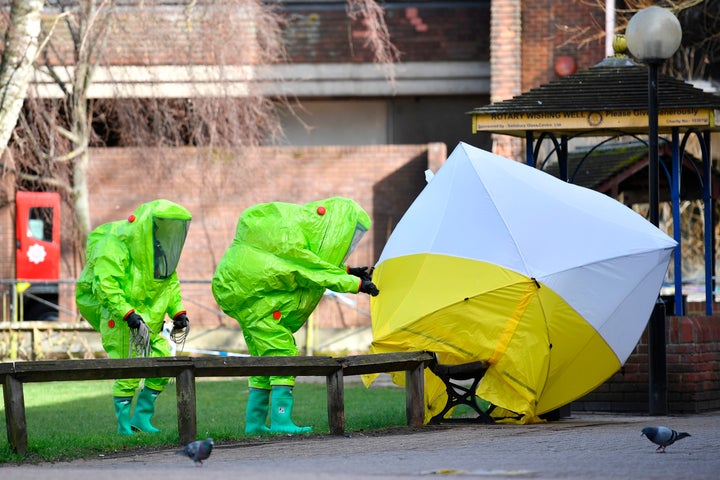 A law enforcement officer who responded at the scene is also still being treated for exposure to the nerve agent.
Skripal was given refuge in the U.K. in 2010 as part of a high-profile "spy swap" after Russia convicted him in 2006 of spying for Britain.
A week after the attack, public health officials said they also found trace amounts of the nerve agent at Salisbury's Zizzi restaurant and the Mill pub. They urged hundreds of people who had been to either restaurant to wash their clothes and clean other personal belongings, though the risk of contamination was low.
This story has been updated to include Secretary of State Tillerson's response.
Related
Popular in the Community