Over the past two years and up until at least August, Russian Twitter accounts masquerading as American people, news outlets and political groups regularly appeared in the articles published in many of the United States' most famous media outlets. This wasn't a matter of fake news; this was "real" news made a little less so.
The Boston Globe quoted @Pamela_Moore13, who hated a Stephen Colbert joke about Vladimir Putin and Donald Trump. NBC News, in the aftermath of the Pulse night club shooting, gave space to @lgbtunitedcom on the subject of the Chicago gay pride parade. Vox and HuffPost both turned to the thoughts of @Crystal1Johnson, the former on the bullet holes in an Emmett Till sign and the latter on quadruplets attending Yale together.
We know now that these were trolls working on behalf of the Russian government. Without knowing, we laughed or scowled at their jokes. We mocked or cheered their opinions. We looked at their photos and watched their videos, and few if any of us batted an eye as they covertly shaped the way we looked at our own country.
This week, Congress released a list of 2,752 accounts that Twitter identified as tied to the Internet Research Agency, a troll farm through which the Kremlin conducts international and domestic influence operations, including during the 2016 U.S. presidential election. The accounts have all since been deleted, but I decided to Google more than 1,000 of them to find out just how often and in what ways they were able to embed themselves in the work of U.S. news organizations. The vast majority that I checked never made it into stories, but more than 20 did in myriad ways and in all types of organizations.
In total, I found more than 40 examples of the accounts weaseling their way into articles. Organizations that embedded or used tweets from the Russian troll farm included Mashable, The Telegraph, NBC News, ATTN:, the Washington Post, Vox, RT, Medium, Salon, Fox News, the Miami Herald, CNN, BuzzFeed, Thought Catalog, Newser, the New York Post, The Blaze, Breitbart, the Boston Globe, Vice, Circa, Complex, the Los Angeles Times, the Daily Dot, The Daily Caller, the Washington Examiner and our site, HuffPost.
This was hardly an infiltration. We, the media, practically let the trolls in the front door. Thanks to the cockeyed incentives of online publishing, all they had to do was knock.
Method No. 1: Embed the photos and videos news organizations want for free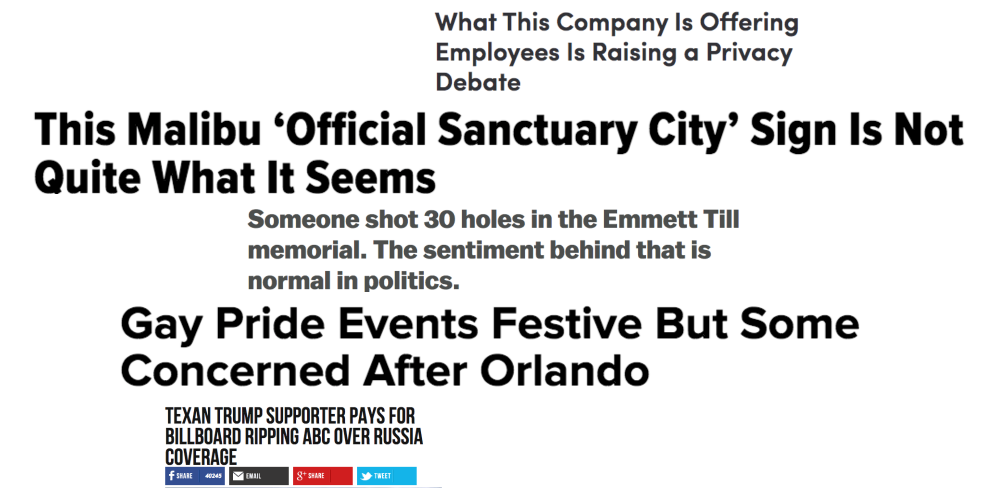 The most effective way for Russian troll accounts to end up in news posts was simple: They tweeted newsworthy photos and videos, even if they were not the ones that shot them. Buying photos is an expensive and complicated process for news organizations, which have become increasingly happy to embed tweets that include the photos they desire as something of a workaround. It's free, easy and legally colorable. The only issue, it ends up, is that you might be embedding a tweet created by a Russian troll farm as part of a massive conspiracy to influence the American political system.
Sometimes, entire stories were based around a Russian account's video, as was the case with a Complex post from August titled "Donald Trump Claims His 17-Day Vacation Isn't Really a Vacation." The post included a tweet from Trump and a video from the aforementioned @Pamela_Moore13, a prolific Russian troll farm account that has appeared in news articles at least a dozen times since October 2016.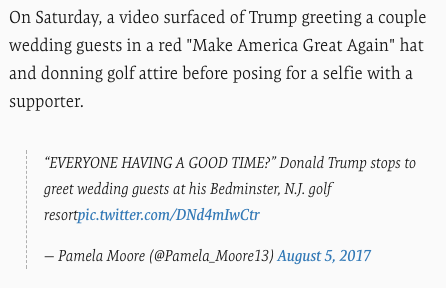 In 2015, The Washington Post wrote a story entitled "Russian TV channel sees Putin in the sky above New York," which was based around a video "by someone named Sheryl Gilbert." Gilbert had the handle @_SherylGilbert, which has been identified as part of the Russian troll farm. "Gregory West, who claims to be the husband of Sheryl Gilbert," had the handle @DrGregoryWest, also associated with the farm. The story was consequently picked up by news outlets including the New York Post and Newser.

Method No. 2: Make a joke off of a trending topic or hashtag
In the last few years, news organizations have found that an easy and quick way to gobble up internet traffic is to round up funny tweets related to one topic and throw them under a captivating headline ― sometimes with a larger point, sometimes not.
BuzzFeed included tweets from two separate Russian troll accounts ― @MeggieONeil and @queenofthewo ― as did Thought Catalog with @EricaRutter and @KenCannone.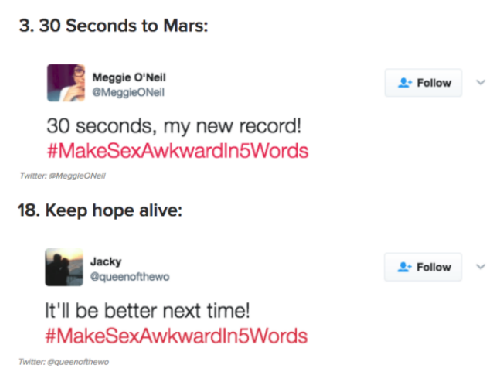 Method No. 3: Express outrage over a prominent person or institution, preferably one that is highly politicized
More troubling, Russian troll accounts ended up in news articles as a representation of the American people ― a faster, cheaper way into the minds and moods of Americans than the classic "Area Man" interview. Such was the case with the Fox News article "Trump supporters vow to boycott Starbucks over CEO's plan to hire refugees," in which two of the four Trump supporters supplied as evidence came from a Russian troll account: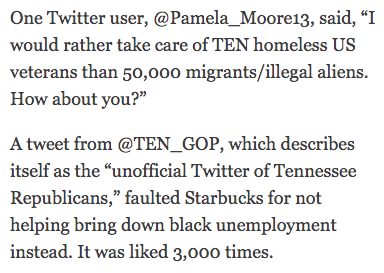 The Russian trolls didn't have to break into the American media ecosystem. All the holes were already there, created by news organizations and the incentives generated by the attention-gobbling social media platforms they rely on. It turns out the media was just another American institution that found itself sufficiently weakened by its own hand, aching to be exploited.
Popular in the Community