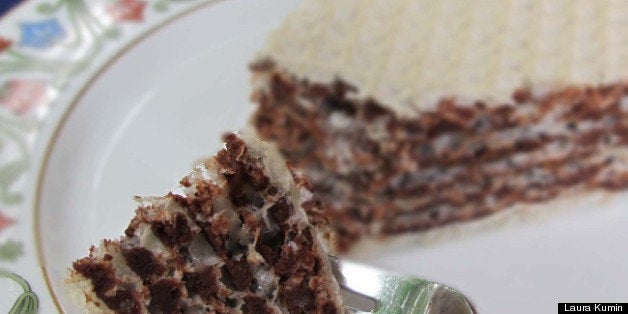 Is it any surprise that my ideal adventure has nothing to do with camping or wild animals? I'm a city girl, born and bred. Roaming around a neighborhood filled with ethnic grocery stores, bakeries, restaurants, and bookstores is heaven to me.
On one trip to New York City, I explored Brighton Beach, Brooklyn. The neighborhood is home to a large community of Russian immigrants and as we walked around, it felt as though we could have easily been in Eastern Europe instead of NY.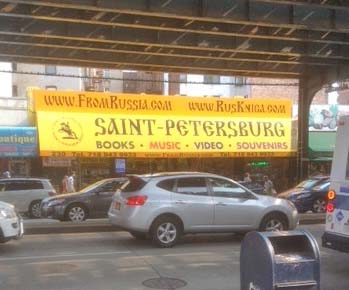 With amazing dried fruits, fresh baked bread, deli and beautiful baked goods all around me, I browsed my way up one street and down another. Shoppers and sellers all seemed to be chatting in Russian. Though I'm sure I could have found someone to answer questions in English, I was content to wander on my own through store aisles and open-air displays crowded with food and people.
I could easily have bought lots of goodies. However, my better half reminded me that transporting heavy bags by subway and on foot would be difficult. Reluctantly I limited my purchases to two packages of the lightest and least expensive item I saw: these wafers.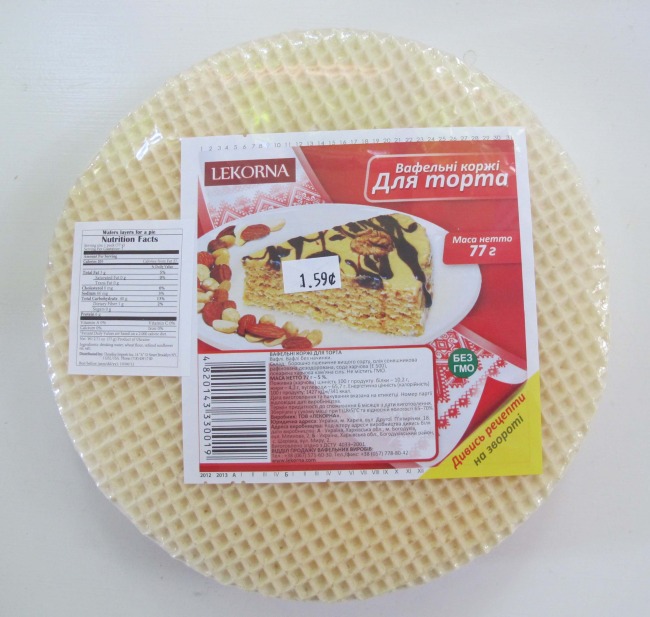 After the purchase and an easy trip home, the fun had just begun. I saw a few cakes in Brighton Beach bakeries that looked as thought they used the wafer layers, but I hadn't a clue as to what the cake fillings were or how construct such a cake.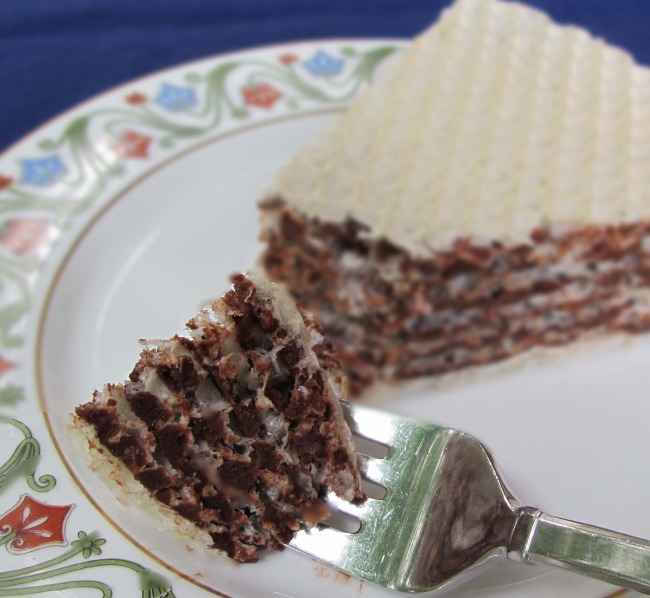 I began my wafer cake research (of course) with Google. A few searches found multiple versions of the cake, instructions for fillings galore, and many bruised ethnic egos in comments on recipes, as Poles, Czechs, Bosnians and Russians all claimed this particular sweet as their own. I also found out that Bosnians (and maybe others) call it Oblatne.
I made my own version and served it for dessert with berries on the side. It was delicious and reminded me of a Kit Kat candy bar without the hard chocolate covering. I love Kit Kats, so maybe I'll cut the leftover cake into small portions and glaze it.
This cake is no-bake, a great advantage during warm months when you don't want to turn on the oven. The wafers act as "cake" layers. The stove top filling is easy and you refrigerate the cake for a few hours or overnight before serving -- perfect for a summer party or dinner.
Russian Wafer Cake or Oblatne with Chocolate-Nut Filling
Cost - Less than $7 per cake/$1 per serving Servings - 8 or more
1 package of cake wafers (77 grams – incredibly light). When I got home, I checked online and found a 150 gram package of rectangular wafers on Amazon for less than $5, called sloboda.
8 ounces of milk (I used whole)
1/4 cup granulated white sugar
4 ounces (1 stick) of unsalted butter at room temperature
3.5 - 4 ounces of dark chocolate, chopped
3-4 ounces finely ground nuts (I used pistachios)
1/2 teaspoon vanilla
Cutting board
Knife
Grater (for grinding nuts)
Measuring spoons
Measuring cups (heatproof liquid measure for milk and ¼ cup solid for sugar)
Scale
Small bowl – for ground nuts
Medium mixing bowl
Small saucepan
Large spoon
Spatulas
Knife or offset spatula for spreading filling
Plastic wrap
For step-by-step directions, including pictures, click here.