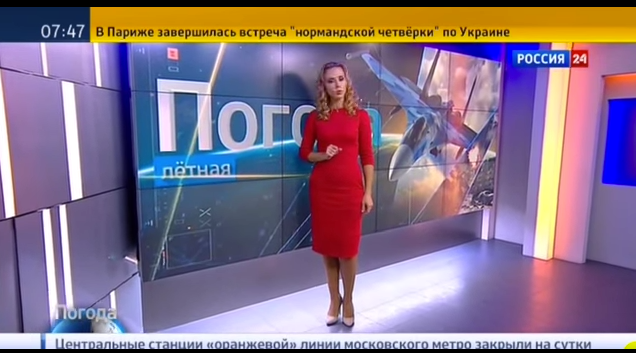 News programs in Russia are being dominated by the country's military air campaign in Syria -- even its weather reports.
A weather forecaster for state-owned news channel Rossiya 24 said the weather this month in Syria is "ideal for carrying out operational sorties," according to an AFP translation.
The forecaster described Syrian weather conditions while standing in front of a graphic that read "flying weather" next to an image of a bomber. The slightly overcast sky "will not make flying more difficult and will not influence the systems for aiming weapons," she told viewers. "Experts note the time for the start of the air operation is chosen very well."
While the weather in Syria was "ideal" for dropping bombs, when a Russian pilot "accidentally" flew into Turkish airspace the government blamed the weather. Turkey confirmed on Monday that a Russian fighter jet entered its Yayladagi region, in the southern Hatay province of the country.
"This current incident is a result of bad weather conditions in this region," Russian government spokesman Igor Konashenkov told reporters, according to CNN. "You shouldn't look for conspiracy theories."
Popular in the Community